Adayalam: Identity unveiled - TEDxPSGTech
---
Each year, our college comes alive with the vibrant spirit of tradition and celebration as we eagerly anticipate the arrival of our much-loved annual event, TEDxPSGTech. It's a time when the campus buzzes with excitement - when students and faculty come together to listen to speakers from diverse backgrounds who gather to impart their insights and thoughts in alignment with the theme of the day.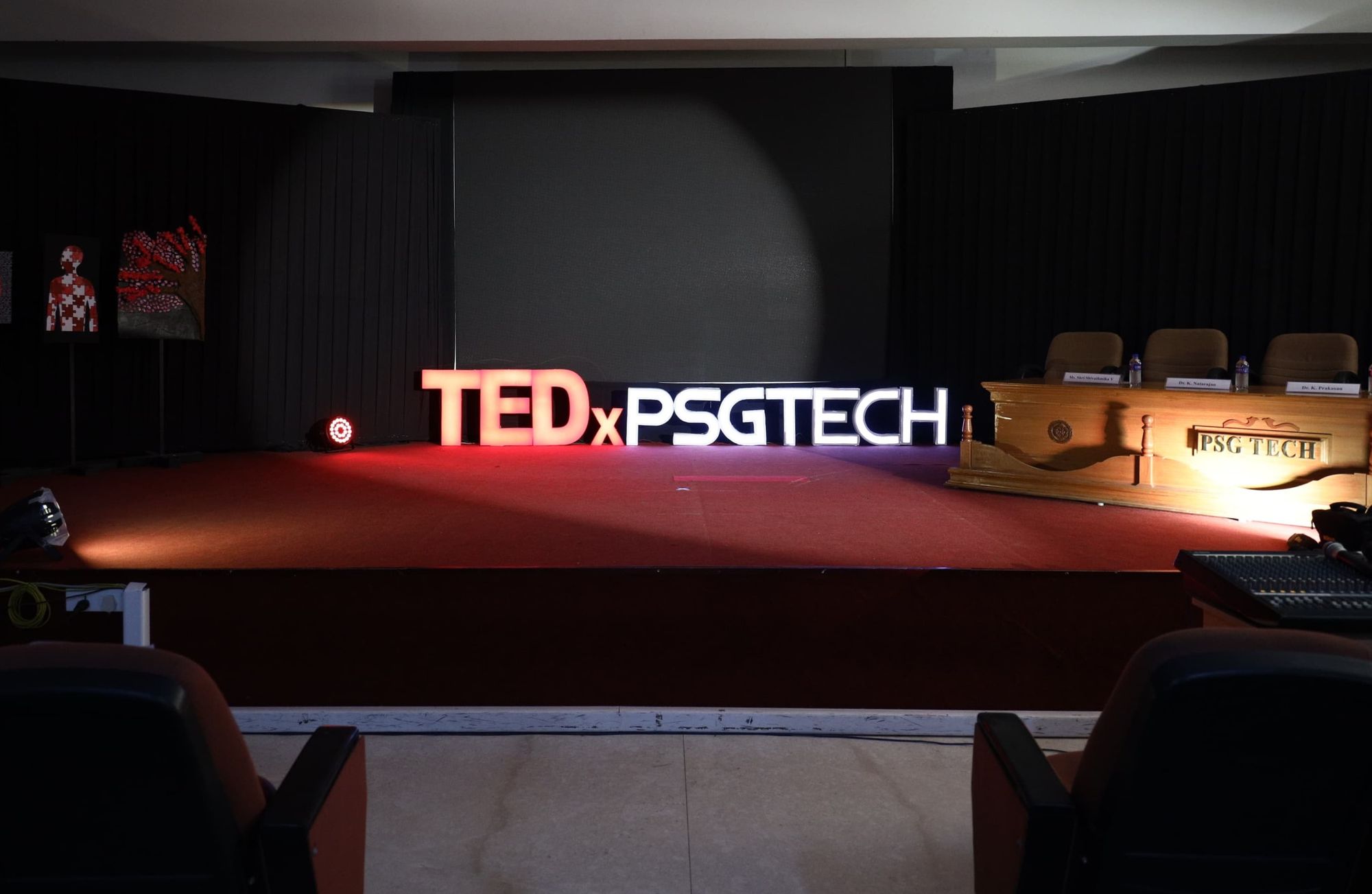 The event sponsored this year by KST and IDP, commenced with a welcome address by Shri Shivathmika, who is currently serving as the secretary of the Global Leaders' Forum, the club that organises TEDxPSGTECH. Following this, Shifa Ibrahim, the License Holder of TEDxPSGTech, delivered a concise overview of TEDx and introduced the event's theme, "Adayalam". To cap off the introductory speeches, Dr K Prakasan, Principal, PSG College of Technology, delivered the presidential address emphasizing the theme's significance and how pondering upon one's "Adayalam" (identity in Tamil) is essential to moving forward in our day-to-day lives. The refreshments were sponsored by The Nut Project and Milkymist.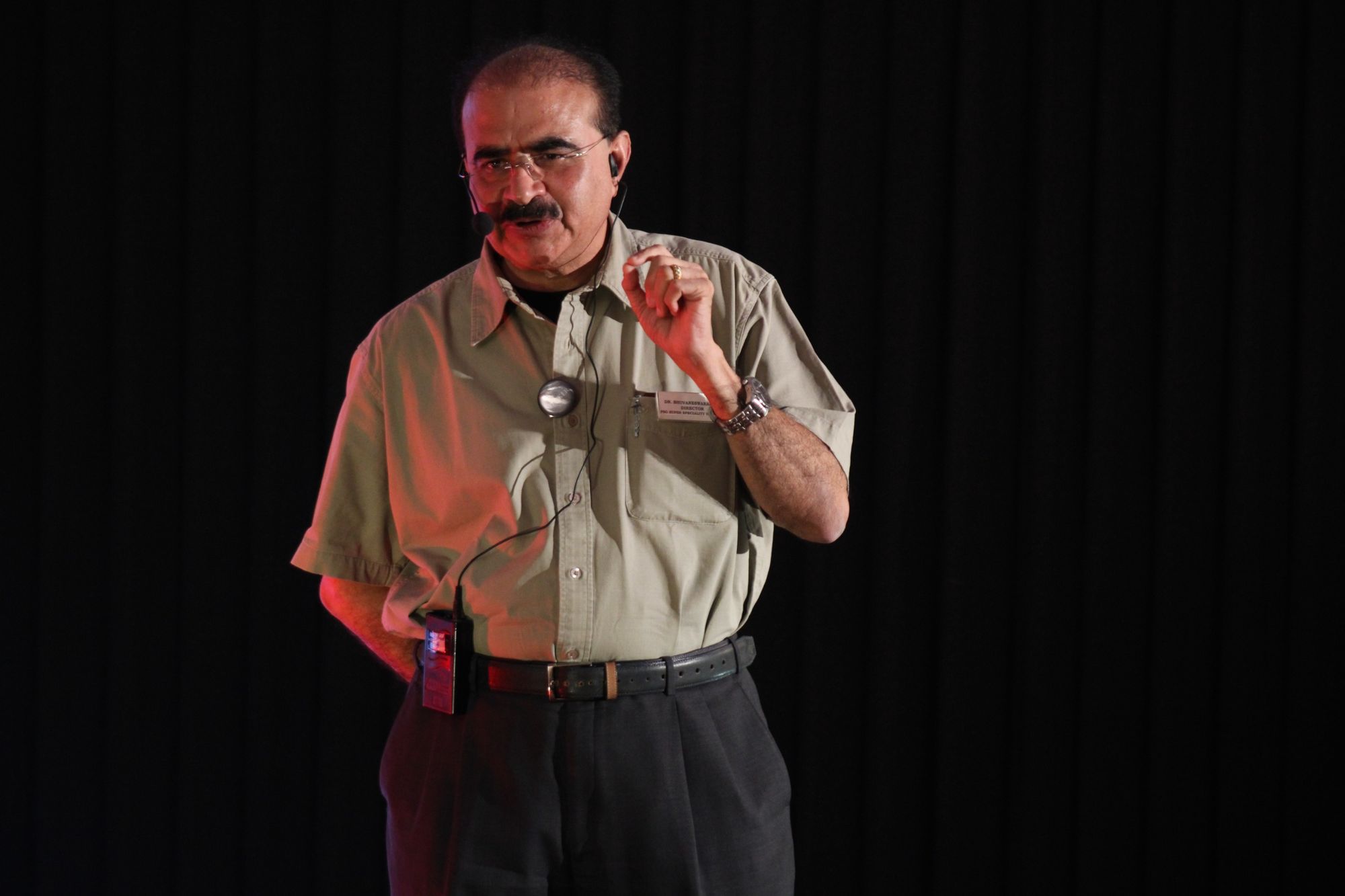 The first speaker of the day was Dr J Bhuvaneswaran, Director, PSG Hospitals, a renowned cardiologist, motivational speaker, and singer who holds the privilege of having shared the stage with musical maestros like TMS, MSV and SPB. He started with a rhetorical question, "Who am I?" which, according to him, would eventually establish his identity. Upon retrospection, he said the roles that he had assumed have largely dictated his identity.
Originally from a rural agricultural family, Dr Bhuvan, as he is fondly called, got into medicine because of his mother, who wanted to see her sons become doctors. Having excelled in his UG at Stanley Medical College, Chennai, he pursued higher education at Manipal University, where he got the opportunity to work with Prof. B M Hegde, a renowned doctor, professor and health visionary. Dr Bhuvan graced several other places and assumed various roles and responsibilities before taking charge as the Director of PSG Hospitals a few years ago. He recalled his role as a student doctor in the early days of his career, which according to him, was his identity then. He also reminisced other milestones down the timeline where his profession as a cardiologist, a professor, and a director; and his familial responsibilities as a husband, a father, and a grandfather moulded his identity. He terms this the "external identity" and distinguishes it from the "internal identity". He then went on to define success and his measure of success, which he said is often materialistic. He added that internal identity is not something that's given but acquired. He insisted on the importance of the pursuit of finding out who we are by doing the things we love and the things that add value to both our lives and others. He strongly iterated that conquering one's ego and accepting life with gratitude are integral in unveiling one's internal identity. He concluded with a piece of advice to devote time for ourselves to reflect upon our lives, to realise success and to get a sense of our internal identity.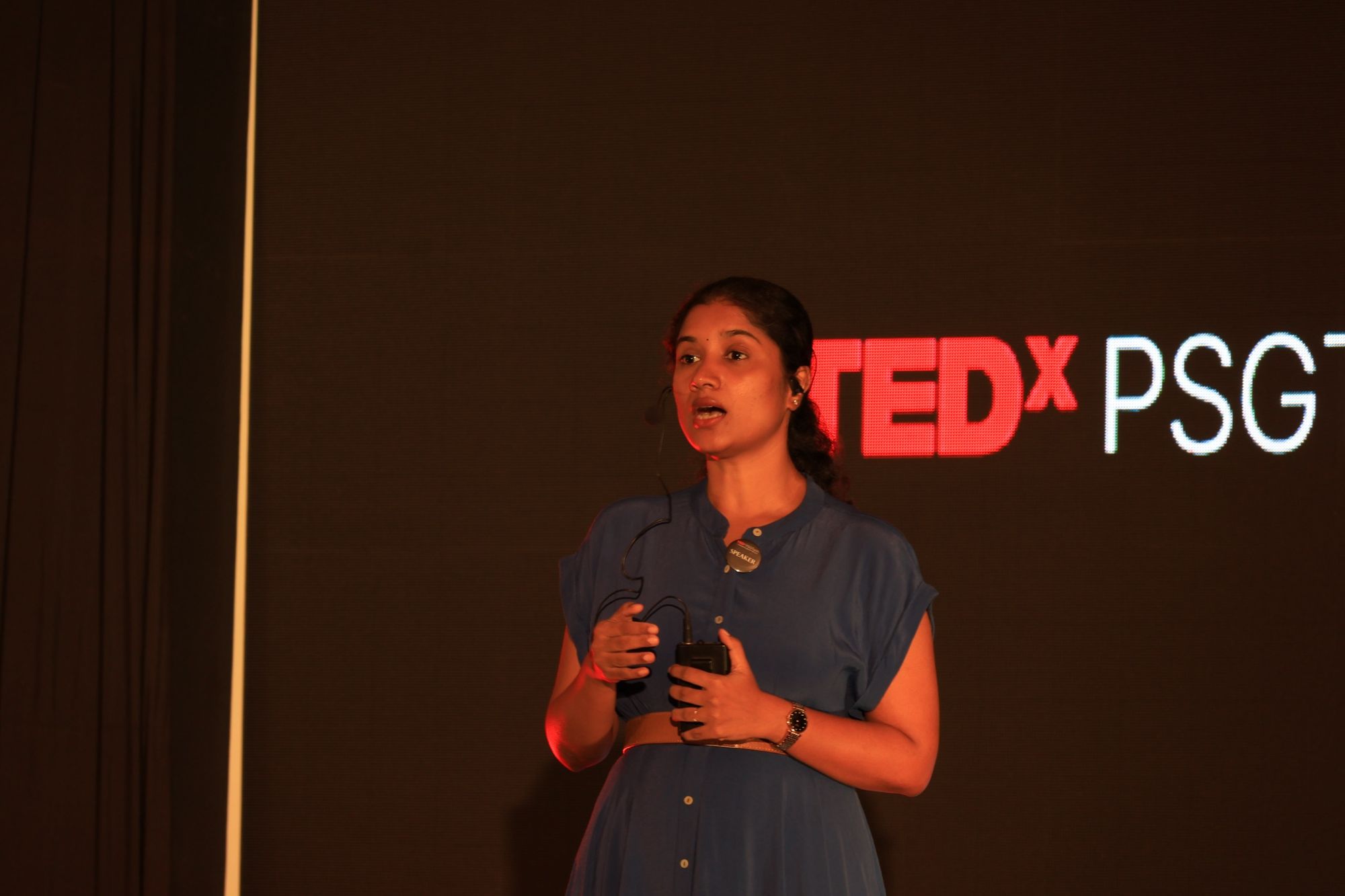 In the second presentation, Ms Kruthika Kumaran, co-founder and CEO of Vilvah Store, shared the profound evolution of her identity throughout her life. She began her journey as a B.Tech IT graduate with two promising job offers but made a pivotal decision to deviate from pursuing a career, choosing marriage and homemaking instead.
Ms Kruthika's identity transformation was fuelled by her mother's struggle with skin issues, which prompted her to explore organic alternatives to chemically manufactured skincare products. After her mother's tragic passing, she found solace in creating homemade soaps as a means of coping with her loss. A turning point occurred when her daughter developed a skin condition, compelling her to take matters into her own hands. Leveraging her agricultural background, she decided to incorporate goat milk as the primary ingredient in her soaps, owing to its ubiquity. These organic soaps worked wonders for her daughter's skin and quickly gained popularity among her friends. This milestone marked the birth of her new identity as a passionate soap artisan.
She highlighted the irreplaceable role her husband played in encouraging her to transform her creations into a brand, culminating in the establishment of "Vilvah Store". She concluded her insightful presentation by emphasizing that identities are not something one actively seeks but rather something that naturally unfolds over time.
Following a brief break, an impromptu interaction session was held, where the participants shared how they saw and perceived their identities. The program continued with a captivating musical performance by PSG Tech's music club Tek Music. They were joined on stage by Dr. Bhuvan and later by vocalist Mr. Shravan R P, the next speaker, who sang a few lines and left the entire audience spellbound.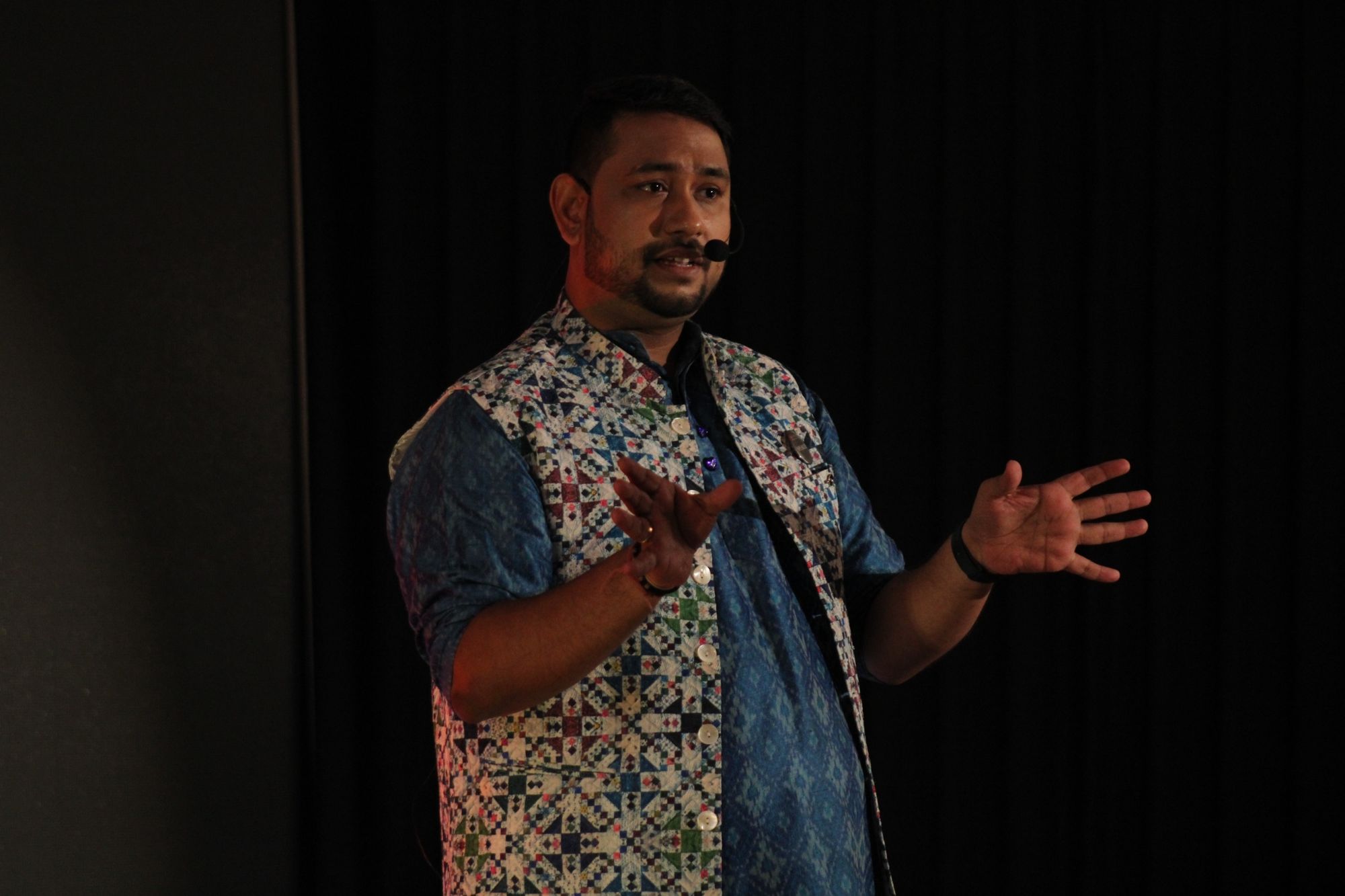 The third presentation featured Mr. Shravan, a talented Carnatic vocalist, accomplished playback singer, and an Indian Idol sensation. He talked about his musical journey, which sprouted at the tender age of four and eventually saw his catapult to fame through his appearances on reality shows such as Super Singer and Indian Idol Season 9. Notably, he had the rare honour of performing in the presence of the respected Prime Minister, Shri. Narendra Modi and the former Vice President Shri. Venkaiah Naidu at the Prime Minister's residence to commemorate the Ugadi celebrations. During an interview with The Bridge later that day, he recalled this event in vivid colours and regarded it as a memory that he would cherish for life.
Mr Shravan underscored the significance of classical music, noting how it serves as a foundation for embracing various musical genres and facilitates his rapid musical learning, granting him the liberty to explore diverse ilks. He illustrated this point by singing a few lines from the Tamil cinema classic, "Malargal Keten", from the movie "Ok Kanmani".
Furthermore, he stressed the importance of introducing music education at an early age and the value of acquiring multiple skills. He drew a parallel between diversifying one's skill set and his journey, which prompted him to develop skills in video editing and videography when he launched his YouTube channel.
Mr Shravan discussed the impetus behind starting his YouTube channel, which combined both music and culinary content—a way of expressing gratitude to his grandmother Shantha Paati, underlining the importance of appreciating one's blessings. He then delved into the day's theme, "Adayalam," highlighting the perpetual nature of evolution as an ongoing and lifelong quest. Following this, the event was paused for lunch.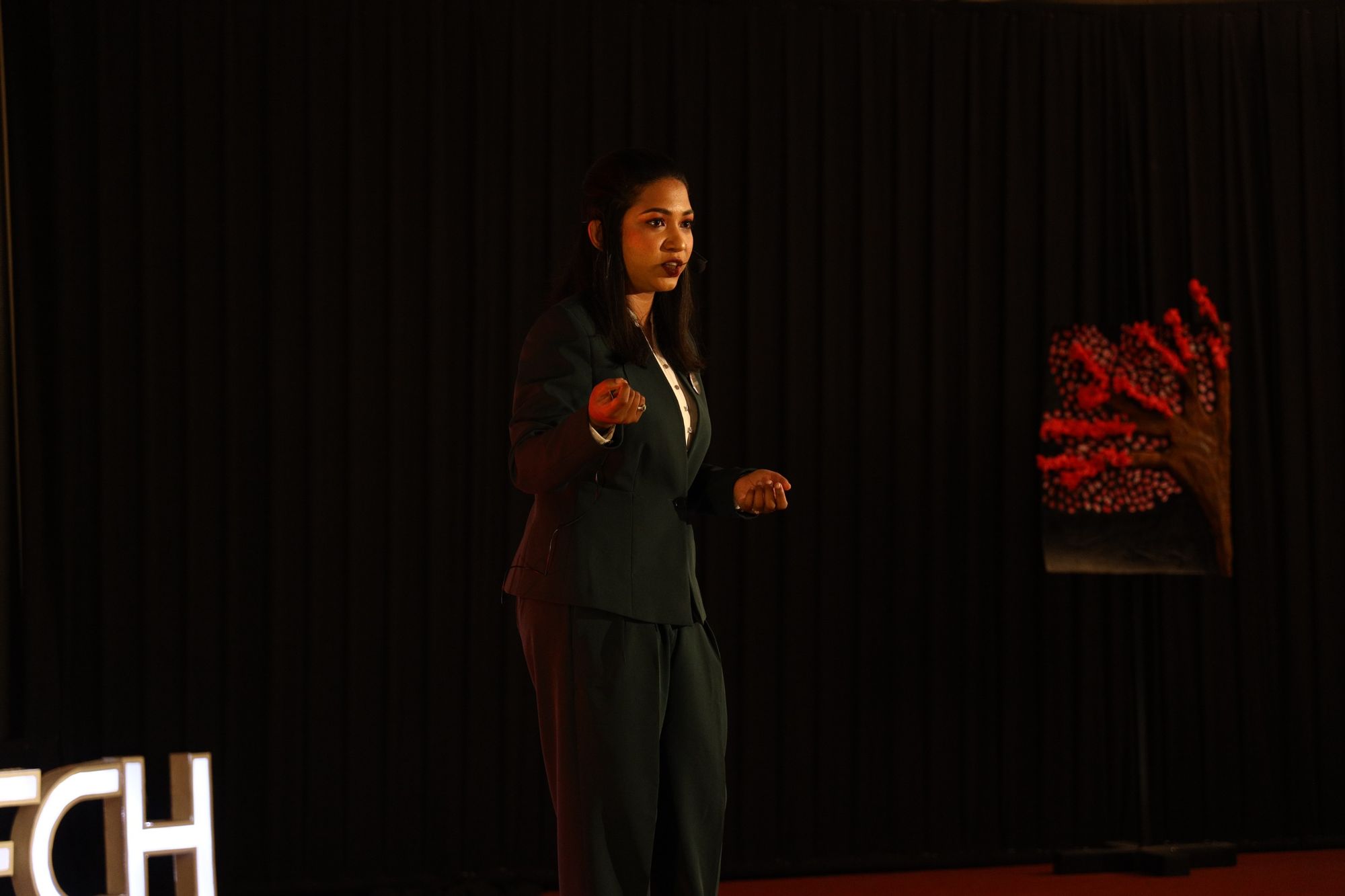 Following lunch, Ms Shruthi Babu took the stage. A biomedical engineer by qualification, Ms Shruthi always looks for ways to make people's lives easier. She shared an incident from a hospital, where an old and impaired patient felt ashamed and undignified to have his daughters clean him up after his defecation. This event left a lasting impression on her, which persuaded her to start her own company, Dhanvantri Biomedicals. Sahayata, an advanced wheelchair with a built-in commode and self-cleaning functions was born, which promises a more dignified life for the differently abled. She recalled the countless incidents when her idea was rejected by many. She made a mention of the late Dr Krishnakumar, the person who took Ayurveda to the WHO, with much delight and gratitude for appreciating her idea and supporting every step of hers towards building her product and company. She then fondly remembered her father, who had expertise in mechanical engineering, for helping her out with various prototypes of Sahayata. The demise of her father only made her more determined to ensure the success of her product. Not too long after that, she shared the privilege of having her product launched by the Honourable Prime Minister of India, Shri. Narendra Modi, besides managing to raise an investment of Rs. 1 Cr. through Shark Tank India. Obstacles and disappointments have abundantly crossed paths with her entrepreneurial journey and yet she described the process as having been energetic and wonderful. She concluded by saying that accepting rejections and overcoming obstacles has been instrumental in establishing her identity as a successful entrepreneur.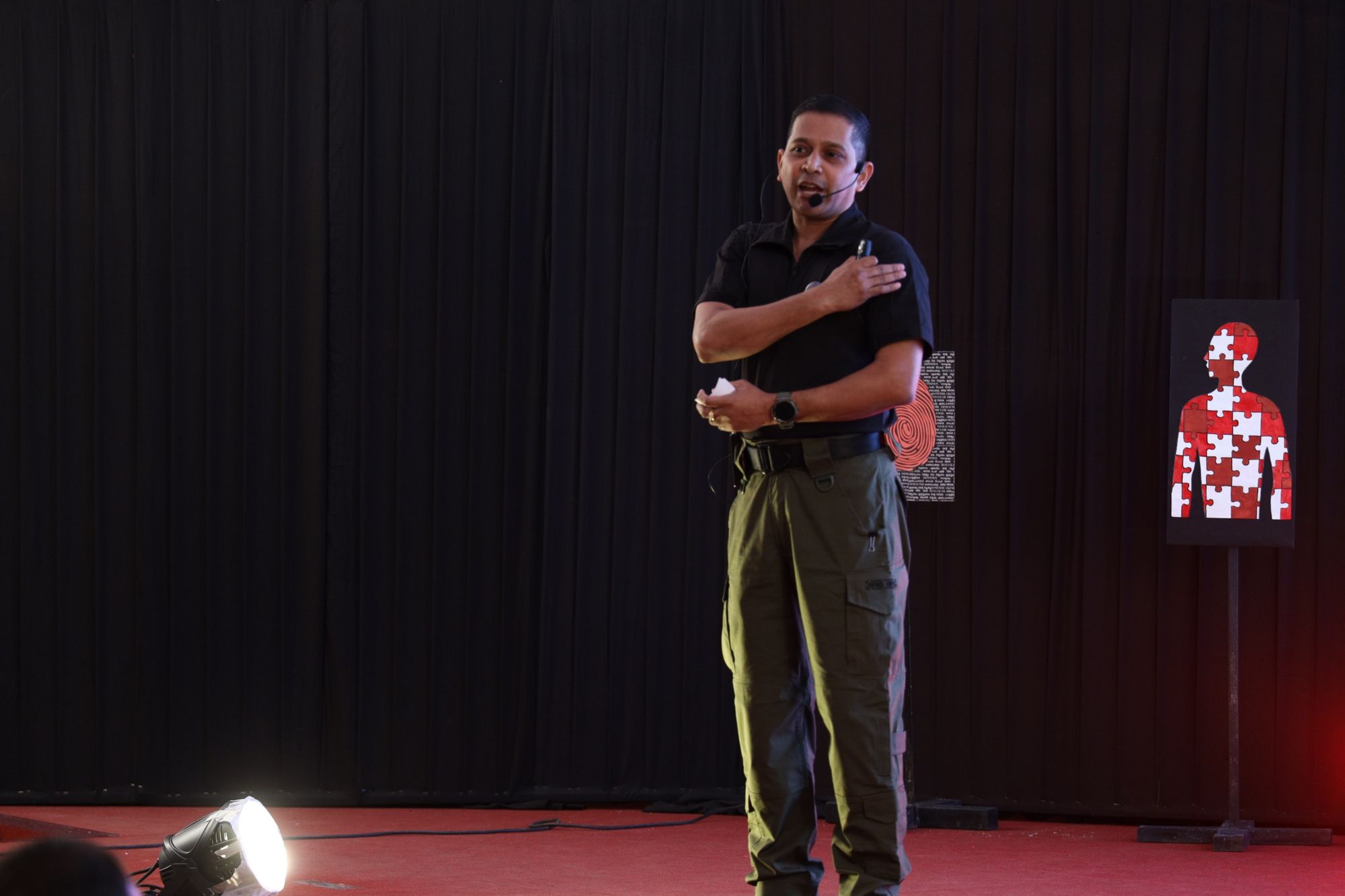 The final speaker, retired army officer Lt. Col. B Bharath, delivered a profoundly impactful speech. He commenced by recounting his early experiences as a child accompanying his father to Republic Day parades, which ignited his passion to become a soldier and serve his nation. Lt. Col. Bharath emphasized the stringent demands of their missions, stressing that failure was not an option and that they had to execute anything flawlessly on their first attempt. He paid special tribute to the 51 Special Action Group, of which he was also a part, for their pivotal role in the 26/11 operations in Mumbai. In a lighthearted manner, he quipped about the operative who shot him during the mission, suggesting they might have had poor marksmanship as they only got him by the ear!
He also shared the lack of confidence his parents had in his future, which served as a motivational force for him to pursue a career in the armed forces. With pride, he remarked that during his years of service, he never had to bear the burden of bringing a soldier's death to their family. Lt. Col. Bharath reminisced about the enjoyable moments he shared with his comrades during his service, affectionately referring to them as his "boys." When asked about his experience of fear on the battlefield, his response was, "Only all the time," underscoring the weight of responsibility for the hostages' lives.
In his closing remarks, Lt. Col. Bharath encouraged young individuals to remain in India and contribute to its growth, rather than seeking opportunities abroad.
Concluding the event, Bharath M, the secretary of the GLF, expressed gratitude with a vote of thanks. The occasion provided an insightful glimpse into the thoughts of individuals who aspired to transcend limits by contemplating their "Adayalam" and venturing beyond their comfort zones, which eventually resulted in a resounding triumph.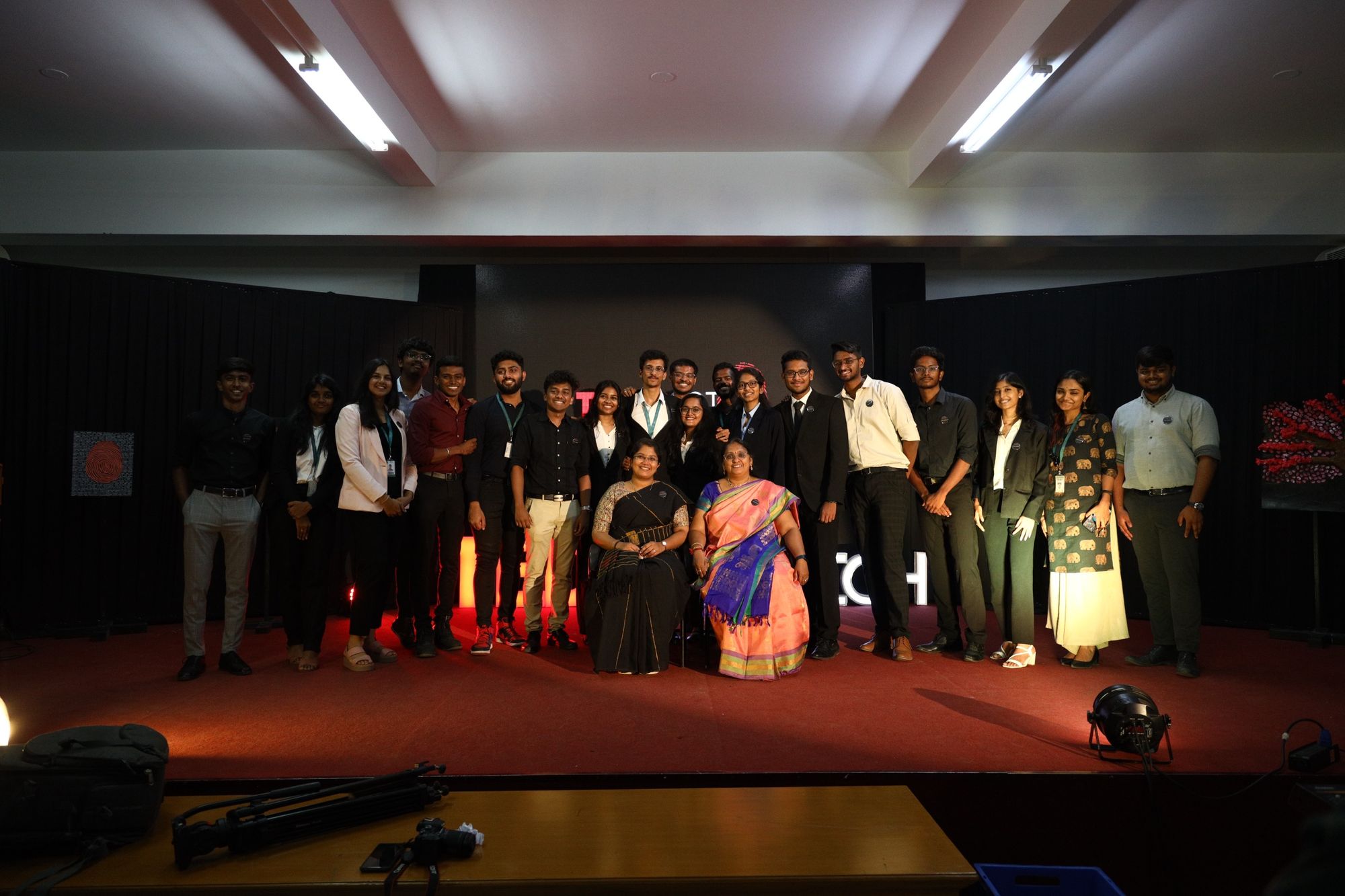 Team Bridge would like to thank the GLF and the organising committee for the priceless opportunity to cover the event, helping us get interviews with the speakers and supporting us with photographs of the program.