"Changing the Game" with Chetan Bhagat
---
An exclusive on an interactive event jointly organized by the Indian Women Network (IWN), Confederation of Indian Industry (CII) and Young Indians (YI) at Le Medirien, Coimbatore on the 24th of Septembet, 2014 with the best-selling author Mr.Chetan Bhagat, prior to the release of his latest book 'Half Girlfriend'
By Subash V B (B.E(SW) Mechanical, 2013-2018)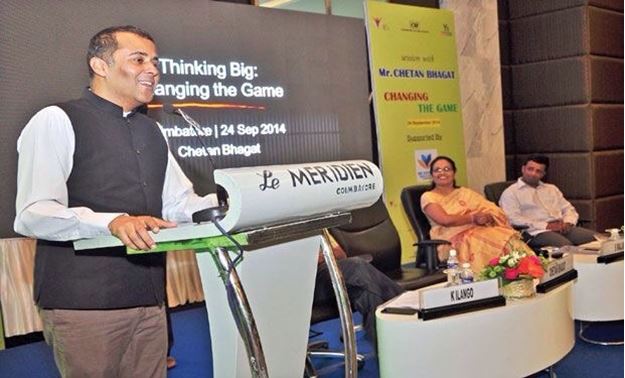 A sunny afternoon in September got brighter with the arrival of an eminent guest in the beautiful city of Coimbatore. The venue was at the posh Le meridian, Coimbatore but the speaker was humble, down to earth and came in a Nehru suit. The face of the audience lit up as he took the dais after the introductions by the dignitaries on stage which only comprised of one sentence "He doesn't need any introduction". He took center stage and we leaned in with interest.
"An Indian who wrote stories for Indians", he described himself. The session was titled "Changing the Game".  His way of speaking English was simple, yet, possessed a rich texture with a great sense of humor laced within it. Mr. Chetan Bhagat openly acknowledged that he could not write the best book and was constantly criticized for his writing but he said and I quote:
"I am not the best author, but I am the bestselling author"
Changing the game:
A game is a competition which has certain rules and the winner gets the reward. In a typical game the one who performs better than others, usually wins. There are two types of winners in a game:
a) Winners who perform better than others
b) Winners who change the game
The first type applies to fields where one has to be better than his opponent to beat him. (In tennis, Nadal has to better than Federer to beat him). But there are certain fields where one can innovate (Change the game) and win (In business, new and innovative ventures have been hugely successful).There are three phases in changing the game. Initially we change the game by chance, without actually realizing what is going on. Then having tasted success in doing things differently we go on and practice it until it becomes a habit. Then it is used as a conscious strategy to improve ourselves. There are many obstacles which we should cross in our pursuit of changing the game. The main myths which surround this are:
Requires genius
Can't be learnt/practiced
Always said in retrospect
He recalls his own experience about this in getting "Five point someone" published. The picture at the time had told him, "If you get an award from the UK for your book, you can get many publishers to publish your book here in India". The benchmark for bestsellers was a mere 5,000 copies.  He was rejected by many publishers for its simple language and story. Finally he got the book published by Rupa publications and it changed the face of Indian writing forever. The book went on to sell 1.3 million copies and completely changed the game.
Moving into other fields:
Columns:
He then moved onto newspapers to contribute to writing editorial columns and again made a difference in the process.
Rules of the game:
Editorials should be serious
Niche intellectual audience
These rules shrunk the readership of editorials to readers who have very good English language skills. He wrote simple articles about the problems pertaining to our society in dailies such as Times of India, Dainik Bhaskar and attracted his own set of readers.
Films:
Chetan Bhagat next forayed into the dream industry and took it by storm. His game changing concept of "Story is the hero" stuck a chord with the audience and resulted in hugely successful box office hits like 3 Idiots, Kai po che, 2 states and Kick. His film adaptations have grossed a record 800+ crores in the world box office. His upcoming book "Half Girlfriend" is being made into a film co-produced by him and directed by Mohit Suri.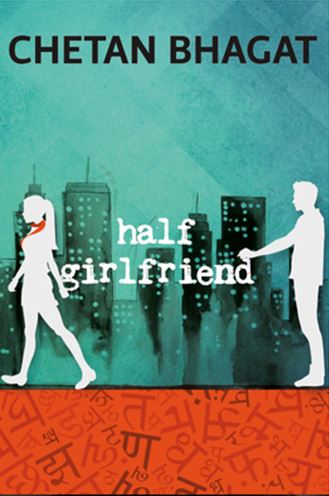 Connecting with the nextgen:
After his books began to draw more attention and set new records, the next game changer was around the corner. This time it was the social media. Facebook and Twitter took the youth by storm and almost everyone in their teens and above had an account. He thought this was the time to get involved in social media and get the attention of the youth, not for self-promotion but to drive home his inceptive idea of bringing a change in the society. His insight into the current state of things and his witty nature are evident in his tweets and Facebook posts.
"Don't ban opinion polls. Better ban opinions. Or best, ban polls."
He is the perfect mixture of thoughts, ideas and creativity. Having blended them to a right mix he drives home his social ideas through his interesting and creative stories. But his social comments have frequently invited abuse and criticism frequently. He is asked to shut up and write books and movies. But he says he cannot stop there and be nonchalant.
Why challenge? Why not just chill?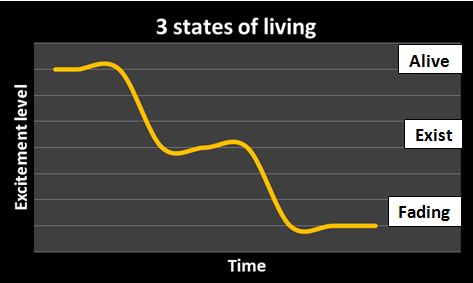 Three states of living:
Exist:
o   Neither happy nor sad
o   Reacting to life vs Proactive
o   Waiting on an escalator
Fading:
o   More unhappy than happy
o   Niggling discontent
o   Can't be bothered to press the lift button
Alive:
o   Look forward to life
o   Feel the spark
o   Contentment and ambition
o   Climb stairs, walls and lifts
The graph of any activity or life as a whole is naturally a descending one. No matter how interested and enthusiastic you are about a particular job, relationship or an activity , the spark is bound to be put off . It is upto us to keep the graph near the alive region.
We can feel more alive by having more challenges to face. As we start a new activity we feel energetic and fresh, and the spark is glowing bright. With a host of new goals , it always keeps us on our toes and make us feel alive. This also makes us grow as a person .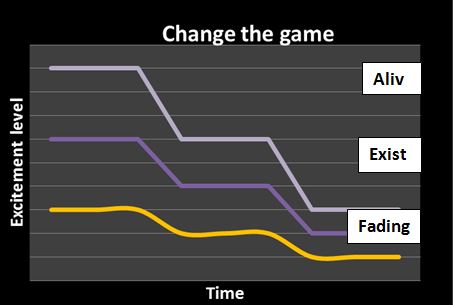 "Be so busy improving yourselves that you have no time left to criticize others."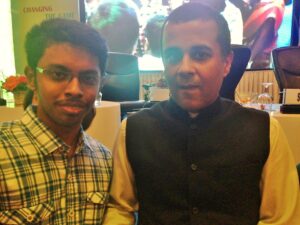 The excellent talk by Mr.Bhagat was followed by a lively question answer session. The first question was put forth by a young entrepreneur who asked about Mr.Bhagat's gradual transition from books to films to editorials and if politics was the next one on the cards? Mr. Bhagat asked the audience " Should I come?" and joked that he would never trade his househusband status even for a minister. He continued by saying that if he joined any party he would have to agree with the policies and agendas of the party even if he personally does not stand by those principles. He concluded by saying " If I get a chance to be in a party and yet retain my individuality I may".
He was then quizzed on how he feels about women empowerment?  He said he is proud to say that he is a househusband and it is a tough job what woman do in the household. "Men raising their voice for women empowerment is more powerful than some feminist group raising its voice occasionally".
He was then quizzed about his latest tie up with Flipkart for delivering "Half Girlfriend" to half a million homes on the first of October. He narrated a story about how people in rural areas tend to go to the railway station, get a platform ticket and go to the bookstore for purchasing his book. They make the tedious journey from home to the railway station only for his book. He wanted to make life simpler for them and reach out to a vast audience on the very first day even if they were busy with other commitments and do not have time to spare for reading his books. Then I asked him about how to pursue one's passion inspite of the society driving one towards a well-settled life? (a term which is found in the matrimonial site of every eligible bachelor) He gave a nostalgic reply for this question saying it is better to live in a single bed-roomed house and be content that you have gone for it than to live in a big bungalow and be restricted without ever having the guts to pursue your dreams and live someone else's life.
After an energetic discussion with India's best-selling author, the audience mobbed him for photographs and autographs. After patiently posing for all the photos he bid adieu to fly to Bangalore to visit the Flipkart warehouse where his book "Half Girlfriend" was stocked to be delivered to half a million homes on the first of October.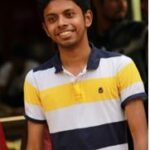 SUBASH V B (B.E (SW) Mechanical, 2013-2018) is an avid reader and a movie buff. He enjoys playing tennis and watching football. He loves hanging out with friends and wishes to visit every part of the world.
For comments/feedback/suggestions, please write to thebridge@mail.psgtech.ac.in