Creativity at the tip of his pencils
---
Interviewed by Vaishali Vinod (B.Tech Biotechnology, 2015-2019)
Photographs by Nidhish Krishna (B.E ECE, 2016-2020)
Creating a world record is a dream for many. But here is a man who has made dream turn reality. Mr M SAVITHRU (B.Tech FASHION TECHNOLOGY, 2012-2016) has achieved this feat with his extraordinary skills in carving on pencil tips, soaps, chalk pieces, soaps and vegetables. Read the excerpt from an interview with him.
Q: How did you discover your love for art?
A: I took a liking towards art right from childhood. I've always admired my aunt's paintings and it made me pursue it as a hobby. Then I started modelling clay which led me to develop an interest in 3D art. When I was sixteen, my cousins introduced me to fruit and vegetable carving. I guess that was my first step in this journey. I started carving soaps during my days at college; I've been into pencil art for the last 18 months.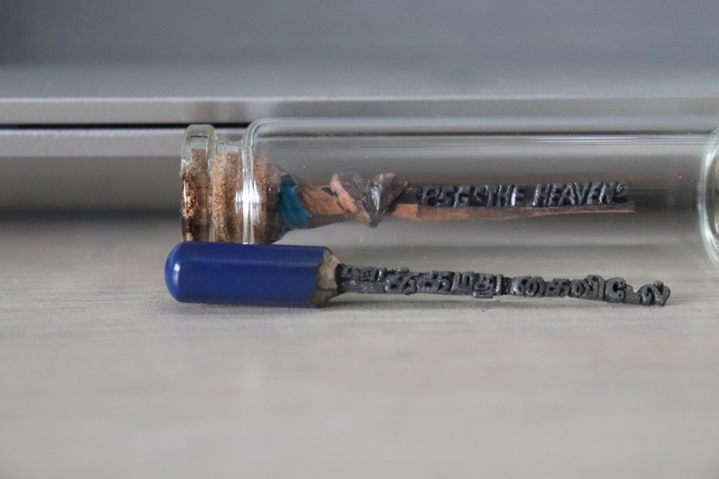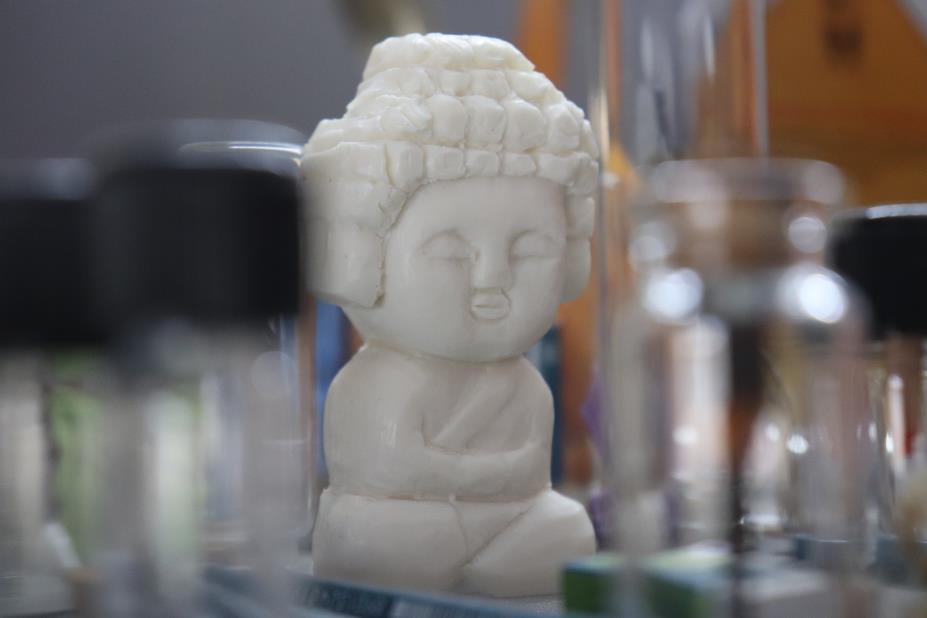 Q: Miniature art is not a popular form. What made you believe in it and keeps your interest alive?
A: Yes, this art form is new to many people. But when you do something different, you stand out from the crowd and that can make you successful. I came across a saying recently, "If people don't laugh at your dreams, they are not big enough." I have had many people laugh at me when I used to talk about my dreams. However, I've always believed in myself. I keep reassuring myself that my art will find appreciation someday and that's important. I'm a self-taught artist. I've practiced so many different things such as pencil, wood, fruits and soap carving and I would love to learn something new. New things are coming up everyday and it is important to stay on track and keep yourself updated.
Q: How supportive were your family and friends knowing your passion?
A: Generally people appreciate when you are good at extracurricular activities. But you are looked down upon when you want to make a career out of it. Nobody likes to break the stereotypes. Since carving is not a regular form of art, my family feared it had no scope and felt that I was walking towards a dead end. After I graduated, I worked at a company in my field. Then I took a year off and stayed with my friends to pursue my passion. A year after I quit my job, I tried making it into the Universal Achievers Book of Records. For the event, I had to make carvings for 24 hours continuously. I made around 175 carvings on different media and 100 of them were unique. My friends Gokul and Akhil assisted me throughout the process and made sure I wasn't distracted. We were under so much pressure, but at the end we managed to win. And that was when many started taking me seriously.
My classmates and my department have shown immense love and support. Even the juniors from my department and YRC (Youth Red Cross) have always believed in me and have kept backing me.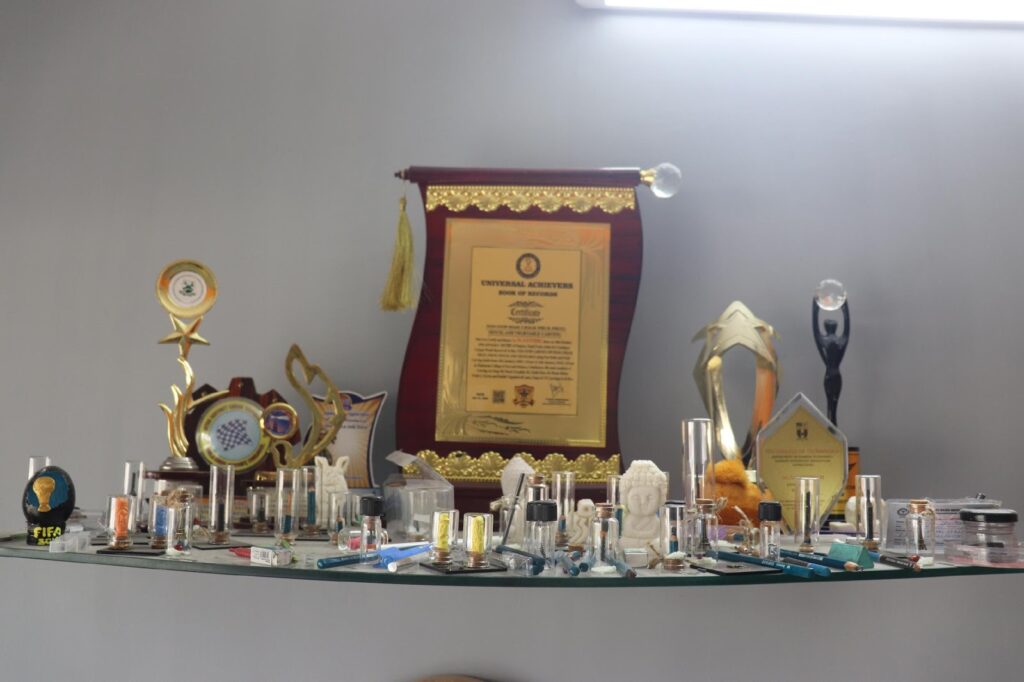 Q: You said you had quit a better paying job. Were you at crossroads at any point, choosing between passion and profession? Do you regret your decision?
A: There is nothing better than making your passion your profession. During my employment, I used to work on my carvings every evening after work hours. Even now, I work hard every day. I don't earn much, but money alone doesn't make you happy. I have seen people around me with high paying jobs doing stuff that are of no interest to them. That was when I decided to do what really drives me. I am at peace with what I do now.
Q: What is your favourite carving?
A: All my carvings are my favourites but if I have to be specific, I would say my pencil carving of Kamarajar. I've always admired his dedication and concern for the public.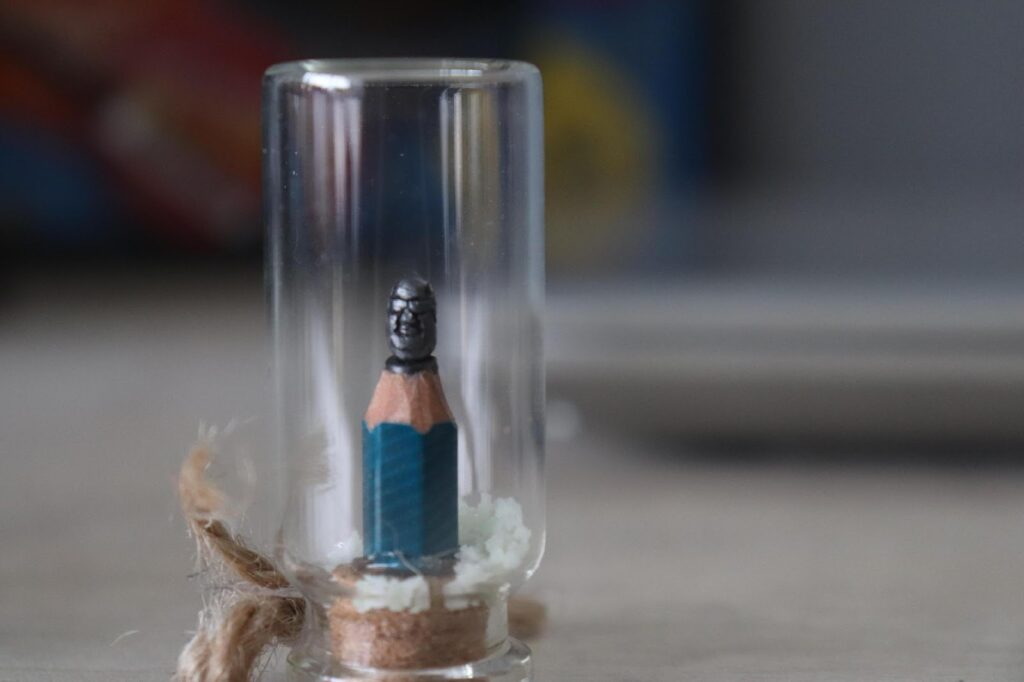 Q: Describe your life at PSG Tech.
A: The four years of my college life are close to my heart. I was an active participant at various events conducted in the college and I got to interact with many seniors through them. When I was in the first year, I used to participate in the events conducted by the Fine Arts Club where I got the opportunity to show my skills. Later, I went on to become the class representative. I got to know my classmates and professors better and I learnt what it is to be a leader. During my third year, I was selected as the Joint Secretary of the Fashion Technology Association. My social circle just kept growing bigger. We started a start-up called Fabino and it was well received. During my final year, I was the secretary of YRC.
YRC was a huge team and I made many friends across all programmes and years. At YRC, we have to act during emergencies and handle emotional situations. We find donors and convince them to donate blood. We also handle the kith and kin of the victims. We also organise scribe teams for the differently abled. I've helped many write exams in different subjects like law, economics and banking. All these experiences have taught me so many things about life.
Q.What would you like to tell our fellow tech-ians?
A: Our campus is full of opportunities. You just have to make the best use of them. So yeah, prepare yourself for everything that may come across your path. Stay focused; don't be lazy. Don't hesitate to try anything new. People have failed many times before tasting success. You shall succeed and find happiness too!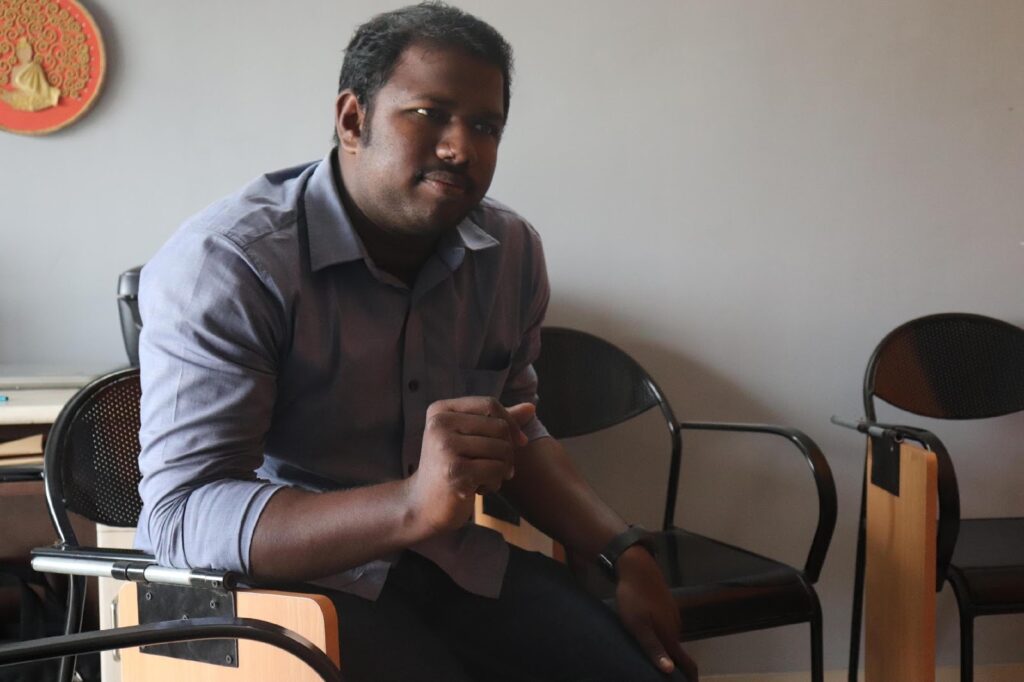 Q: What are your future plans?
A: We artists always feel the need to work for world peace and its betterment. There are many who are in need of upliftment. I would like to help and train people with interests like mine and help them build their careers. I have a studio now and I am training people on carving. I teach people from all age groups and organise workshops for people to explore their skills.
On another front, I am also trying to set a Guinness World Record by making the world's smallest chess board (1cmx1cm). I've sent in my entry and am awaiting the results.
THE BRIDGE would like to express its gratitude to Mr.M.Savithru for his time and wish him the best for his dreams and the world records he is yet to break (and create).
You may visit Savithru's Facebook and Instagram handles for more of his art works.
Contributors' Space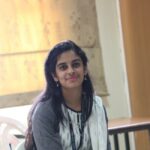 Vaishali Vinod (Author)
She is passionate about writing, philosophy, dance and cooking. She loves adventures and is a nature and an animal lover. She aspires to become a social activist.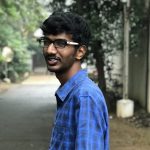 Nidhish Krishna M.P (Photographer)
He is a budding photographer, an ardent fan of football and a music lover. He is also avid technophile who believes that every major change brings a new opportunity for the world to innovate further.
For comments/ feedback/ suggestions, please write to thebridgepsg@gmail.com