Disabling the Disabilities
---
Converting problems to products...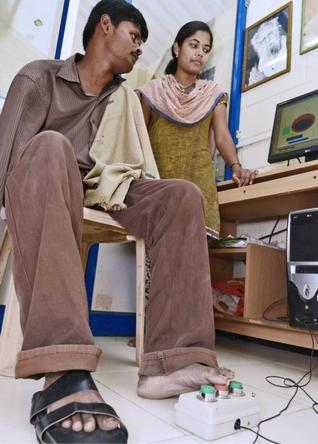 They say if the opportunities don't knock, build a door. What if someone has got the door but not a way to take those few steps to reach it? Eventually, it lies in your hand to help them get there, for it maybe the door you have been waiting for, but you never grew aware of. S. LAKSHMI DEVI (M.E Virtual Prototyping and Digital Manufacturing, 2012-2014), who has an eye for social welfare, definitely knows this. One could see the spirit and enthusiasm in her in making the world a better place not just for us, but for everyone; even for the people with the least reach. She spoke over the phone answering more than a few questions about her experiences with the project of making the mouse accessible to everyone, literally. The device uses a track pad impregnated slipper and a three push button system to make it work.(It could be seen in the pictures below)  Excerpts from the interview:
Q. How did you come up with this idea?
It was semester holidays (Nov, 2013) for me and I was introduced to the "Caliber Trust" via my friend. It was a social organization which provides IT training to differently-abled persons. In the course of our conversation with the Trust's Surya Nagappan, he mentioned G.VENKATESH, who had lost both of his arms in an accident. As he couldn't operate the mouse, they were of very little help to him and so, he discontinued two years back . This provoked the idea of redesigning the conventional mouse so that it can be operated with feet instead of hand.
Q. How would you describe your experiences in building up this device?
It wasn't a pleasant one, per se. A cobbler near my home made the moccasin possible. It was not before a lot of revisions it sounded fit. For instance, the bottom of the slipper had to be flat and hard as in a normal mouse and the remaining part had to be soft to host the electronics. The core was made of rubber foam with a protective cover of rexine and the  micro switches were modified to push buttons for the mouse clicks.
It was trial-and-error all the way till perfection. As any deed would demand, this one also needed patience and perseverance all along.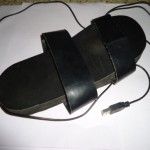 Q. How did the college help you with your project?
Though I started the project solemnly, the college helped Mr. Venkatesh to get to "Caliber Trust" from his house routinely, which was nearly 6 km away. Mr. VIJAY KUMAR of Electrical and Electronics Engineering department helped me in fabricating the track pad and the buttons.
Q. What kind of feedback did you receive?
The feedback was good. He took a little time to get used to it. After that, he faced no great difficulties in operating the mouse. He can use the mouse like anybody else now. What really matters is the price; otherwise it may not find itself much use. I was able to drag the cost of the product down to Rs.1,500 ultimately. The mouse is still working and is used by Mr.Venkatesh and others. He regularly takes classes there at a frequency of about 4-5 hours a week and has been using the device for more than six months with no issues.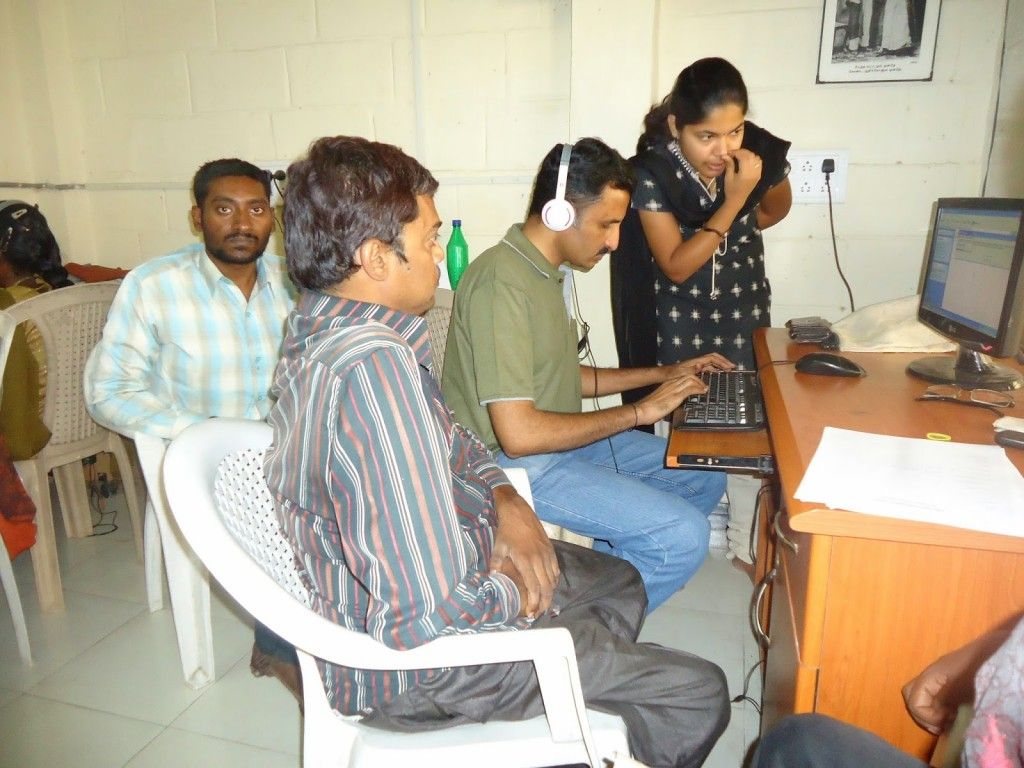 Q. Are you satisfied with your work?
I am very much satisfied with the outcome of this project. One thing that could have been improved is the mouse buttons , which are not so fluidic now.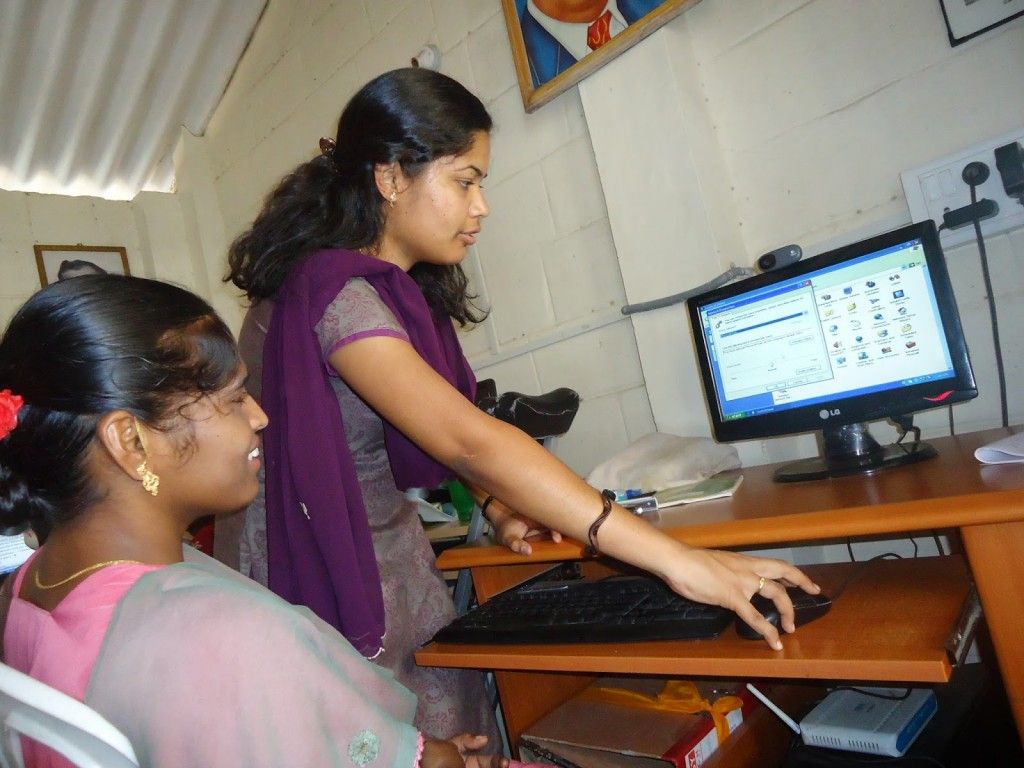 Q. You said you'll develop a friendly keyboard for the same. What is your stand on that ?
I have no immediate plan to take on that project, but I am ready to mentor anyone who is willing to take it up. I have also contacted the Student Research Council (SRC) about this.
Q. A message for youngsters who want to follow in your footsteps...
Many students try hard to get a project. Instead, they can look around them to identify the problems others face. The problem identification is very important. There are some people who find it difficult just to run their daily errands. We could apply our domain of study onto them so as to solve their problems. It would give one a really good practical experience, exposure and added satisfaction. Even if we fail to finish the project, it'll lay a groundwork for others to continue it. This way we could develop our skills and also our society.
Team Bridge wishes her in future endeavors and that she inspires many more to develop such products.