E-Next: Nurturing Future Entrepreneurs
---
Coimbatore has been and continues to be home to numerous budding entrepreneurs. On the 17th of March, the campus witnessed hundreds of students from all around the city gathered with one common motive – to enrich their knowledge of entrepreneurial skills. Thanks to a well-organized team working diligently behind the scenes, E-NEXT 2018 was a great success in the eyes of the beholder.
Day 1:
The event was inaugurated by Mr.D.Venkateswaran, co-founder of Venbro Polymers. "Each one of us is an entrepreneur trying to sell ourselves, but that's self-employment. Entrepreneurship means creating employment", he said. He also said that risks were a big part of entrepreneurship. To prove his point he shared a short anecdote about the formation of Reliance Petroleum and how Mr.Dhirubai Ambani was ready to enter this industry at the risk of losing everything.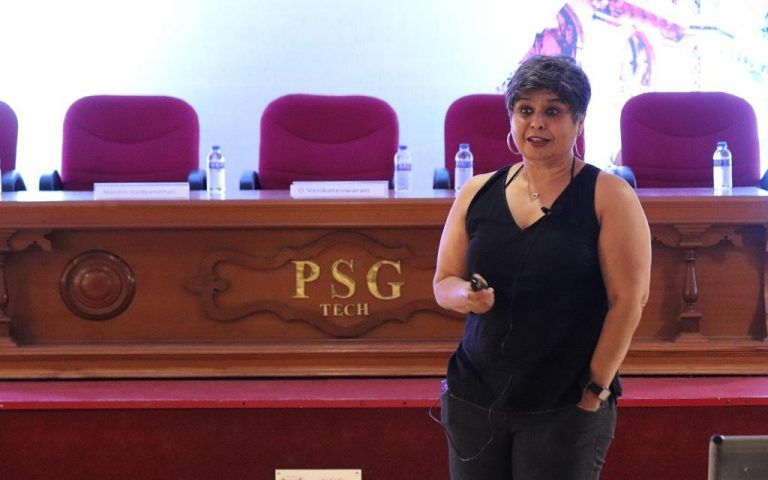 This was followed by an insightful session with Ms.Nandini Vaidyanathan, founder and mentor, CARMa Connect. "Entrepreneurship is not a career choice but a lifestyle choice", she said. She discussed with the students on how and where they could get ideas for startups. "Just look around you. You are surrounded with problems to solve. But, none of us does anything about it until it really affects us." To help us understand how the entrepreneurship community works and realise that solving a small problem can also create a large industry, she cited companies like Pixar, Colgate and Wrigley. She went on to discuss strategies adopted by various companies. "When Pixar came out with their first movie – Toy Story, they were an eleven member team. They were not a threat for Disney at the time, but they did hold the potential for becoming one in the future, which resulted in Disney purchasing Pixar later on", she explains.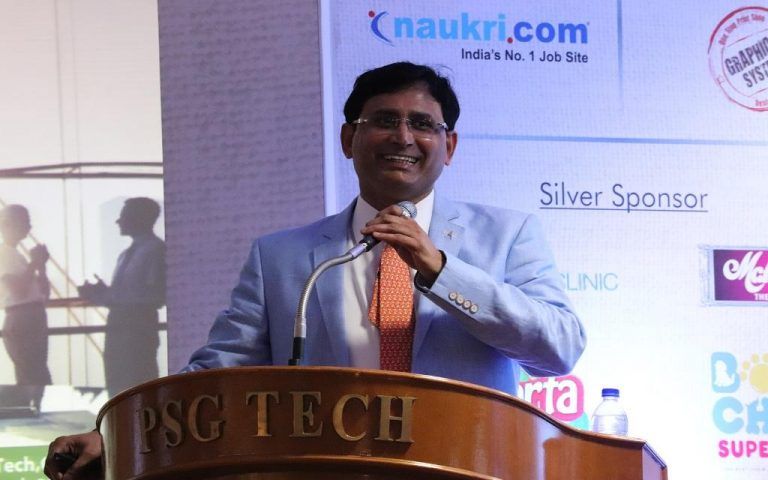 For becoming a successful entrepreneur, it is important for one to be able to build teams that work towards a common goal. To address the attendees, Mr.V.Suresh, Chief Sales Officer at Naukri.com shared his recipe for building great teams. He said that according to him, collaboration, teamwork and trust were the building blocks for a successful team. "Anarchy isn't bad", he said. He even quoted Napoleon Bonaparte, saying "Anarchy is the stepping stone to absolute power."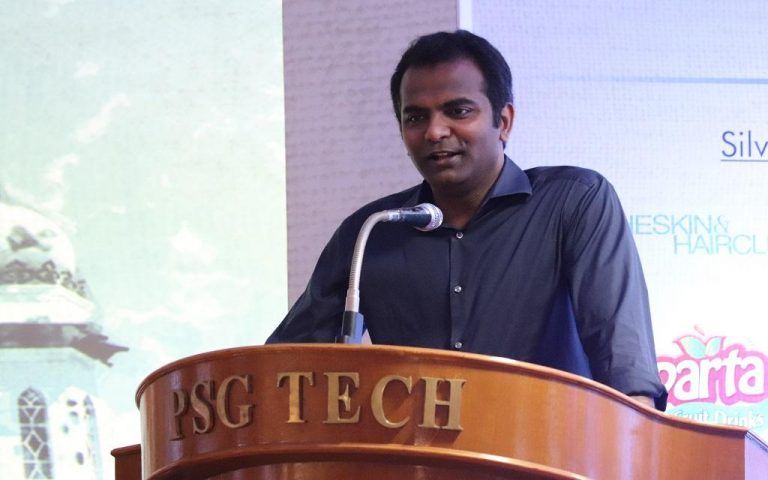 The last speaker of the day was Mr.Sujayath Ali, CEO and co-founder of Voonik, an e-commerce startup focusing on fashion solutions for customers with a budget. Competing with giants such as Amazon and Flipkart, the road to success was long and tedious. He narrated his story of how he made Voonik a profitable e-commerce business while at the helm. He stressed on time management. "Every time you do something, think whether there is something better you can be doing with your time," he said. "No was never an option. I never gave up, no matter what," he said. His life lessons proved to be eye openers to the audience.
Day 2: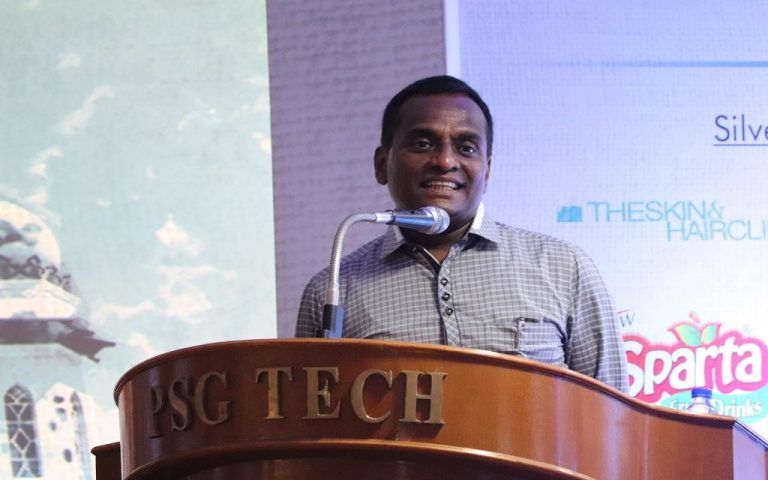 The first guest of the day was Mr.K.Srinivasan, MD & Director of the Emerald Jewel Industry of India. He gave us an insight into his life, and how he founded a company that has an annual turnover of 2500 crores. He narrated the numerous hurdles he was met with, in spite of which he is an extremely successful first generation entrepreneur. After graduation, he joined a jewellery store as he wanted to know the problems in that industry. It was a difficult decision for his family as he came from a poor background. He realised that this industry needed to be organised. So he decided to deliver jewellery to retailers and ensure his service was impeccable. After that, the sky was the limit for Mr.K.Srinivasan. He then shared his learnings with aspiring entrepreneurs. "No dream is too small. Dreaming is necessary, but not enough. You need to work hard and smart. Dedication and devotion are important," he said. His success story was awe-inducing.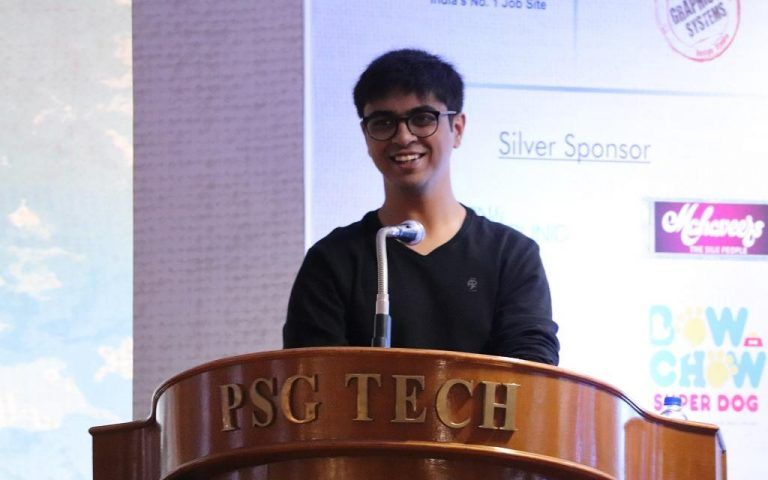 Mr.Harsh Songra, a twenty-year-old from Bhopal proved that anybody can do anything. His parents took nine years to realise that he had Dyspraxia. After his diagnosis, he learnt android application development and introduced the MyChild app, which helps parents determine if their child might be suffering from any disorder. Hence, he has ensured that what took his parents to figure out takes other parents just ten seconds, thanks to his work. He believes that one should go after failure instead of chasing successes as there is more to learn from failures. He also said that the best way to be successful is to do what you love and the rest – fame, money and success will follow. "Someone else's opinion doesn't have to become your reality," he stated. "India is not a friendly country for disabled people. You should look around and instead of making fun of someone's disabilities, help them overcome them." While sharing his valuable insights about entrepreneurship, he also urged everybody to become more aware of people's disabilities.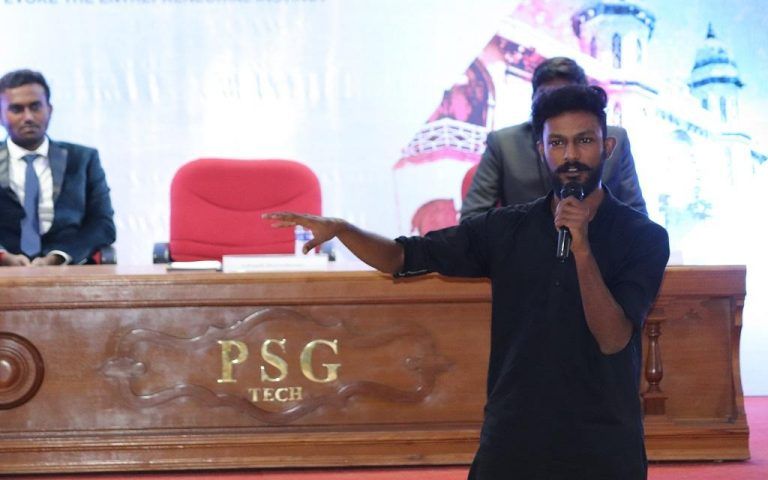 "Communication and the human connection are the keys to personal and career success", quoted Mr.Siddhanth Khanpur Dharmadheeran, who was born in Uttar Pradesh is the co-founder and COO of Warhorse, which designs creative short and long-term courses to hone essential skills, build character and help ignite a desire for lifelong learning.  Being a 'straight A' student who participated in more than 20 MUN conferences in the capacity of a delegate of which he boasts a 95% win record, he stressed on The SPDs – Sacrifice, Problem, Product, Perseverance, Passion, Patience, People, Process, Plan, Practice and Do which were the essential qualities to become a quality entrepreneur. He said, "The ability to speak well, think smart while being in love with learning", is what drove him to be an entrepreneur. He believes it is unfortunate that the way we prepare for the future is stuck in the past. With the Automation Revolution coming and most traditional jobs increasingly becoming obsolete, Siddhanth is on a mission to modernise the educational system and help individuals prepare and thrive in a post AI (Artificial Intelligence) world. With over two years, Warhorse has touched the lives of over 1500 students and continues to grow exponentially.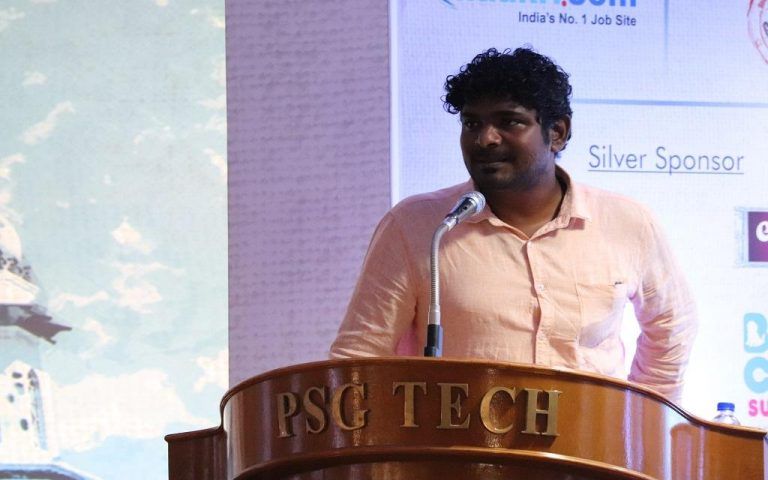 "Farming looks mighty easy when your plough is a pencil and you're a thousand miles away from the cornfield", he said, quoting Dwight D. Eisenhower. With the bare realisation of this truth, Mr.Sharath Loganathan – the co-founder of Ninjacart, India's largest agricultural marketing platform, is keen on helping the farmers of our nation realise 20% more revenue than that they gain from the current market, which serves the greater good. Also as the product manager of CommonFloor.com, co-founder of Shout-App and EduRaft, he highlighted those points in his career which served as building blocks to his current position. Ninjacart is an agricultural marketing platform with an integrated supply chain solution, connecting the vegetable and fruit farmers to over 800+ retailers around the country in over 12 hours which is a considerably great feat for a budding industry in the market. The farmers are able to sell their produce at a better price than the market without being exploited by the middleman through a one-point sale.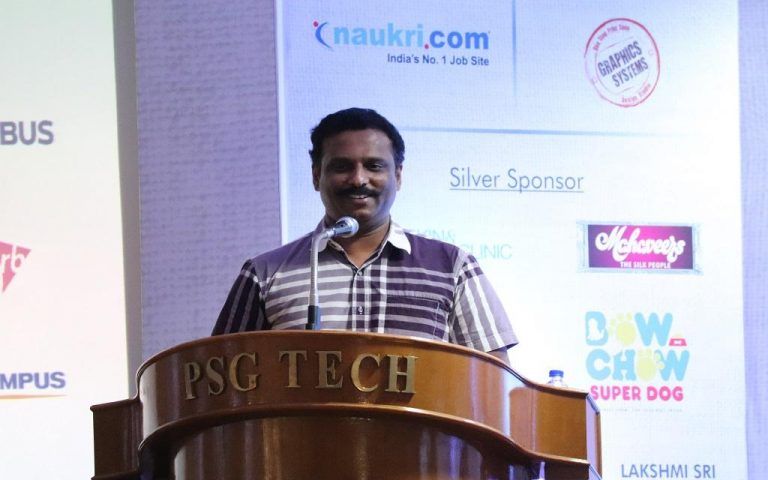 "The future belongs to those who believe in the beauty of their dreams", were the words that Mr.Suresh Sambandham focused on while delivering his address to the crowd. The founder of OrangeScape and KiSSFLOW at the tender age of 19, he followed his entrepreneurial instincts as a small-scale entrepreneur. He worked with Hewlett Packard and then moved on to work with Selectia, now a section under Accenture. His company 'OrangeScape' (which first started off under the name 'Dimension') was their first ever product on a high end. OrangeScape also had close ties with Google while developing its App Engine and is now a billion dollar company.
Apart from the entrepreneurial talk, events such as the IPL auction, Master Investor, Biz-Quiz and Brand metric were held to help kindle the dormant entrepreneur in aspiring minds. B-plan- Workshops for all those budding entrepreneurs on how to frame a complete business plan from scratch were organised along with Design Thinking. Mr.Suresh Sambandham concluded the two-day summit by awarding the winners of the events in the valedictory ceremony at the end.
Having imparted the spirit and knowledge of entrepreneurship within the minds of every one of the 350+ people gathered, the Entrepreneurs Club truly made the event a grand success.