How to "Stay Hungry; Stay Foolish"
---
Entrepreneurship: Lets you to create opportunities.
"Opportunity knocks the door only once…" and if you miss that one opportunity, you can do two things…either you can wait for another opportunity or you can create your own opportunity. So, now if you want to create that opportunity for yourself then you have to become the person who creates the door for the opportunity to knock. The only person who can create that special door is an ENTREPRENEUR.
 Entrepreneurship Awareness Camp
"PSG-Science & Technology Entrepreneurial Park (PSG Step)" and "PSG Training Department, PSG College of technology" conducted the Entrepreneurship Awareness Program which was held for a week from 15.12.14 to 19.12.14. The main goal of this camp was to inculcate the entrepreneurial qualities amongst the students and guide them on how to start up their own company. During the camp, speakers from various organisations delivered lectures and conducted events in order to develop the entrepreneurial skills among the students.
 Entrepreneurial Competencies
We need certain qualities within us to become an entrepreneur and about these competencies, an interactive session was conducted by Dr.R.Ramachandran (PSG CT). During this session, students were taught on the main qualities that every entrepreneur should possess which are
To be initiative
Seek Opportunities
Persistence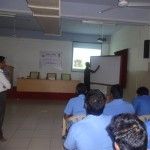 THE PERSPECTIVE TEST
Many activities were also conducted in which the students were asked to participate. In one such activity, the students were asked to draw a 4×4 matrix and asked them to consider a square as an opportunity and asked them how many opportunities they were able to identify in it. There were various answers ranging from 16 to 30 and a few even felt it might be infinity, but the answer was 30. The goal of this activity was to see how their perspective was on finding opportunities in their life.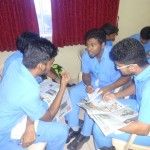 BUSINESS START-UP SESSION
With all the required skills for becoming an entrepreneur, the next step that you need to look upon is on how to identify the business opportunity. It is not just seeking some business opportunity; the scope of the business which you are going to start must be huge, effective and innovative. Mr.P.Jegannathan , a business consultant  conducted a session on how to seek opportunities.  Students were given a newspaper and they were asked to list down the products which were displayed in it, had a scope for starting up a business using those products.  After identifying the products, they were asked to analyse the chosen product, in different perspectives, like opportunity in the market, supply knowledge, marketing knowledge, setting up the infrastructure, funding required and so on. Then after a brief   brainstorming, the students narrowed down to five products with which they wanted to start their business. One of the highlights was the Eve Protectors, a company which manufactures lasers that can be used by people when they are being harassed.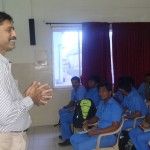 MARKETING RESEARCH SESSION
Now that you know with what you are going to start up your business, the next step which you need to carefully step on is the marketing. One man's idea would become a theory or a discovery, only when he structures it and sells his idea properly. The same way, your product will be a huge hit throughout the world, depending on how you sell your product.
Now, the students had to sell the products in the market.  For marketing, Dr.N.Vivek, a professor from PSG –IM had come and conducted a lecture session, where he quoted some stories about a few successful entrepreneurs like The Sulabh Toilets.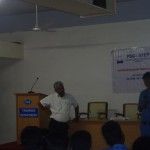 CREATIVITY AND IDEA GENERATION
You are now in a position where you know how to create the door behind which your opportunity is waiting for you, but you still need one thing that would unlock this door to your opportunity and that thing is nothing but a key and it's not just a key, it must be a key specially handcrafted in a unique way to unlock your door and not someone else's door. The key which you are seeking is nothing but your creativity and your own idea for making the product and marketing it around the world. So, on how to be creative   Mr.K.R.Balathandapani (M/s. Aattral Academy) had come to render a lecture session on creativity and idea generation. During this session various successful entrepreneurs were used as a part of the case study , and  one of the case studies was on how the founders of Orkut, Facebook, and whatsApp saw the general public need to communication and came out with different idea which missing with the then social media. Towards the end of the session the students were asked to come out a few ideas of their own with which they can start their own start-up.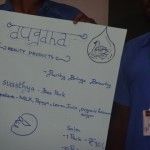 ACTIVITY ON TEAM BUILDING
Team Building
"If you want to walk fast,
Walk alone
If you want to walk far,
Walk together"
-Ratan Tata
Working as team is another important factor which you should consider when you start your own company, as it would help you in pooling in many ideas based on each one's perspective. And Dr.A.K.Senthilk Kumar, another business consultant was invited and where the students were separated into groups of eight and he gave a task of using Milk as the base element in one their products and come out with a business plan together as a team. After a brief discussion and brainstorming they came out their own ideas of business plans. Some of the highlighting products which they came up were "Komadha' which was a fat free milk product and with a cheaper MRP and one of the teams also came up with an android app using which people can buy their products and also another team came up with a cosmetic product using traditional way of making it and also named it as "Dugdha" which is Sanskrit name for "Milk". The ultimate aim was to inculcate the team sprit within them and work as a team and also the students had a wonderful experience in working together and they felt that it helped them to know how far they reach when they work together.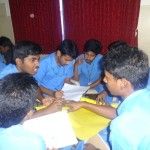 STUDENTS INTERACTIVE SESSION
Life always keeps the test first, then teaches us the lesson and the lesson here is the experience. This might be of your own or even you may learn from others. On the final day Mr.R.K.Anil Kumar (M/s of MypromovideosPvt.Ltd) was asked to share some of his experience on how he started his company, what difficulties he faced while starting it up and so on. This session helped the students gather a lot of information on how to approach when they face any obstacles in their lives.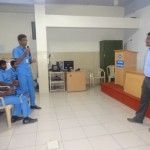 TIME MANAGEMENT SESSION
Money and Time are the two faces of the business world, how you efficiently manage them matters the most while running a company. During crisis situation another factor to be considered is the Stress management. It is very important on how you manage your stress factor in case of crisis situation and at that moment you need to come out of the pressure field and look into the problem in a different perspective, which can be achieved only if you are able to manage all the above factors. This lesson was taught by Mr.A.KrishnaKumar(PSG II) as a part of the final day program.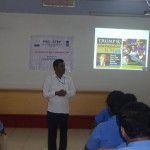 "Entrepreneurship, is living a few years of your life like most people won't, so that you can spend the rest of your life like most people can't". It is always better to be one in a million rather than one among the million, so create  your own path and lead others to follow yours.