Don't wait for the opportunity. Create one
The plethora of job opportunities that exist today may satisfy those who require the basic wealth to support their daily lives. Many have ambitions to get a job in Multi National Companies. But those intrepid few who  dream big and need a distinction of their own, are whom the world calls entrepreneurs. They did not just descend from the skies. They had to endure through humble and sometimes even harsh beginnings. These 'Doers' influence governments and inspire billions around the world. Coimbatore is one among the most fertile grounds for entrepreneurship in the country. The entrepreneurial spirit is part of the DNA of its citizens.
To foster the spirit of entrepreneurship among the students and to create a platform for them to interact with India's leading entrepreneurs, the Indian Chamber of Commerce and Industry (ICCI), Coimbatore and the global entrepreneurship organization TiE, Coimbatore jointly organized a one-day conclave – JUMPSTART. PSG was the  technology partner of this prestigious conference. It was held on 9/3/17 at Hotel Le Meridien, Coimbatore.

The conclave was inaugurated with a welcome address by Mrs. Vanitha Mohan,  President of the Indian Chamber of Commerce, Coimbatore. She is the first woman president in the 87 years of the ICCI . She is also the founder of the well renowned NGO, Siruthuli which works to rejuvenate the water resources of Coimbatore. She spoke about how Coimbatore has transformed into an industrial hub of Tamilnadu. She also said that entrepreneurship is in the DNA of Coimbatorians . Inspired by the Prime Minister's 'Startup India Standup India" initiative, the ICCI strives to help the budding startups of Coimbatore.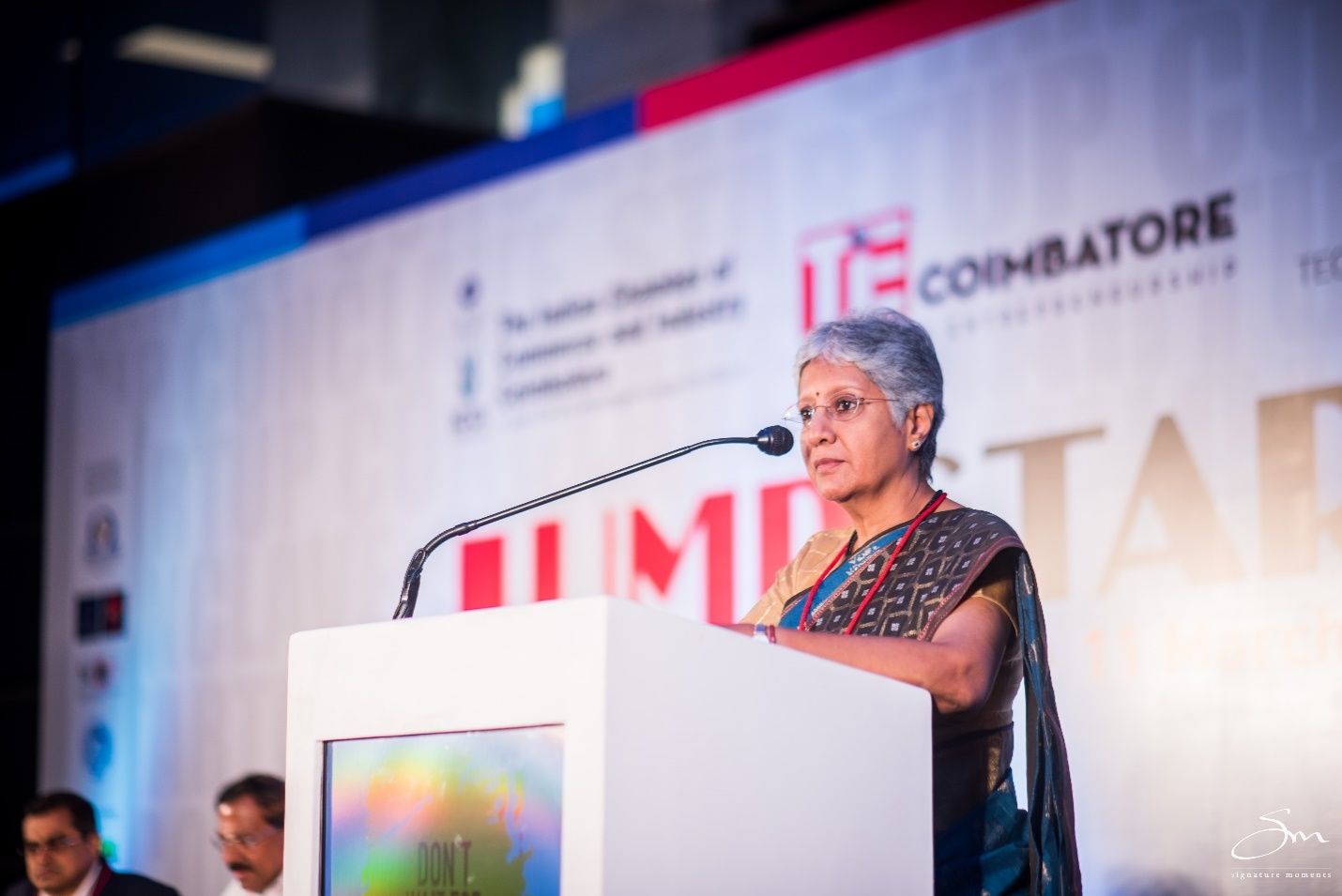 The president of TIE, Mr. G. Karthikeyan followed in welcoming the gathering. He said that the conference was the first of its kind in Coimbatore. He also said that the demand for participation in the event was quite immense, but only 750 people were lucky enough to attend. He spoke about the origins of TIE, which was started by a team of entrepreneurs in Silicon Valley nearly 25 years back. Today it is the world's largest network of entrepreneurs. He aptly quoted Steve Jobs: "The ones who are crazy enough to think they can change the world, are the ones who do".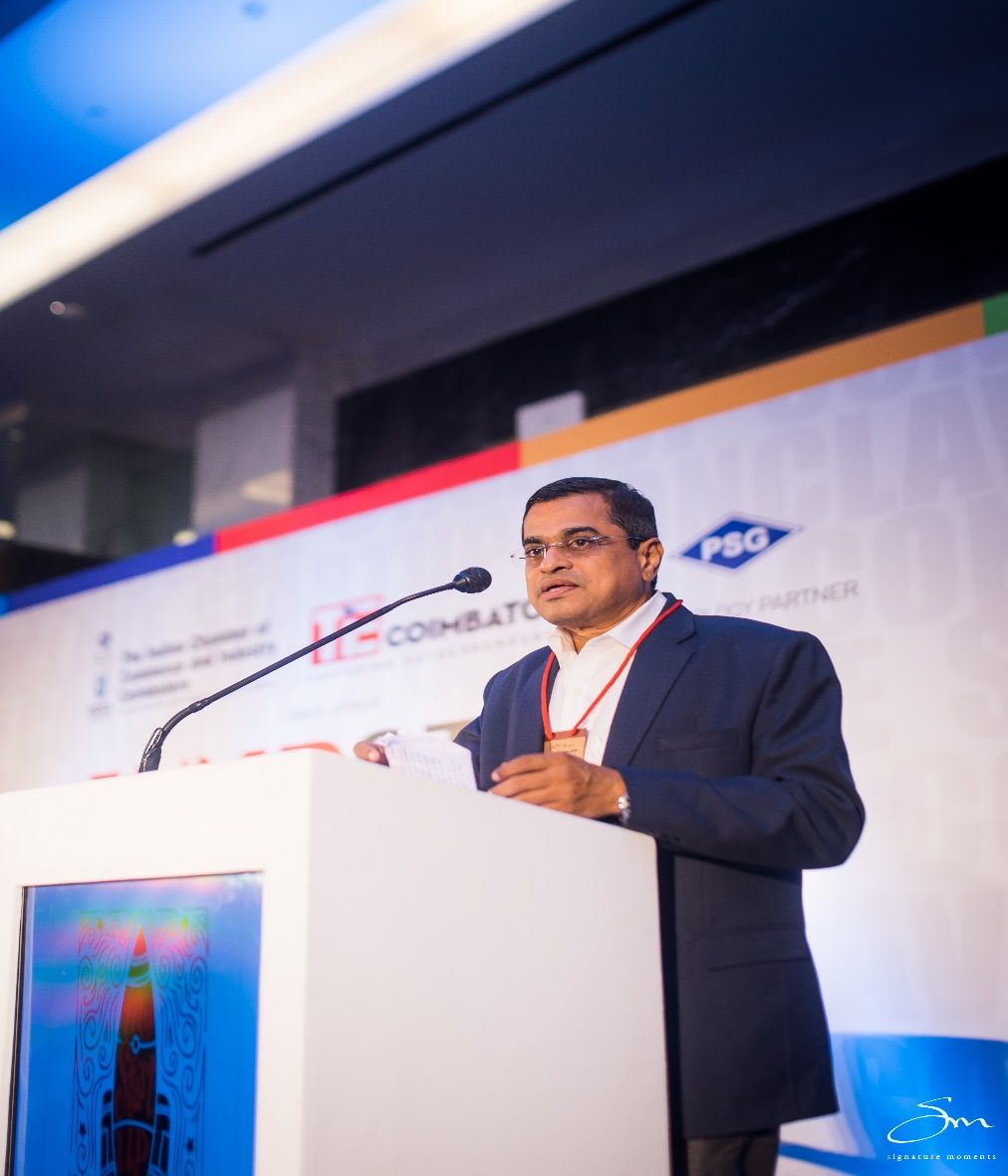 The much-awaited session was the keynote address by Thiru.MaFoiPandiarajan, Founder-Ma Foi Consultants and a Member of Legislative Assembly. He is also a proud alumnus of PSG Tech. He said that Coimbatore was his professional birthplace and has always felt at home here. His keynote address revolved around the relative ease with which a person can start a business today than it was a decade ago. He said that the internet has transformed the world completely and that today it is more fun to start up a firm. The years from 2004 to 2015 have brought so much change in the world that it is almost comparable to the Renaissance. He also spoke about the fact; at present, ideas outweigh wealth in terms of value. The world needs people with great life-changing ideas. He said that according to Harvard's definition of value as a mixture of scale, scope and depth, a company with a billion dollar revenue would be lesser in value when compared to a small startup with a great idea. In his view, now is a great time to start a business. Great companies start at the confluence of social trends and tech trends. He concluded his speech by quoting Eleanor Roosevelt," The future belongs to those who believe in the beauty of their dreams".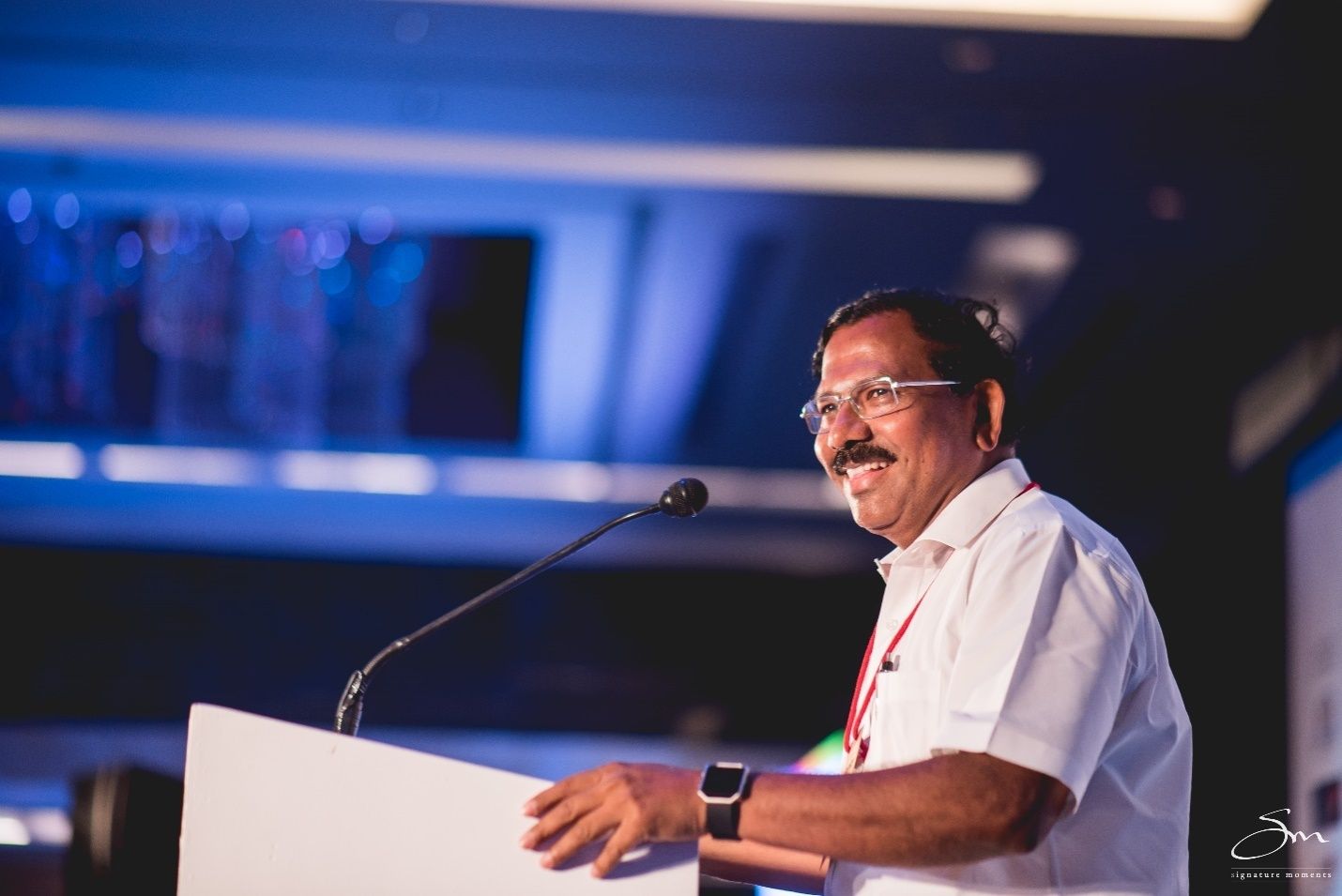 The next speech was by Mr.R.G.Chandramogan, CMD, Hatsun Agro Product Ltd.  At the age of 21, he wanted to start a business with a small sum of 13000 Rs, so he founded Arun Ice Creams. Today the net worth of the company is around 40 thousand crores. His company began selling ice cream in 15 carts throughout Chennai. During its first 10 years the company made cumulative revenue of 25 lakh rupees, but today it does not even take 1 hour for him to earn the same amount. He said that in the 80's, ice cream was not much prevalent in the rural areas and in that he saw a thriving business opportunity. In 1992 a multinational company negotiated with him to buy his company for just 20 crores, but he believed in himself and went on to become the successful person he is today. He quoted Shiv Kera saying that "Winners don't do different things, they do things differently". He started his dairy undertaking in 1993 in the form of Arokya milk products. Today it is larger in size compared to the state-owned Aavin milk products. Later he started IBACO as a novelty ice cream brand. Today his Arun Ice Cream brand is among the top 3 in India.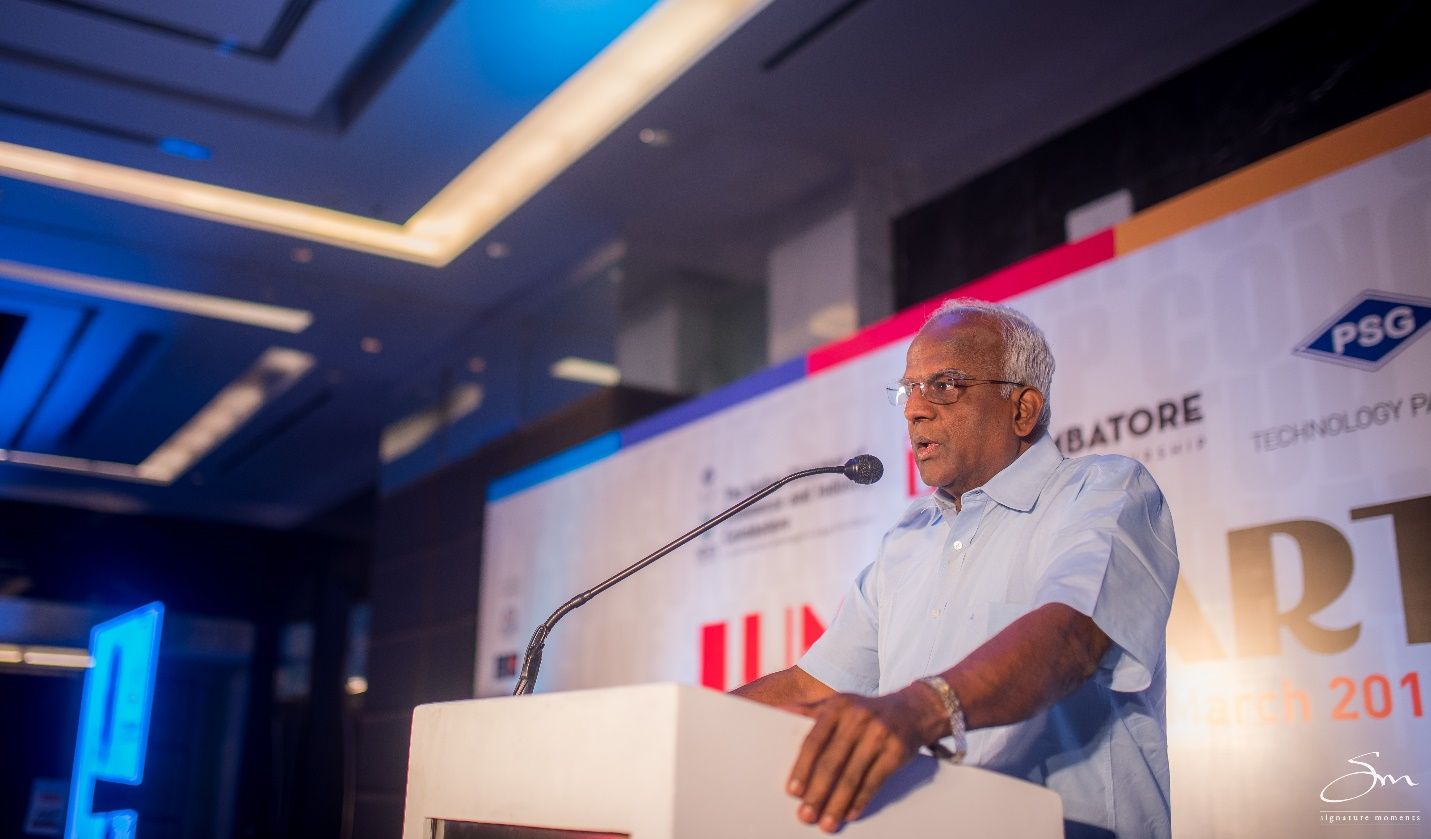 Mr. C. V. R. Rajendran, MD and CEO of Catholic Syrian Bank spoke about the various funding options for the new startups. He said that the most successful entrepreneurs never had enough capital but had crazy ideas. When there is nothing to lose there is a great business. According to him candor is the most important quality in an entrepreneur. Banks are not the only sources of capital in this modern age. Today it is even possible to procure crowd funds through social media such as Facebook. He cited Sunil Bharti Mittal as an example for the undying spirit that an entrepreneur should possess.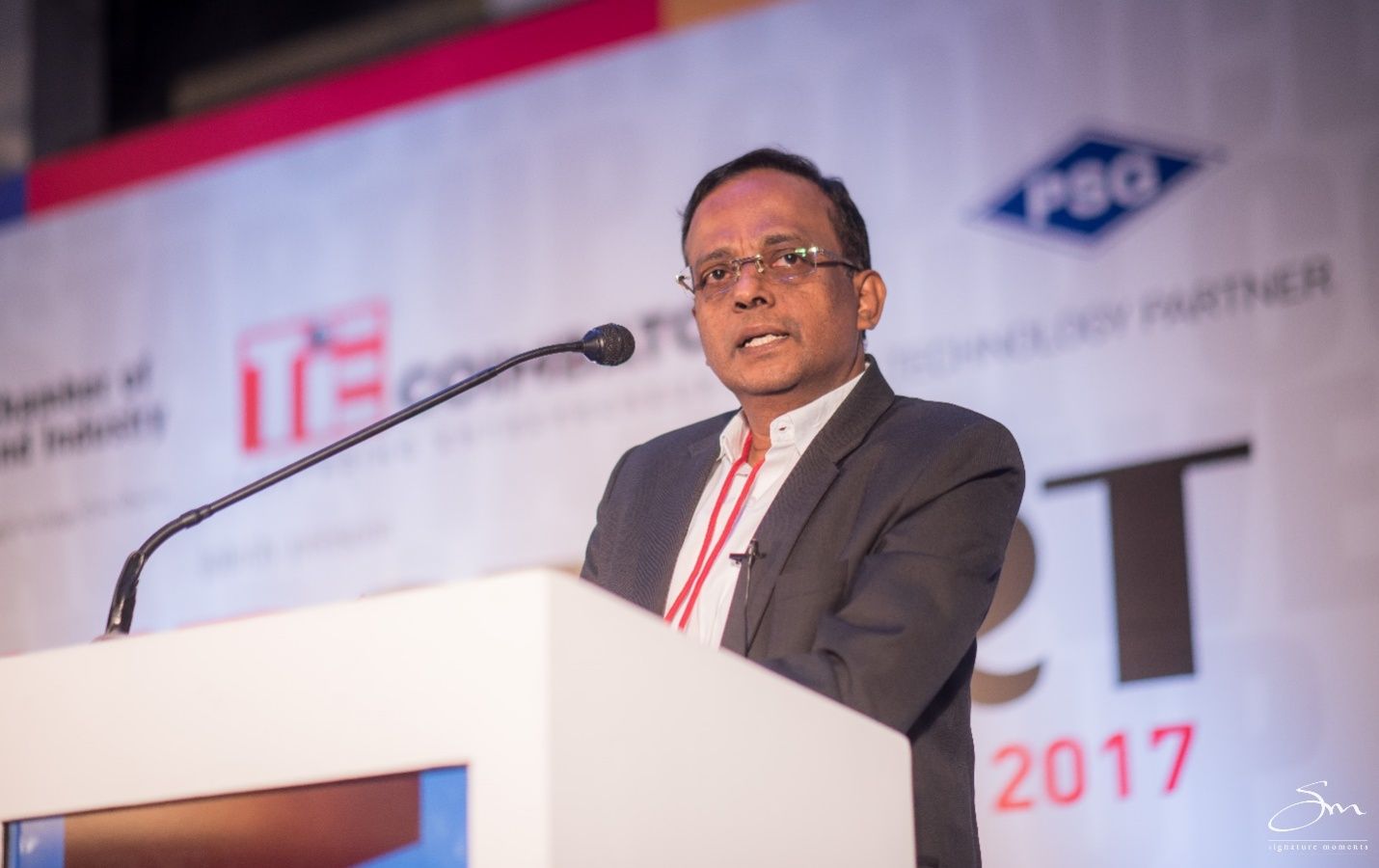 The next special address was delivered by Mr.R.Natarajan, COO, Ratan Tata Fund. Mr.Natarajan's speech put forward the bitter truths of the way the world works. All entrepreneurs suffer, but it is those who never give up succeed. He said that the aspect of revenue is very important in a startup or else any funding will be a spoilsport. Funding for startups comes for business and not for technology. He also said that each entrepreneur should ask this question to himself "What is my company's business value?" It is very important to consult the business ideas with the right people before venturing into the right business.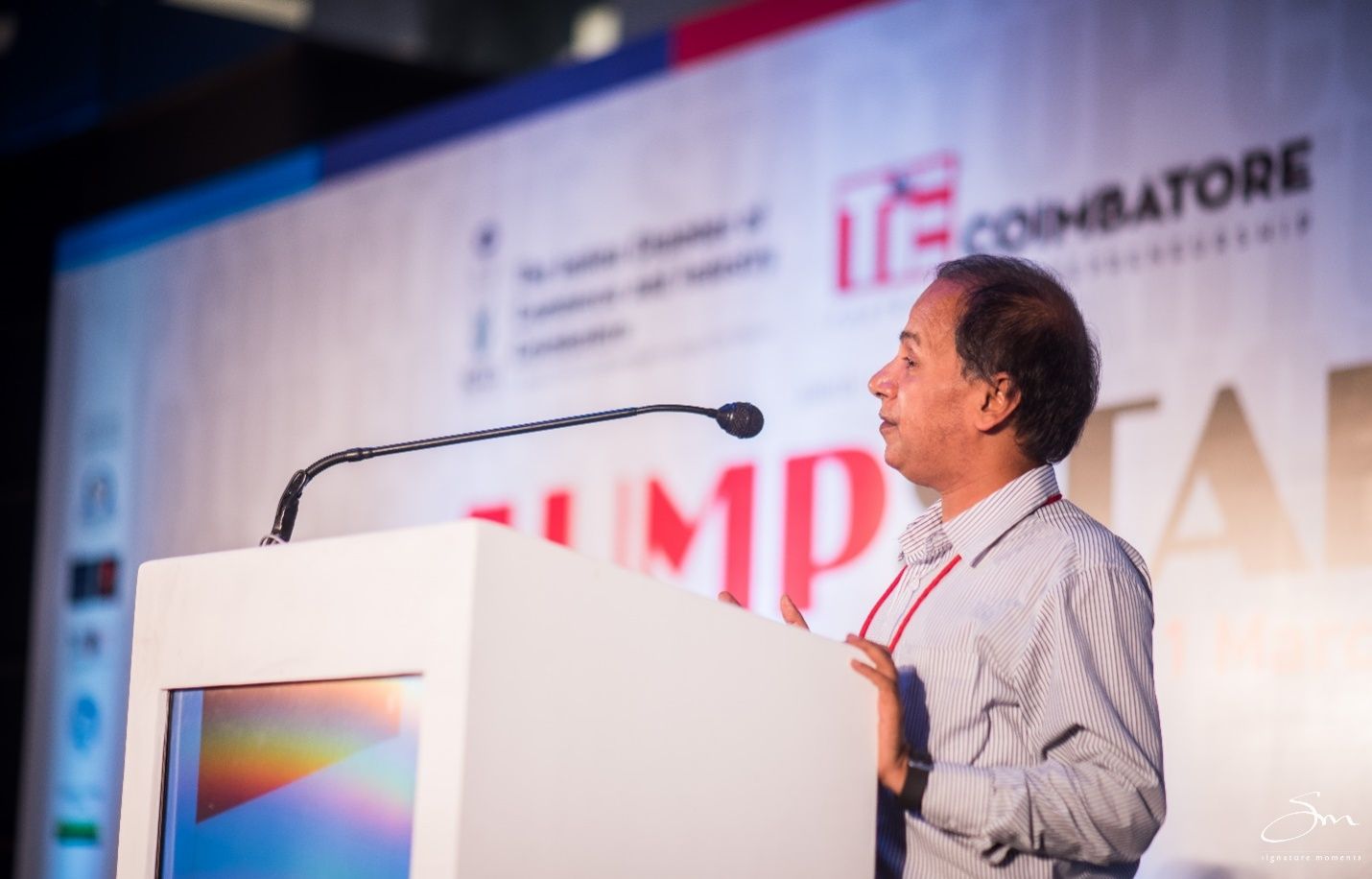 The pre-lunch session was a speech by Ms.Sairee Chahal, Founder and CEO, Sheroes.in. Ms.Sairee went to Jawaharlal Nehru University for an M.Phil in Foreign relations and to IMT Ghaziabad for a PG in Business Management. She was just 21 years old when she cofounded NewsLink Services with a couple of friends. This was India's first magazine for Mariners and had operations in India, Philippines and Cyprus. She said that India produces the largest number of women graduates but has the lowest job opportunities for women. Sheroes is a community built for women which one can gain support and resources for job opportunities as well as for entrepreneurship. Today Sheroes is an 8 lakh strong community, has helped 1 lakh women find the right job opportunities and has corporate relations with nearly 16000 companies. She says that her next step is to bring in the vernaculars to build the workforce for companies, thereby distributing the talent pool. She believes that her community will bring an immense and inexorable change to the Indian society.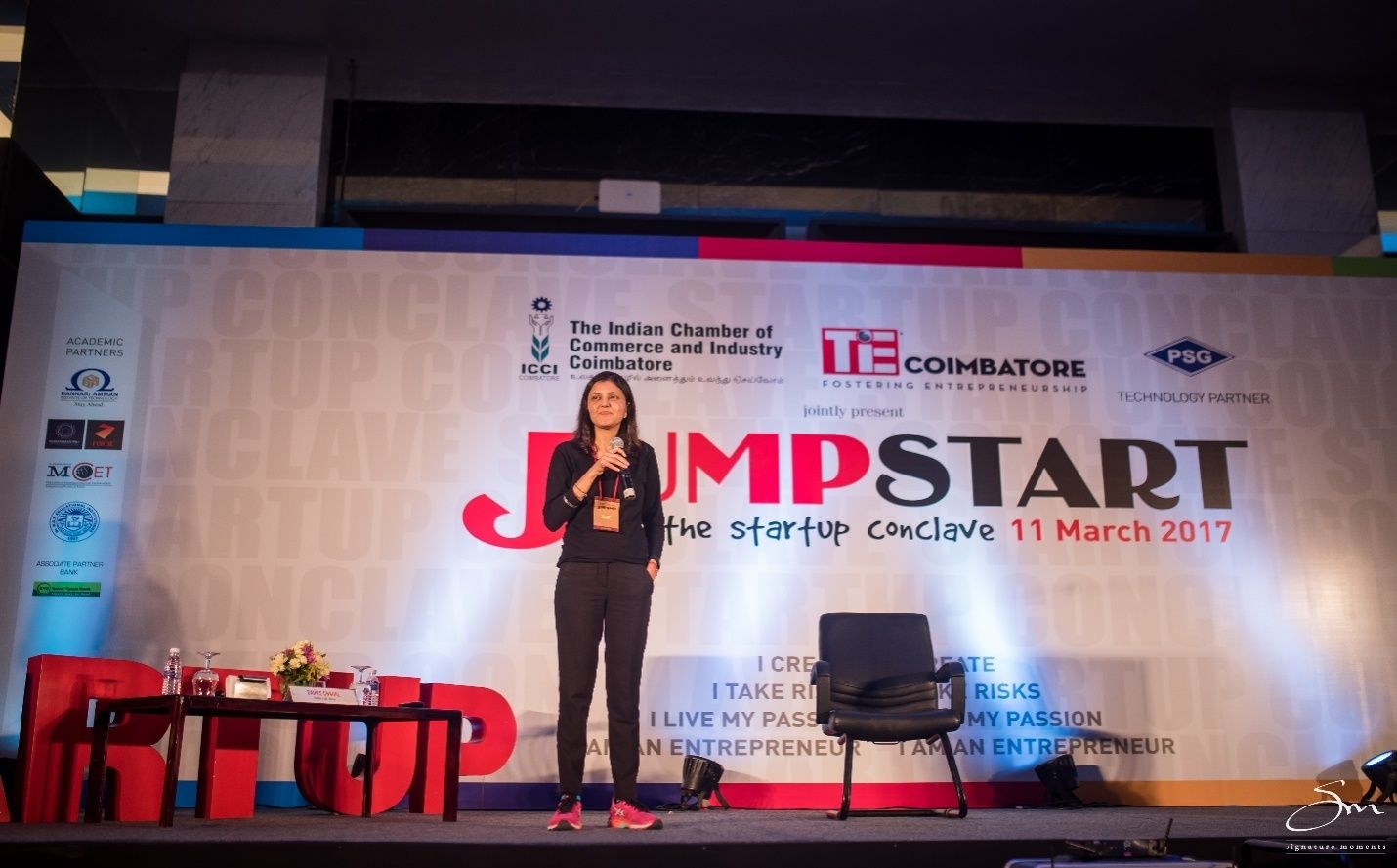 Mr. C. K. Kumaravel, Co-founder & CEO, Naturals Chain of salons, was the first speaker of the post lunch session. Mr. C. K. Kumaravel is an alumnus of PSG College of Arts and Sciences. He began his speech by talking about a portrait of Mahatma Gandhi in the US Congress. Below the portrait, there are no titles such as "The Father of India" or "Mahatma", but a plaque saying "A single man can make a difference". Mr. C. K. Kumaravel began his business life by introducing the Raga Brand of cosmetics. Interestingly, he says that the brand's failure is the reason why he is successful today. His speech was humorous as well as intriguing. He climbed the steps of many banks only to be rejected again and again. It was the 54th bank that accepted his proposal and offered a loan. Today Naturals is the largest chain of salons in India with more than 570 salons. He says that the biggest reason for his elation is that his chain has created more than 320 women entrepreneurs and provided jobs to more than 7500 women. He asked the youth to see everything from a different perspective and defy the norms of the masses. He quoted Alvin Toffle, saying that "The illiterate of the 21'st century will not be those who cannot read and write, but those who cannot learn, unlearn and relearn.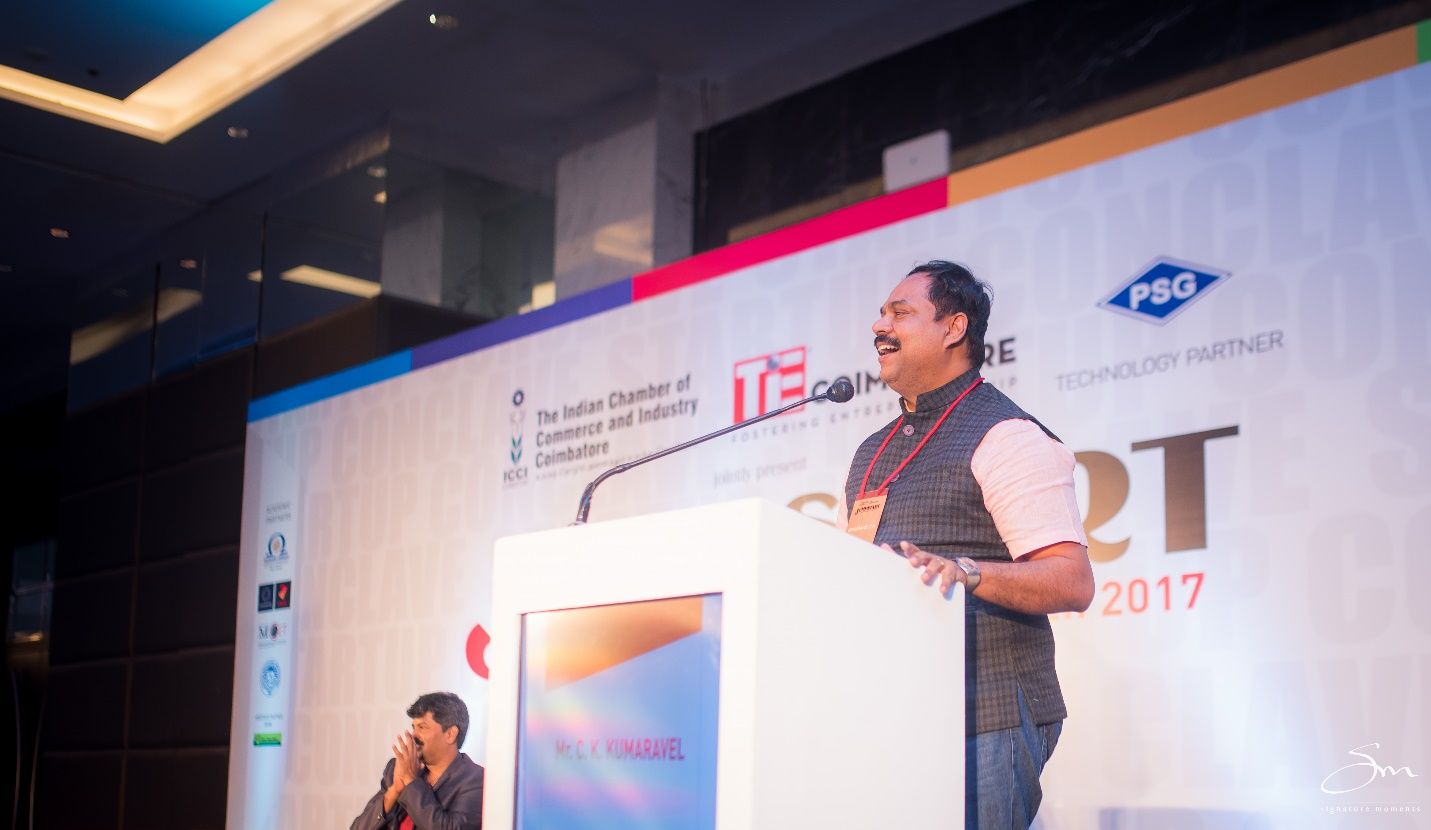 The next entrepreneur was Mr.J.Murugavel, Founder, and CEO, BharatMatrimony.com.  He started his company in 1997 at the age of 26. Today his website is the reason behind 7 lakh happily married couple, including himself and his wife. He often stated that he is married to and through BharatMatrimony. Being a good programmer Mr.Murugavel initially started a Tamil community website. In the year 2015, his site had more than 2.65 million profiles. He says that the continuous adaptation to the current technologies is what makes his company successful. His other sub companies include Elite Matrimony and Matrimony Bazaar. He also believes that his company plays a very important role in the modern society. His motto "Everything happens for a reason" is what keeps him going.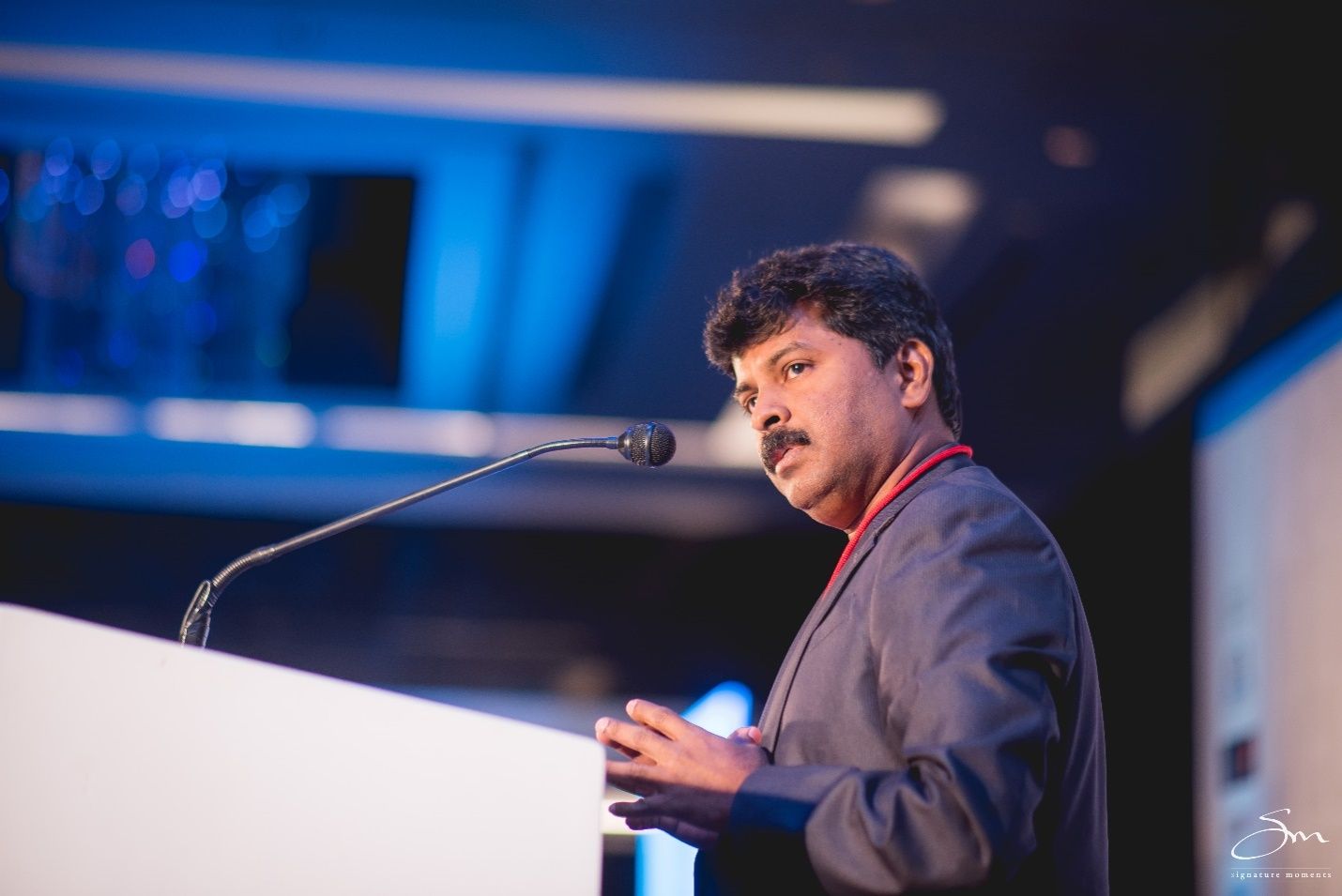 GoliVadaPav Pvt. Ltd was founded by the next speaker of the day, Mr.VenkateshIyer . Today his company has more than 300 food outlets in 100 cities in 20 different states. He is a successful entrepreneur today because he looked at his favorite snack and thought, why not?  He says that the vadapav is the perfect Indian fast food. He owned nearly 1500 outlets in Mumbai before they got shut down due to political issues. But all this made him more popular as leading media agencies took note of him. The interesting fact is that the ingredients for GoliVadaPav and McDonalds are processed in the same OSI plant. The quality of food is on par with any other restaurant but also at a reasonable price. Notably, Coimbatore has four GoliVadaPav outlets.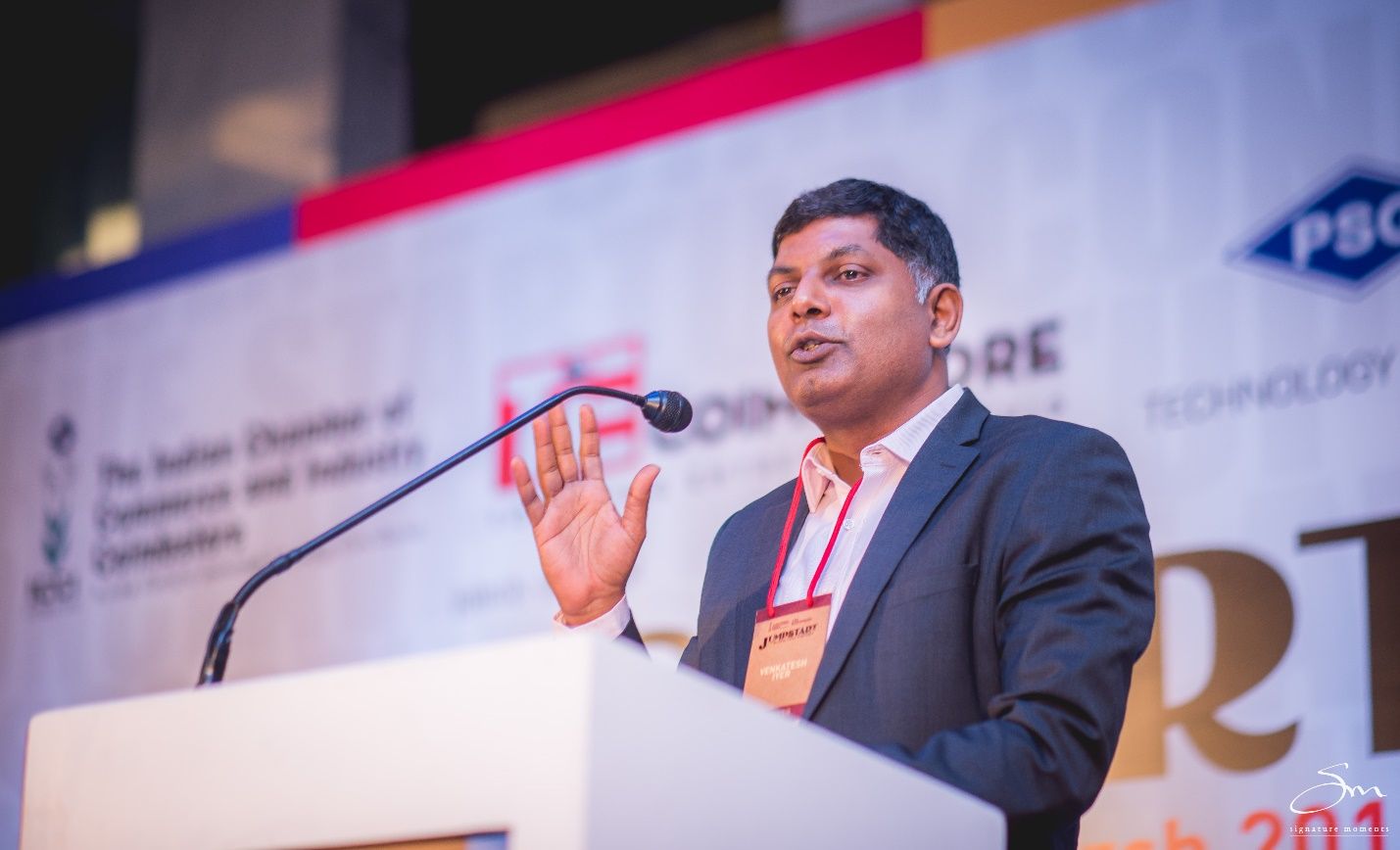 The next speaker is a very common face in the Indian media industry- Chief News Editor, Thanthi TV. Mr.Rangaraj Pandey . It was interesting to know that the person who makes politicians' tongues tie in debates was also a businessman. He tried his hand at cassettes, cloth line covers and finally became successful through his advertising company. But his passion for journalism has transformed him into the success story he is today. He said that an entrepreneur should break the rules and be prepared for the worst outcomes. There was a huge applause from the students when he said that the last benchers would be the most successful people in life. He also said that one can gain complete satisfaction only through business. Taking risks is important in business but knowing when and where to take them is equally crucial. A smart team can tip the scales in entrepreneurship and so a leader must choose his staff wisely.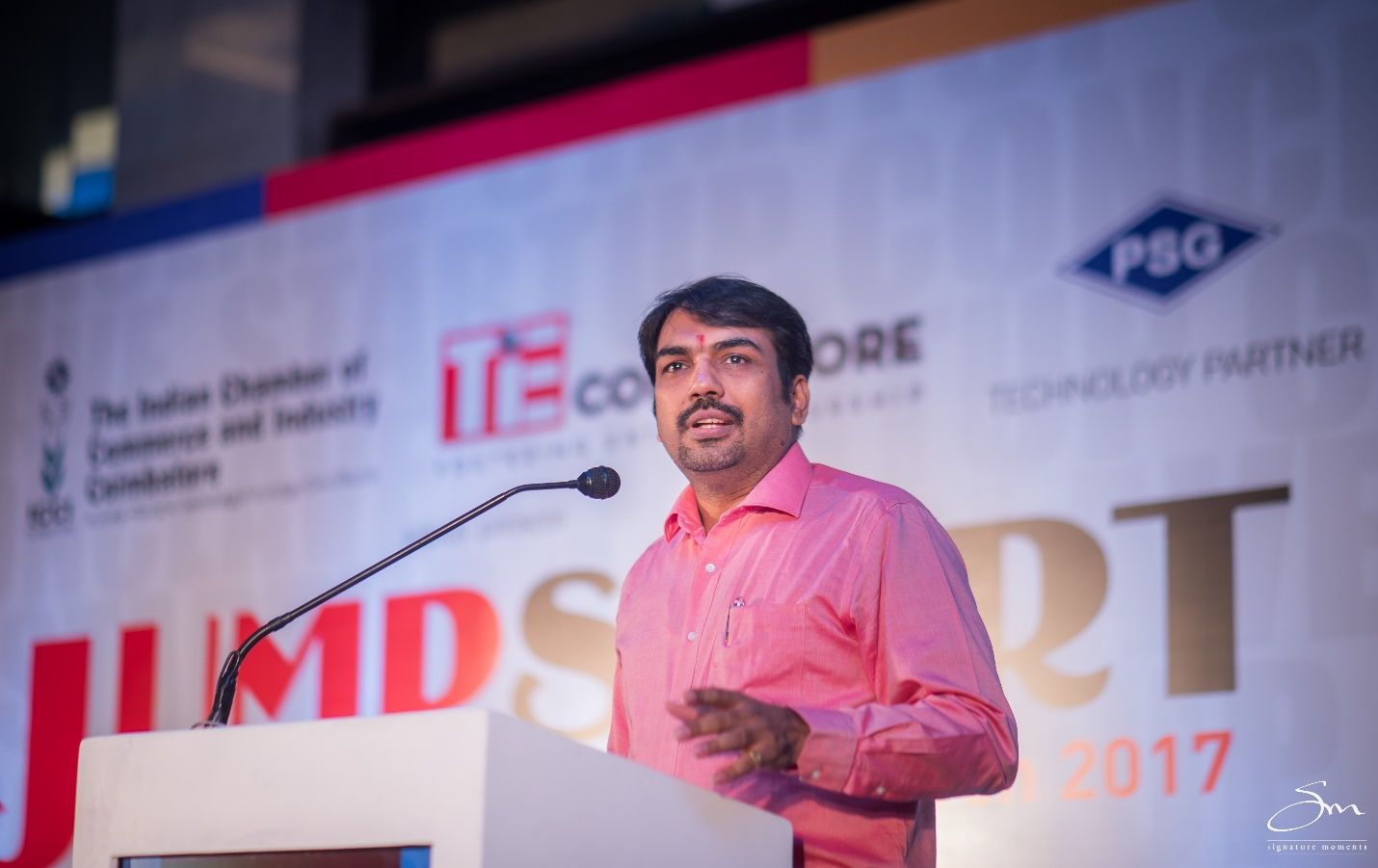 The last session of the day was a panel discussion headed by Mr.Naru Narayan, Serial Entrepreneur, Angel Investor-TiE Chennai, along with Mr.C.K.Kumaravel, Mr.VenkateshIyer and Mr.J.Murugavel. Mr. Naru Narayan studied at two major institutions namely Birla Institute of Technology and Sciences, Pilani and the Indian Institute of Management Hyderabad. He is the founder of many companies such as Doublemint, Dosa Magic and has even worked at Managing in Coca-Cola and Nestle. But these are only a few of his distinctions for he is a polymath in business. During the panel discussion the panel responded to the questions of the delegates regarding entrepreneurship.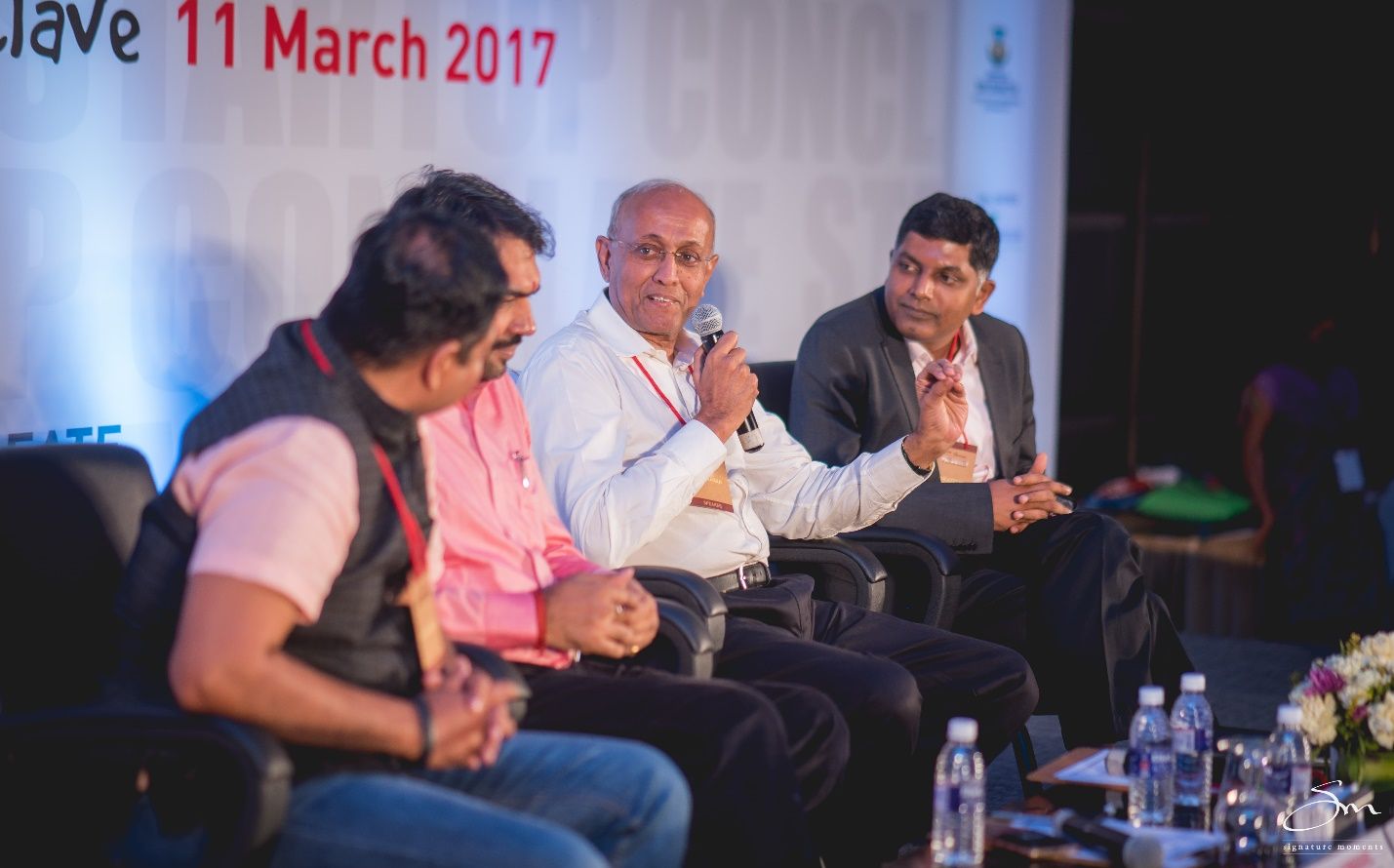 The Conclave was certainly unique and enlightening. After attending the conference it was evident that the colorful success stories of entrepreneurs are the only things that are apparent to us. But they had to encounter many tribulations and exhibit more perseverance. They are like Richard Bach's Johnathon Livingston Seagull – Flying contrary to the flock, failing many times but rising above insuperable peaks.
Photographs by Signature Moments