Looking back: T20 WC 2021
---
When Glenn Maxwell reverse swept Tim Southee to hit the winning runs, one could see the jubilation in the faces of every Australian in the dressing room. The architect of this victory against New Zealand was Mitchell Marsh, who, as one could safely say, is certainly not Australia's favourite cricketing son. However, since about a fortnight ago, it looks as though he has made a lot of his critics eat the humble-pie. Australia have had to wait 14 years to lift the ICC World T20 Trophy and skipper Aaron Finch was ecstatic at being the first captain to do so for them, even though they were only the second team in yellow to have won the final of a major tournament in Dubai this year. I was happy to see Australia not wear the green jersey for the first time in a T20 World Cup since 2012 for the Australia in green is just not them. The fact that they were nowhere in the picture coming into this world cup (Recall that they were hammered by West Indies and Bangladesh respectively in their previous bilateral assignments) shows the mental-toughness of this team.
The team got better with every game they played. Personally, I felt that Adam Zampa and Josh Hazlewood, who have been the pick of the Aussie bowlers, deserved immense credit for Australia's performance. Australia were also immensely benefited by David Warner's return to form. As for New Zealand, well, what can I say? It just wasn't meant to be their night. You've also got to feel for them, that they immediately flew over to India, and received a hammering in what was the dawn of a new era in Indian cricket with the takeover of Rahul Dravid.

The seventh edition of the men's  ICC T20 World Cup 2021 , originally slated to be held in India, was shifted to the United Arab Emirates (and Oman)  amid fears of a possible third wave of cases of the coronavirus. The second half of the Indian Premier League too was held in the UAE.
The teams to have secured direct qualification for the event included hosts India, followed by Pakistan, Australia, South Africa, England, New Zealand, Afghanistan, West Indies. Sri Lanka and Bangladesh were unable to secure berths and thus had to battle it out in the first round of the 2021 edition against the teams that had qualified for the Super 12 qualifiers via the 2019 T20 WC qualification tournament, including Scotland, Namibia, Ireland, Oman, Papua New Guinea and Netherlands. The qualification matches for the Super 12 were played in UAE and Oman respectively, with Sri Lanka, Bangladesh, Scotland and Namibia being the four teams to qualify .Sri Lanka and Bangladesh were included in Group 1 which comprised of England, West Indies, South Africa and eventual champions Australia while Namibia and Scotland were included in Group 2 which comprised of Pakistan, New Zealand, India and Afghanistan.
With the T20 world cup immediately after the IPL, players within their respective franchise bubbles had very little time to regroup and considering the taxing life within said bubbles, one can understand how onerous it must have been for the players to have turned up for one high-octane tournament immediately after the conclusion of the IPL, which in itself is no walk. England were smart, in the sense that some of their key players like Jonny Bairstow and Dawid Malan decided to pull out of the second stretch of the IPL. You could put that down to the fact that both of them knew that they were not going to feature in the playing eleven of their respective sides and remaining in the bio-bubble wasn't going to help either. The IPL is that kind of a tournament where even the most devastating limited overs players (like Jason Roy, for instance) will not make it to the eleven. The reason, well that's a debate for another day!
England's golden run in the white ball game began immediately after the 2015 ODI World Cup drubbing in Australia and New Zealand. There was a clear shift in the mindset of the Poms.
This was an England side filled with batsmen who could single handedly win games. England had all their bases covered. They had world class batsmen, two more-than-handy spinners and three genuine quicks. It is still hard to digest the fact that the pre-tournament favourites returned home empty handed. Well, cricket is a funny game, isn't it?. An injury to Jason Roy didn't help their cause for they missed the fiery start he gave them in the powerplay overs in the semi final. Except for a minor slip against South Africa in their last league game, England had virtually hammered every side, including eventual champions Australia. Their campaign started off with a bang, when they bowled the West Indies out for a paltry 55 runs and chased it in 7 overs. Jos Buttler was in devastating form in this edition and his stroke-filled 77 against Australia, and followed it up with one of the finest T20 hundreds in the history of the format against Sri Lanka and these probably were the highlights of England's campaign. Chris Jordan and Adil Rashid were the stand-out performers for England with the ball.

Champions Australia started off their campaign with a victory in a low-scoring match against South Africa. Australia's form in the shortest format had been woeful, coming into the tournament and needless to say, I was skeptical of their chances. Alex Carey, who was Australia's vice captain in the T20 series in the Caribbean had been dropped, which was a clear sign of weakness and desperation. None of the Aussie batsmen were in good nick coming into the world cup and they needed something special from their players if they were to stand a chance.
The whole team, including coach Justin Langer was under tremendous pressure to deliver. A semi-final exit would have been termed 'impeccable', but they went on to defy all odds and emerge victorious. Captain Aaron Finch deserves immense credit for (sheer luck) winning the toss on 6 out of 7 occasions, which worked in their favour. An inspired batting performance from David Warner (who had been insipid with the bat) along with a resurgent Hazlewood, who seems to have nailed his spot in the T20 side, along with the skillfulness of Adam Zampa had turned Australia's fortunes around. I had always had this feeling that Australia never prioritized T20I's, for this is the first time I am seeing the pace trio of Starc, Hazlewood and Cummins play together in the format. I am more than happy to have been proved wrong, for their celebrations post the final showed how much the victory meant to them.
Let us now talk about the team, which was expected to book at least a semi-final berth with ease. India can only blame themselves for their lackluster performance in the tournament. Selection blunders once again came to haunt team India and this time it led to the worst possible outcome, a league-stage exit. Now, a T20 World Cup is a lot different from a 50-over World Cup. With every loss, a team's net run rate takes a hit and so do its chances of qualifying for the knockouts. Let me put it bluntly; in my opinion the non-selection of Shreyas Iyer and persistence with an out of sorts Hardik Pandya and not to forget the over reliance on Suryakumar Yadav's ability with the bat is what cost India a place in the playoffs, and potentially the championship. With regard to the bowling department, I won't be too harsh on the selectors for selecting Rahul Chahar over Yuzvendra Chahal, for it was clear that Varun Chakravarthy and Ravichandran Ashwin were ahead of the tweakers in the pecking order. So, Chahal or Chahar, it wouldn't have mattered for both of them would have spent more time on the bench. India's campaign began with a humiliating loss against Babar Azam's Pakistan. A 10-wicket loss to Pakistan had tightened the screws and a loss to New Zealand would have meant good-bye. The match against New Zealand turned out to be a damp-squib, with India's batsmen unable to get off the blocks. Sending Rohit Sharma at three, so that he doesn't have to face New Zealand's Trent Boult did not go down too well with a lot of people and something that was deemed as a sign of weakness. "India weren't brave enough with the bat", said skipper Virat post the defeat. What are we supposed to make of this?.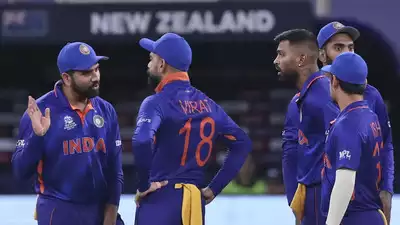 Wins against Afghanistan, Namibia and Scotland did give fans a glimmer of hope that India would qualify, but Afghanistan's loss to New Zealand meant that India were denied a semi-final spot. Lack of runs in the powerplay, and a proper finisher led to team India's unceremonious exit from the tournament. Let me also add that India's overall chances were dented months before the tournament began when the BCCI, with its authority in world cricket, decided that the players would fly from an daunting English summer, directly into the IPL and subsequently the World Cup. I don't think this point needs any more elaboration.  
Not even the most ardent Pakistani fan would have expected his team to play the way they did. Credit needs to be given where it is due. Mohammad Hafeez, the "Professor" and the ageless Shoaib Malik (who has been around since the 1999 world cup) chipped in with useful contributions and so did middle order batsman Asif Ali and seamer Haris Rauf. Babar Azam, playing his first T20 world cup both as captain and batsman stood out.
Babar Azam was the highest run-getter of the tournament, with 303 runs under his belt at an average of 60.60 and a strike rate of 126.5 . Had Pakistan won the tournament, I am sure  that Babar would have received the Player of the Tournament award. Babar was ably complemented by the feisty Mohammad Rizwan, who has come of age in the last season. The liveliness in his batting attracts you towards him and it is a pity that he was made to carry drinks for a long time. Shaheen Shah Afridi was clinical with the ball and his incoming deliveries to dismiss both Rohit Sharma and KL Rahul will be etched in the minds of every Pakistani fan. This was a different Pakistani side. They batted well, bowled well and most surprisingly their fielding has improved leaps and bounds (Shadab Khan was a live wire at point throughout the tournament). Except for the few dropped chances in the semi-finals, Pakistan's cricket was flawless throughout the tournament. A strong, competitive Pakistan side will do cricket more good than harm. Pakistan unfortunately has a huge history of mismanaging its players; let us hope they stick to the current crop of players and move forward. They suffered a heart-breaking loss to Australia in the semi-final, but take nothing away from this young. spirited side. Mohammad Rizwan spent two days in the ICU and was still able to score runs for his side when the time came. As an ardent fan of the game, allow me to say this. Thank you Pakistan, for playing impeccable cricket throughout the tournament.
New Zealand were probably not expected to make it to the final, but it looks as though they have made it a habit of reaching the finals. I had expected either Devon Conway or Tim Seifert to partner Martin Guptill at the top. However, the Kiwis sprang a surprise by sending middle-order batsman Daryl Mitchell to open. The move may not have been effective in the group stages, however when it mattered, Mitchell along with James Neesham played a crucial role with the bat to secure a berth in the finals. An injury to Devon Conway before the final was a huge blow to New Zealand. Kane Williamson, who was going through a bit of a rough-patch (made worse by a continued problem to his elbow), turned the final around with a murderous 85 off of 48 deliveries. It was, however, a final not meant to be for the Kiwis.
The award for the most disappointing display of cricket should go to the West Indies. It was hard to believe that they were defending champions. Right from team selection, to on field display, everything went awry. Ravi Rampaul, who hasn't been seen in West Indies' colours for over 5 years, suddenly comes running in with the new ball and ends up bowling 4 uninspiring overs. He is way past his prime and picking him was a blunder. Shimron Hetmyer and Nicholas Pooran, the present and future of West Indies cricket, disappointed big time. With Dwayne Bravo and Chris Gayle hanging up their boots (well the latter keeps saying he ain't leaving, so we'll let him be), the West Indies need to find suitable replacements.To make matters worse, they have now lost out on an automatic berth for the next edition and will have to battle it out against the associates to qualify for the Super 12 stage.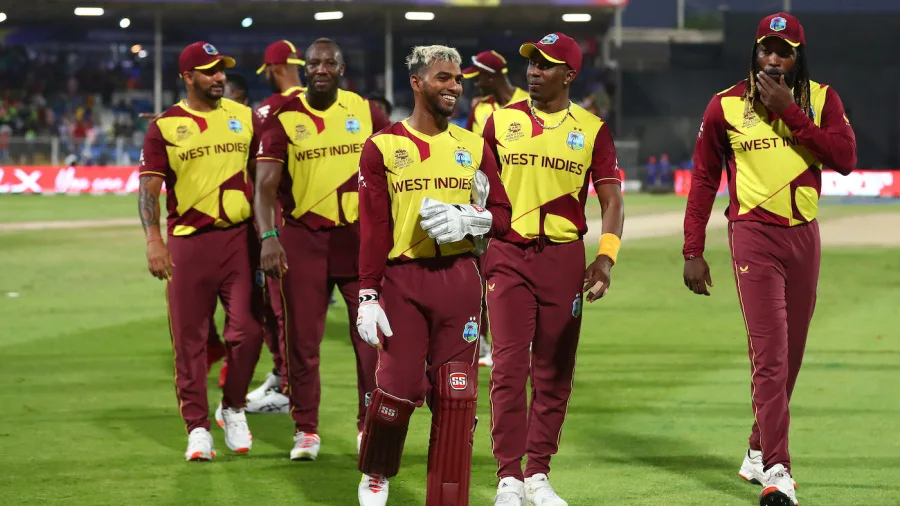 Two teams that performed a lot better than expected were Sri Lanka and South Africa. Let's talk about Sri Lanka first. Post the retirement of stalwarts Kumara Sangakkara and Mahela Jayawardene, SL have been struggling to win matches and a lot of issues off the field have brought this team down. I have been observing this team closely in the last few years and I can say with conviction that this is a team filled with players who can go on to rule world cricket and help Sri Lanka find its lost glory. Pathum Nissanka and Charith Asalanka were excellent with the bat and in Wanindu Hasaranga (who led the bowling charts with 16 scalps ), Sri Lanka have found a spinner who can help the team reach great heights. This is however a young and inexperienced team which probably hasn't yet learnt the art of winning key moments in a match (take for instance, the match against England where SL grabbed defeat from the jaws of victory when they suddenly lost wickets to rash shots), which could prove to be decisive in a tournament like this. One area where Sri Lanka really have some catching to do is their fielding. Kusal Perera dropped a sitter behind the stumps, which was exactly the kind of luck David Warner needed and the rest is history. Players like Avishka Fernando, Nishanka and Asalanka are supremely talented and deserve a long run in national colours and I am sure this team can put up a much better performance in the upcoming edition of the World T20 in Australia.

If not for a complacent run-chase against Bangladesh, South Africa would have been the second team to qualify from Group 1. They started off with a 5-wicket loss to Australia. Even though Quinton De Kock pulled out of the match against West Indies for having been forced to take the knee in the world's war against racism, South Africa went on to win that game. The architects of South Africa's near perfect campaign were Rassie van der Dussen. Aiden Markram, Anrich Nortje and Kagiso Rabada. Markram has been a revelation; a strong lad who can hit the ball nice and hard. He will, in my opinion, undoubtedly go on to become one of the greatest batsmen to have played for South Africa. To lose out on run-rate is harsh, but the rules are what they are and nothing can be done about it. Gosh, this net run rate indeed is a ghost!

The Taliban's occupation of the "throne" had put Afghanistan's participation in jeopardy. Rashid Khan, originally chosen to lead the Afghan cricket team decided to step down from the position after claiming that the team was chosen by the selectors without his consent. He was replaced by Mohammad Nabi as captain. Now, they may have three great spinners in Mujeeb, Rashid and Nabi, but the absence of a proper batter significantly hampered their chances of winning matches. The team's performance, except against Scotland, was below par.

Coming to Namibia, for a country with just five cricket pitches, they exceeded all expectations by qualifying for the Super 12s. The team put up a spirited performance in all the matches they played and won a million hearts. I was amazed to see Ruben Trumpleman's bowling. He could be Namibia's Trent Boult. It is the responsibility of the ICC to ensure that more and more people in the Associate Nations are convinced to take up cricket as a career. There is huge potential for the shortest format and ICC cannot do worse than not acting now. Maybe they can organize a T20 tournament for the associate players and also try to include cricketers from England/Australia etc in these tournaments so that the game gets a boost. Another, more potent option, is to give the Associate nations more exposure by making them play against top teams. If for instance, India tours South Africa, a tri-series featuring India ,South Africa and Namibia can be organized. Cricket is a wonderful game and deserves more recognition in the global sphere.
With the amount of cricket which has been played in the UAE, the curators deserve a lot of credit for producing top-quality pitches for all the games, thus presenting an equal balance between bat and ball. Sharjah was expected to produce high-scoring ties,but no. The pitch played a level playing field by not allowing batsmen to score freely. The spirit of the game was upheld by all the teams and there was no dip in the cricketing standards. Having said that, the next edition of the world cup will be played in Australia, exactly a year from now and the teams will have to begin firming up their plans without any further ado. Good luck to all the teams!