Of, By and For the Entrepreneurs
---
The city of Coimbatore has always been an active promoter of entrepreneurship. At break of dawn on the 17th of March, PSG Tech seemed to be bustling with aspiring entrepreneurs of the city. With two days packed with pep talks, panel discussions and competitions, E-NEXT had the well-planned recipe for a successful entrepreneurship summit.
Day 1
The event was inaugurated by well-known industrialist Mr Abdul Razak, Managing Director of VKC Group of Companies and an alumnus of PSG Tech."A clear understanding of the trends in the market and a good brand vision are the prerequisites for a successful business", said Mr.Razak. He cited his own company as an example and explained how a proper analysis of the consumer requirements helped his firm grow into the country's largest manufacturer of footwear.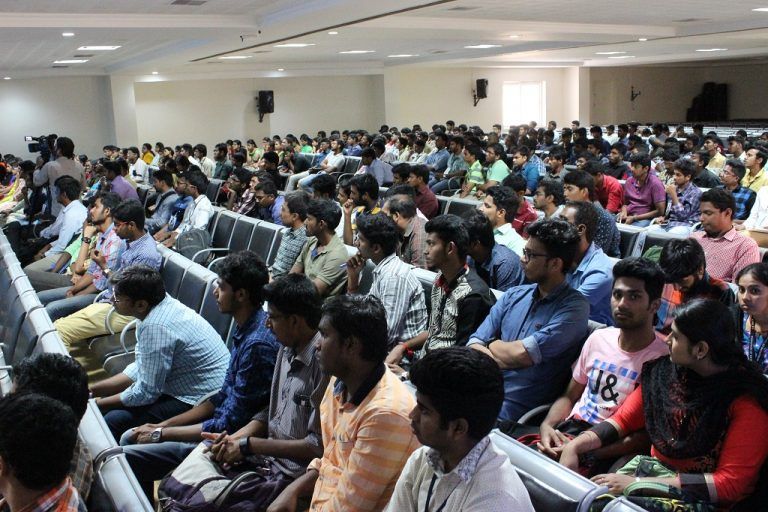 The inaugural ceremony was followed by a talk by Mr Ramesh Babu, the Billionaire Barber. From managing his small saloon to owning a large fleet of 64 luxury cars (that includes Rolls Royce's Ghost, Ford's Mustang and Mercedes' Maybach), Mr Babu's rags to riches story was extremely inspirational. "To be successful, you have to be patient till the right opportunity comes", said Mr Babu, as a tip for the youngsters. From reluctantly taking over his late father's saloon in his late teens, to buying his first Omni at the age of eighteen and buying a Mercedes E-class during 2003, Mr Babu's talk garnered hoots of whistles and applause every few minutes. Today, he runs one of the country's finest private car rental services."Despite all the success, I haven't forgotten my roots. You can still find me working in my saloon in Bengaluru", he admitted with modesty.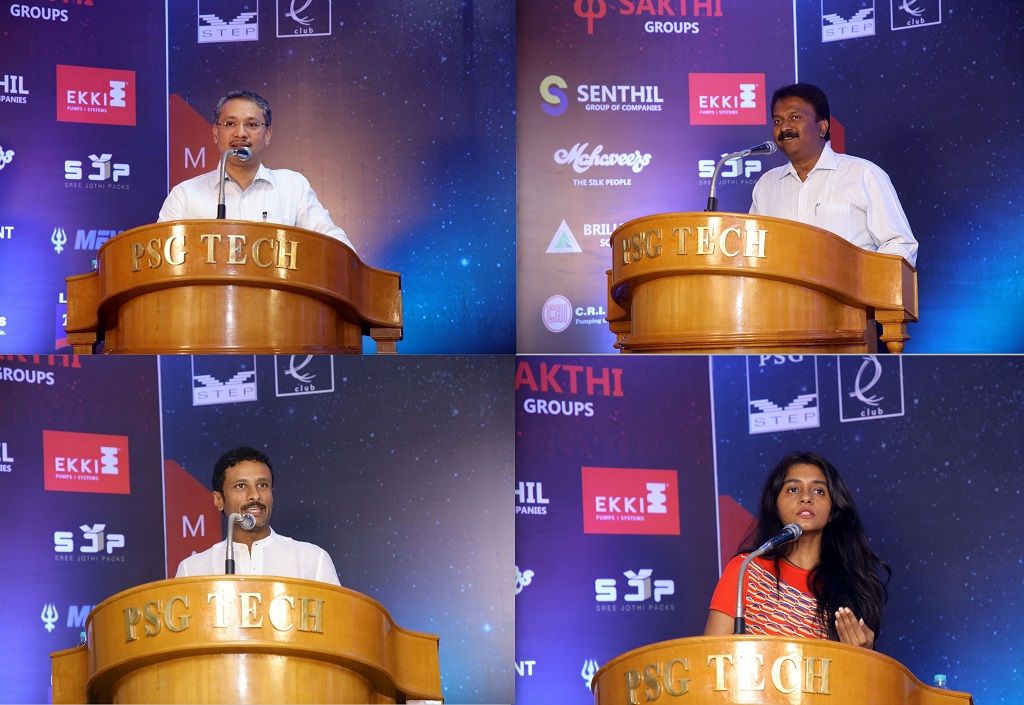 How often do you find people who give up their comforts to work for the less-privileged? Meet Mr Kalyan Akkipedi, the man who built Proto village – a prototype of a resilient and self-sufficient village. On his 30th birthday, Mr Akkipedi realised that he was not doing what he wanted to do and decided to quit his seven-year-long career at an MNC. After spending 30 months travelling around rural India, he realised that the existing poverty studies are analogous to wanting to go on a world trip on a treadmill – you can never reach the end. Thus, was born the idea of Proto village- a design for a world where poverty doesn't exist. Mr Akkipedi exemplifies the mantra of 'being the change you want to see'. Today, his hometown Anantapur is self-reliant with sufficient power and water supply and is Wi-Fi enabled. "For me entrepreneurship is investing our intelligence in giving hope to the people who are in need", he said. "Start where you are and do whatever you can with what you have. You will never regret it." he advised the young men and women.
The final talk of the day was by Ms Aruna Krishnan, Editor and Publisher at RITZ and founder at that1too.com. "I strongly believe that you can convert your biggest weakness to your biggest strength", started Ms. Krishnan, with a proud smile. From being a fashion disaster in college, today Aruna runs a business in fashion and is tagged as one of the best dressed celebrities in the state. Besides inspiring the young with her success story, the charming woman also talked about the various openings available online for people in fashion and lifestyle blogging and marketing.
Day 2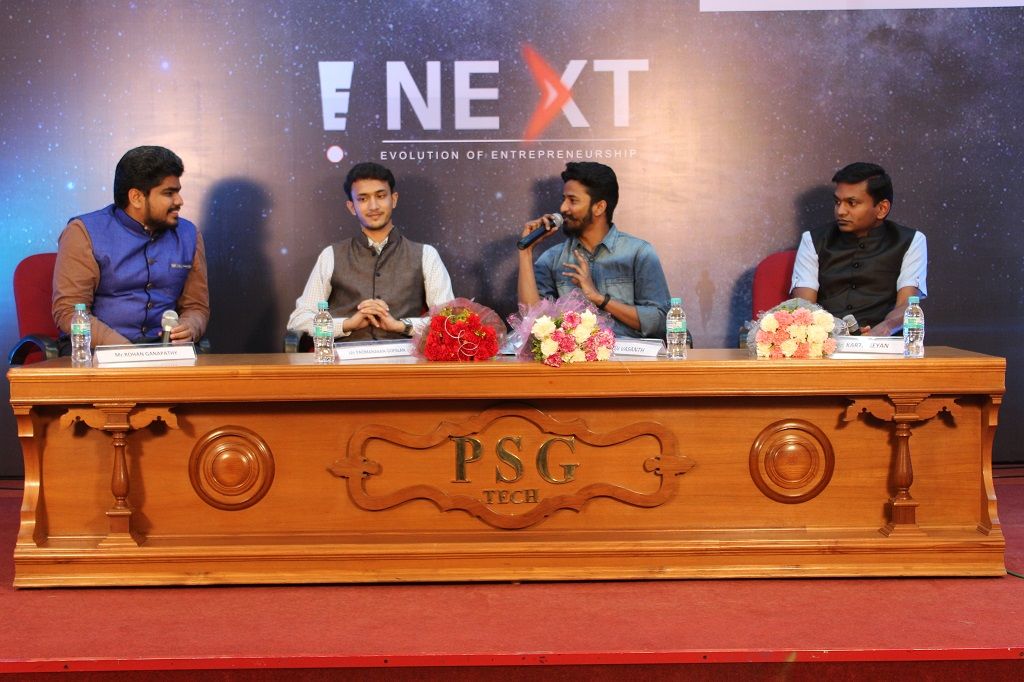 Like Day 1, Day 2 did not fail to impress either, thanks to the eminent speakers. Mr Nelson Vasanth, founder of Start-up Mechanics and Honey Technologies and his friend Mr Karthikeyan, founder of Gazematic addressed the aspiring entrepreneurs. While Mr Vasanth stressed on the importance of choosing the right team for any start-up, his friend talked about the emerging trends for entrepreneurs in the field of technology. The duo was joined later, by two more entrepreneurs from different fields for a panel discussion – Mr Rohan Ganapathy, CEO at Bellatrix Aerospace and Mr Padmanabhan, founder at No Food Waste. "For me, Entrepreneurship is all about exploring and challenging myself", said Rohan when asked of the reason behind his unique choice of field. "Of course, the path hasn't been easy to tread. It took me three years to get proper funding. But all your struggles are worth it in the end", added Rohan. Padmanabhan, who is a social entrepreneur, stated that the people's perception towards entrepreneurship has changed to a great extent over the past few years. "I would credit my education too. Though I have changed paths in life, it has helped me apply technology for a social cause", he added.
The showstopper was Mr Annadurai (of 'Amazing Auto' fame). Fondly known as 'Auto Anna', he runs a share auto (with Free Wi-Fi, charging points, laptop, tablet and magazines!) in Chennai and is also a part-time motivational speaker. Why all these facilities for his auto? "Because I wanted to be different", said Mr Annadurai. While he won over the hearts of the audience with his humbleness, he also explained complex business concepts like customer satisfaction, and one-time investments in simple words.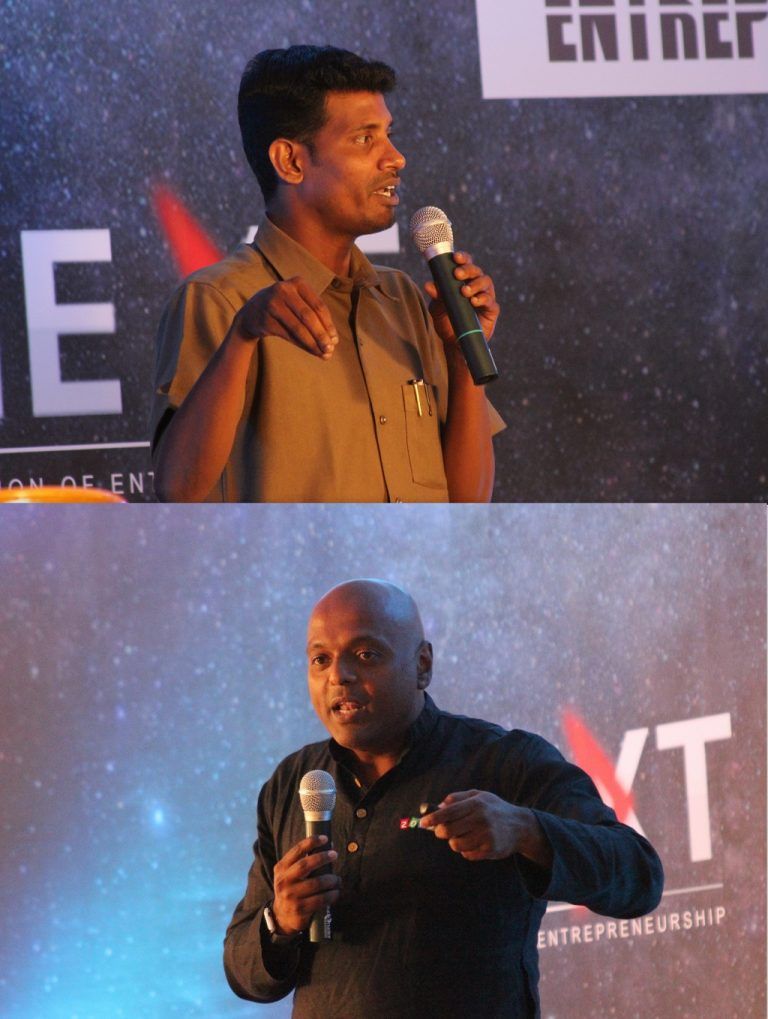 Mr Rajendran Dandapani (Director of Engineering at Zoho Corporations) followed Annadurai with a thought-provoking talk. "We all are victims of the curse of context-free knowledge", he began. The plight of the current education system and its irrelevancy to occupation was put forth by him in an elegant manner. Mr Rajendran also came up with suggestions to stay on-par with the ever-progressing trends in the world and stressed on the importance of good linguistics in the world of business.
'What is easy to do is not always the right thing to do'. Here is the man who did the right thing 20 years back and revolutionised diagnosis and preventive healthcare in India. Dr Aarokiaswamy Velumany, who started Thyrocare Technologies Ltd in 1996 with a small capital of two lakhs INR, is today the owner of a company worth 3300 crores! After completing his Bachelors of Science he worked as a lab chemist before landing up at BARC. However, the comforts of a government job didn't please Dr Velumani. In 1995, after finishing his PhD in thyroid chemistry, with the support of his wife Late Mrs Sumathi, he started Thyrocare laboratories that offered tests at a very nominal price. "No company fails because of charging less", he told the aspiring businessmen and insisted on taking less to get more. "A successful business is always backed by a strong team of IT, HR and Logistics. Build a business based on trust and transparency and keep adding young people to your team." he advised the students.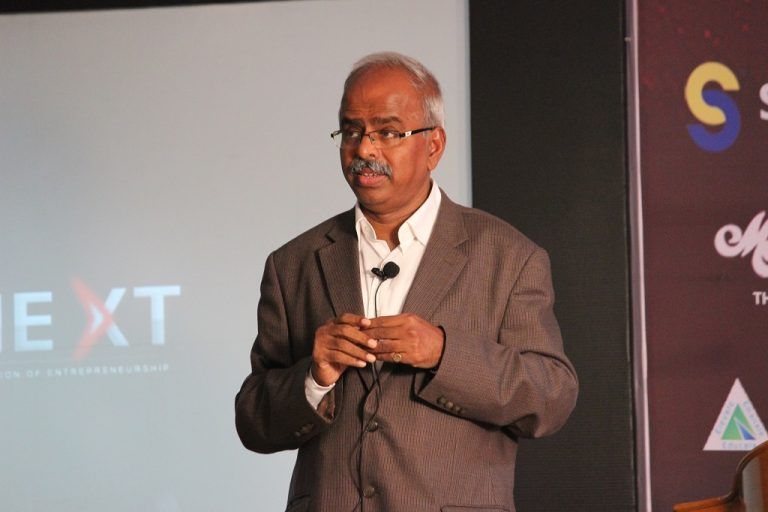 Apart from the motivational talks and panel discussions, business competitions like Trade-o-mania, Adzap, Movie Auction and Market Mayhem were conducted to encourage the marketing and trading skills of the students. The much-awaited Business Plan competition was held on Day 2 and was judged by a panel of three experienced judges – Mr Dhruv Kumar (founder of iCliniq), Mr Senthil Kumar (CEO, Placement Season) and Mr Selvakumar (CEO, Greenotech) and winners of all the events were awarded.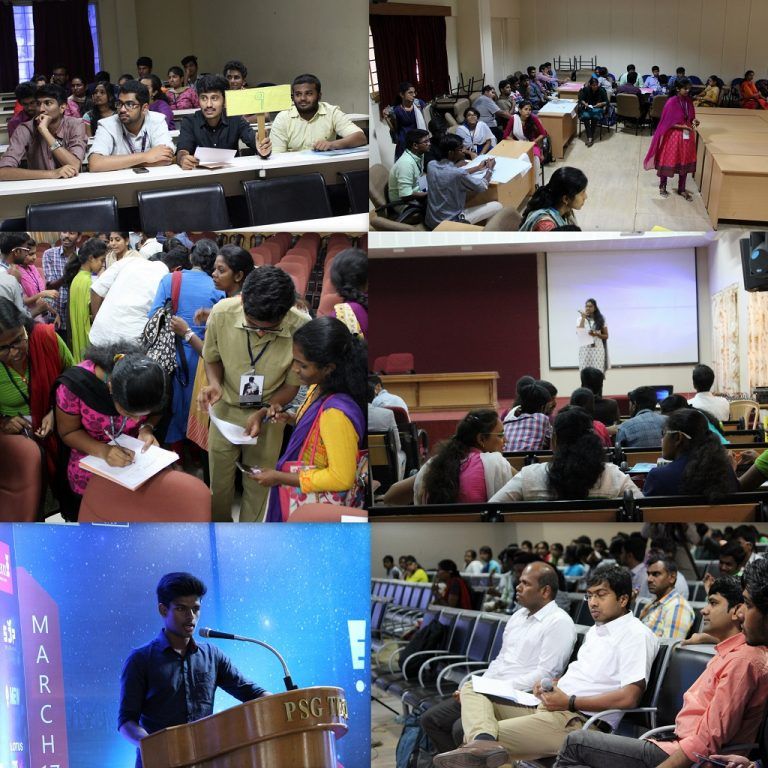 E-NEXT was a two-day Entrepreneurial summit conducted by the Entrepreneurs' Club and STEP of PSG College of Technology to bring to light, 'TheEvolution of Entrepreneurship'. The event was attended by around 300 students, from many colleges and perfectly served its purpose of kindling the spirit of entrepreneurship amongst the young.