On associations with Hochschule Hof
---
THE BRIDGE presents you with the brief on the interactions with the representatives from Hof University, Germany and the interview with the President of Hochschule Hof, Dr.Jürgen Lehmann
The interaction between the emissaries from Hof University of Applied Science including Prof. Dr.Dr. h.c. Jürgen Lehmann, President of Hochschule Hof, and PSG College of Technology took place on 20.09.2017 at the Board Room. The participants from Hof University consisted of Dr. Daniel Werner, Business Administrator, Hochschule Hof and Ms. Weibke Doerfler, MD, BayIND, Germany. Shri. L. Gopalakrishnan, Managing Trustee, PSG & Sons Charities along with Dr.R.Rudramoorthy, Principal, PSG College of Technology, Dr.P.Radhakrishnan, Director, PSG Institute of Advanced Sciences, Dr.J.Kanchana, Coordinator, International programs for Engineering, Dr.V.Sri Vidhya, Coordinator, International programs for management and Dr.T.G.Vijaya, Summer program coordinator, PSG Institute of Management were handling the discussions on behalf of Tech. The agenda was on discussing and deepening the collaboration and partnership between the two institutions.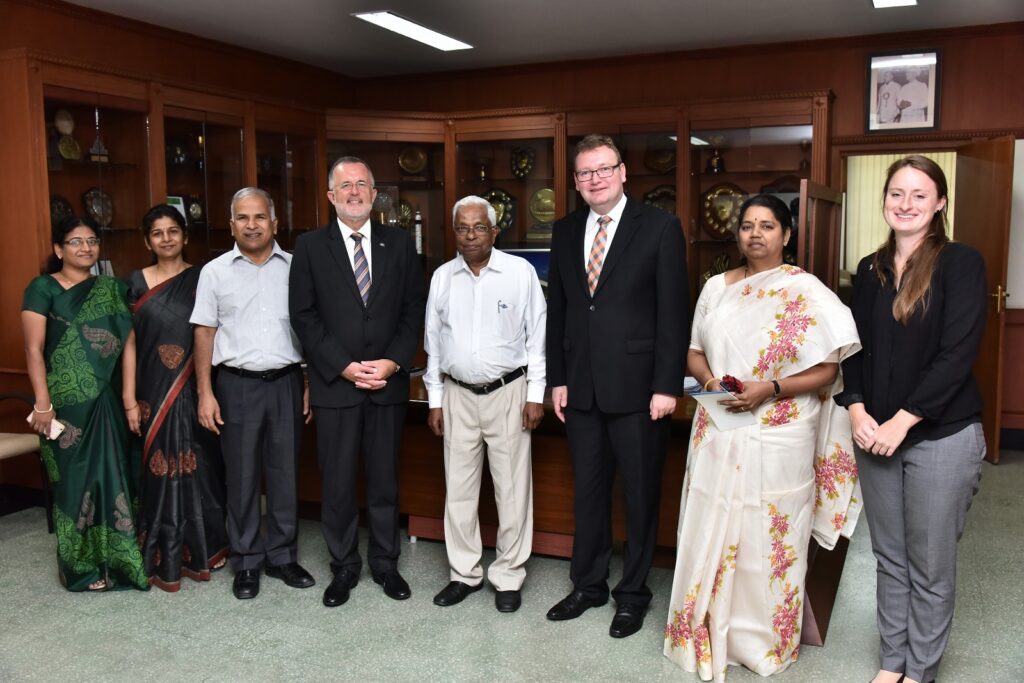 The bi-lateral interactions have been around for 8 years in the form of faculty exchanges, student exchanges and summer schools. This meeting saw the review of the existing programmes, exchange of comments and improvement pointers from both sides, renewal of the MoU's and also the possibilities of enhancing the existing associations. Some excerpts from the brief interview of Team Bridge with Dr. Lehmann:

ADITHAN: We have had exchange programs with Hof University for a long time. What are some of the attractive features of your institute and the advantages of pursuing a long-term education in Hof?

Dr. LEHMANN:
The Hof university of Applied Science concerns itself primarily with the three fields – Business, Engineering and Software technologies, and more importantly, the fusion of these to emanate professionals equipped with real-world, contemporary skills. We offer around 40 programs, both in German and English including our specialization in Textile technology. Some of the Bachelors' programmes like Innovative textiles (B.Eng) and several other Masters' programmes are provided with English as the instruction language, which are open to International students.
The business stream in our technologically focussed university, with subjects such as classical commerce and supply chain management, seeks to buttress the fidelity of its students to practice engineering after graduation. We call this approach "Business Engineering", with a didactic composition of about 60% Tech related courses and 40% business courses. Instead of just teaching the legal aspects of engineering and trade methods, this interdisciplinary mind-set is infused in our curriculum. I strongly believe that digitalization is the next big thing in classical engineering and the concept of Industry 4.0 is on the rise. This brings along with it the problem of communication among the people with varied backgrounds and specialties deployed to design and bring out such systems.
This cross-functional mentality instilled in our students comes in handy to tackle such problems, as a basic level of training in disciplines such as business features and information technology enable our engineers to break the ice with other majors through meaningful communication. It is not needed to establish a mastery in other subjects, but just enough to retain the focus on one's specialization while ensuring successful collaborations. This culture of having a common tongue across streams is being promulgated widely in the learning environment of Hof. Being a lawyer myself, I find legal issues redundant when the communication stream is good and streamlined between the company and the customers.
This also parallels the tradition perpetuated by the 'Hochschule' (University of Applied Sciences) approach of learning where practical, hands-on training is given equal importance to theoretical, classroom teaching. We have the concept of "Practical semester", wherein one semester is devoted to an internship or short-time training in the industry (Both for Bachelors' and Masters'). By short duration, a minimum of 3-4 months is needed, as anything less than this has shown to be unfruitful. The companies like the approach because this reinforces the classroom knowledge and enables the student to focus on the skill sets necessary to succeed in the organisation after graduation. I believe that this right amalgamation of theory and practice gives the Germans the cutting edge in the field of Engineering. Throughout my experiences in different part of India, I have encountered parents who were questioning the need for their children doing any physical, real-world training during their Masters! I believe in using our hands to learn; engineers need to get their hands dirty in order to learn about the machines and how they work!

DINESH: The exchange programs and Summer schools are a gateway for students to experience Germany culturally and academically. We are starting to see German students coming to PSG for their exchange semester. What is the general perspective of German students towards India? Will we see an increase in such incoming exchange students?

Dr. LEHMANN:
I feel that German students are a bit shy to travel abroad for their education. Any place in Europe is fine for them, but it's not common to go beyond that in our institution. So, it is a bit difficult to convince them to come to PSG / India for exchange semesters. But the German students who have studied at PSG have nothing but excellent feedback about the city and the institution. They travel to other cities in India and have a very different cultural experience. But, back home, this country is largely being restricted to Taj Mahal and the 'Mughal' India. They lack the exposure and awareness about the opportunities available in India.
My older son did his internship during his bachelor's studies in IBM, Bangalore. 10 years ago, we had made a family trip in the southern part of India (Chennai – Madurai – Bangalore, etc) and I fell in love with South India and personally prefer exploring the Southern parts! It was a wonderful experience for our family, and it made him decide to pursue his internship here. So in conclusion, Germans are not much aware of India, but the students who do come here, have had a wonderful cultural experience and they want to come back again.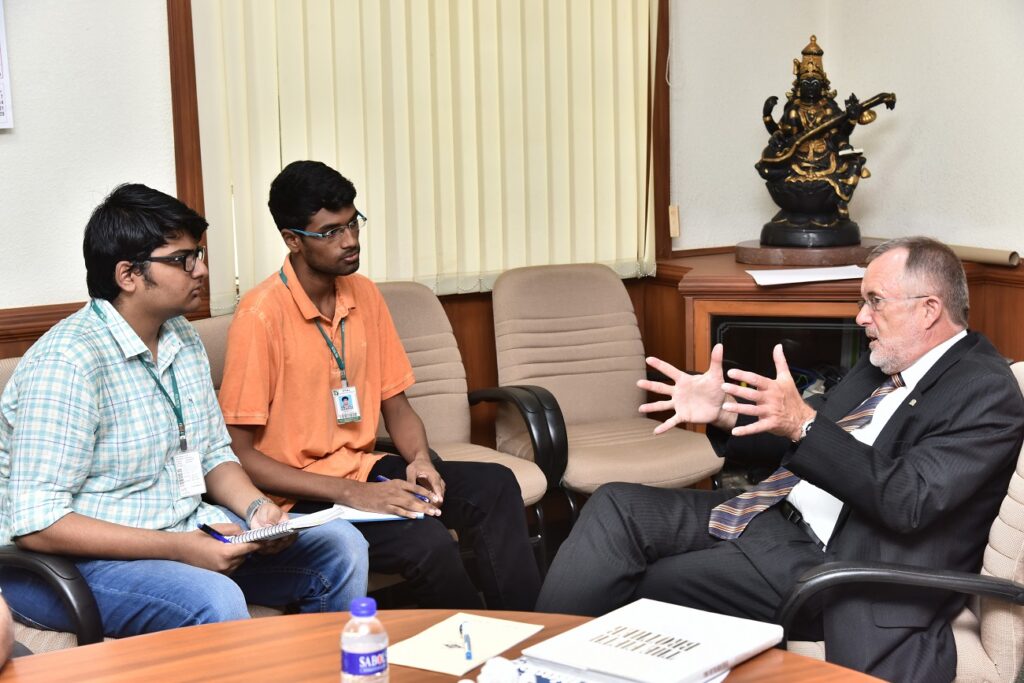 ADITHAN: What are your comments and experiences on the students from PSG Tech. Can we expect any enhancement in such collaborations or new programs made available to our students?

Dr.LEHMANN:
Hochschule Hof does offer summer school programs and exchange programs to the students of its partner universities in India. We have hosted many bright students from PSG for their semester exchange programmes. Such programs convince the students to return to Germany for their higher education. In addition, we also have several programmes in place for Indian students like Germany-India Management (MBA) programme and 5 other programmes, which are completely taught in English. We have also established "Digital Start-up center", an institute for long-time support for start-ups which are open to International students too. It is a good platform for students to come up with new ideas and pitch it to companies and discuss the potential of those ideas.
Although the summer schools and exchange semesters are offered in English, it really helps if the students learn the German language. It helps in day to day life – At the supermarket, on the bus, etc. Industries in Germany accept International students as Interns or employees, but German Language plays a vital role in securing such positions. Knowledge of German language also helps building interpersonal relationships at work. For longer term programmes to be meaningful, a minimum proficiency level of A2 is necessary.
The Indian students visiting us at Hof have always been a colourful addition to our student community. They bring a new culture and fresh ideologies to our students to experience and share with. They make amazing performances in the Summer Festival which has made the Indian culture attractive to our students. Ultimately, we have found the interaction and the presence of Indian students very enhancing. They also play a part in convincing the people at Hof to see the possibilities of technical and cultural exposure here!