Respicianz – The Founding Class of Robotics & Automation Engineering
---
It's a huge hall with a 1000 people, 20 ceiling fans and 2 giant LED screens. I look around and see about five hundred students, each one sitting beside his/her parent or guardian. The hall is pretty noisy, filled with anxious laughter and nervous chatter. My father offers me the half-opened packet of salted peanuts and smiles. I pop one into my mouth and both of us return to staring at the giant screen in front of us. This is the counselling hall where we, a batch of some 500 students wait together before they send us into the final computer room to choose the course that will determine the rest of our lives (or not!).
Yes! For the 'cool' factor and the after effect of movies like Transformers and Endhiran, I choose Robotics and Automation Engineering (RAE) in PSG College of Technology. Apart from the enthusiasm of being a fresher, honestly, little did I know that being in this class will be one awesome experience of my life!
The class of 2015 – RAE is the pioneer batch – so explorers we are!
Let me fast forward straight to the day of our orientation. Since we were a new department, we had no conference hall of our own and were asked to assemble in the conference room of the department of Mechatronics (Diploma section) in I-block. Our HOD, our Faculty Advisor and our Tutor made us understand very clearly that, 'being the youngest department in college, we should excel in academics, perform outstandingly well in extra-curricular activities, establish a great name for our department inside and outside the campus. We were also expected to 'experience' all the courses and give our valuable feedback to improve and help structure the course better'. After a long time in explaining our 'duties' and the 'privileges' as the first batch, our Faculty Advisor ended by saying, "Koorathaazhvar award is a very prestigious award given to the outstanding student of the entire batch. When you graduate, we are confident that one of you sitting here will win it!" A very bold statement made by him, especially after hearing ONLY our introductions (which just had our name, our high school's name and native place).
In the very first year, among us, we had students determined to become secretaries of various clubs and the Students' Union in their final year, nerds determined to graduate only as 9 pointers, happy-go-luckies determined to 'have the maximum fun possible' by bunking classes, automobile junkies who had their own cars to show off, artists who were happy with pencil shade drawings and doodles during class, dancers who became quite popular after just one performance on Hostel-day, quizzers who earned good names among 'smart circles' in college, orators who grabbed attention with their loud speeches in hostel mess and the quadrangle, sportspersons who wanted to make the college proud, poets who romanticised everything outside class while sitting inside class, writers who were content with just posting popular Facebook posts, aspiring movie directors, chatter-boxes who enjoyed passing sarcastic quips on everyone and everything in the campus, and finally, students genuinely interested to learn and volunteer for projects in the field of robotics. We had them all!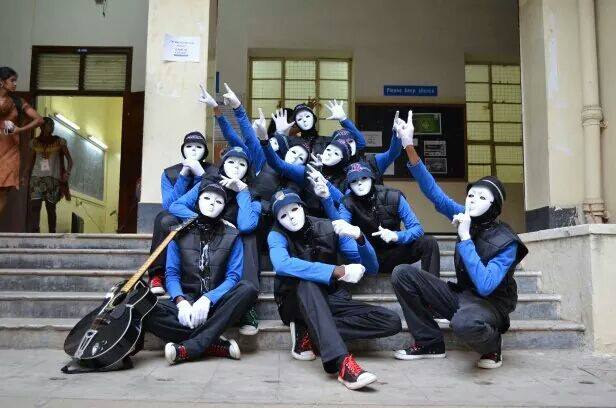 Our class had the best and the craziest mix of students. Go to any high school, take an entire batch, and pick only the naughtiest and active kids from each class. And this collective lot, from various schools, was probably put together to form our class of robotics!
Our first class committee meeting (CCM) was held in our HOD's cabin, a small room sandwiched between two electrical labs, at the very end of the EEE department. This important meeting, led to the inception of the RAEA (Robotics and Automation Association). From the very scratch, from designing the logo, to deciding student representatives and the standard events for every year, and in planning for the inauguration, the whole class put in our best effort.
We started a magazine for our Robotics department – 'Respicio'.  We learnt the importance of good team work as it proved to be highly effective and the magazine was a success. Since we were all self-appointed PRs of our department, we marketed ourselves very well inside the campus by visiting every other senior department in college to show our magazine and get blessings to succeed.  This is one of the many instances where we displayed the 'perfect student' behavior (Well, we were quite proud of ourselves!). A few other ones were – huge gang volunteering for all of the Students' Union events, smart work in club events and conferences, youth camps in NSS, clowning for kids in orphanages and most importantly active participation and interaction in classes (no sarcasm there)!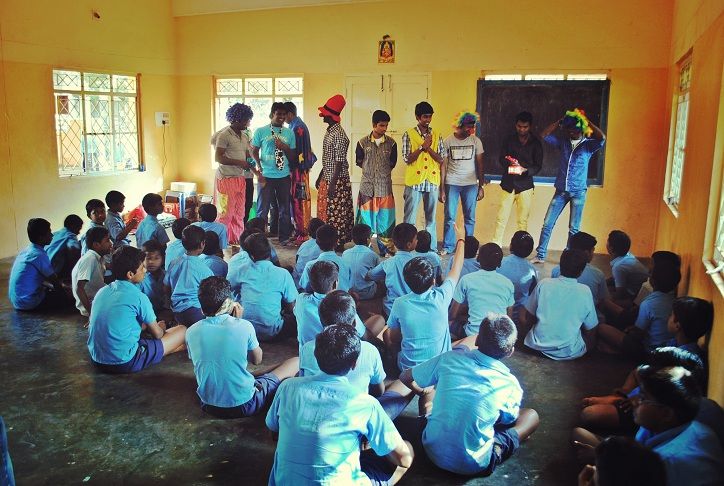 Among the other departments in college, we were known as the most 'united' class (Amongst us, we would call it 'unity in diversity') because (1) we HAD to be united because even collectively as a class, we were still a minority in college (2) we enjoyed this status and considered ourselves lucky to have an amazing class.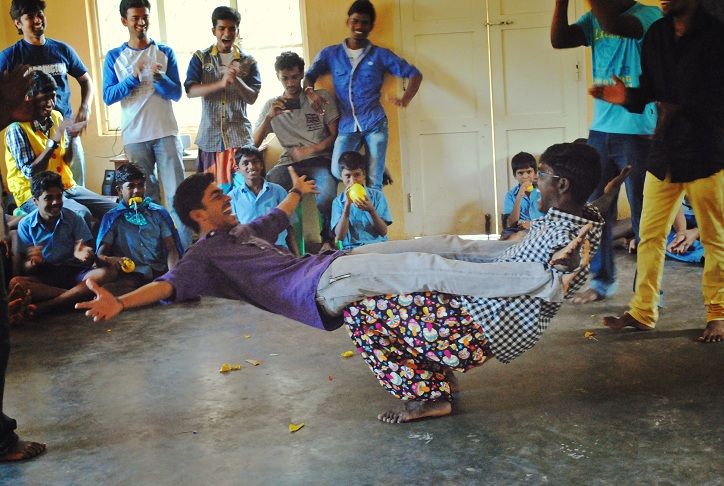 Enter the lateral entry students in our second year, and now with a massive strength of 70 students, nothing in the world could stop us from standing together and reaching the sky!
Even though ours was a class with a minority girl crowd of just 13 out of a total 70, we did not feel neglected as we had equal enjoyment as the boys; were always included in all major class decisions. Our classmates were our brothers who provided us with major security during our Industry visits and what more could we ask for!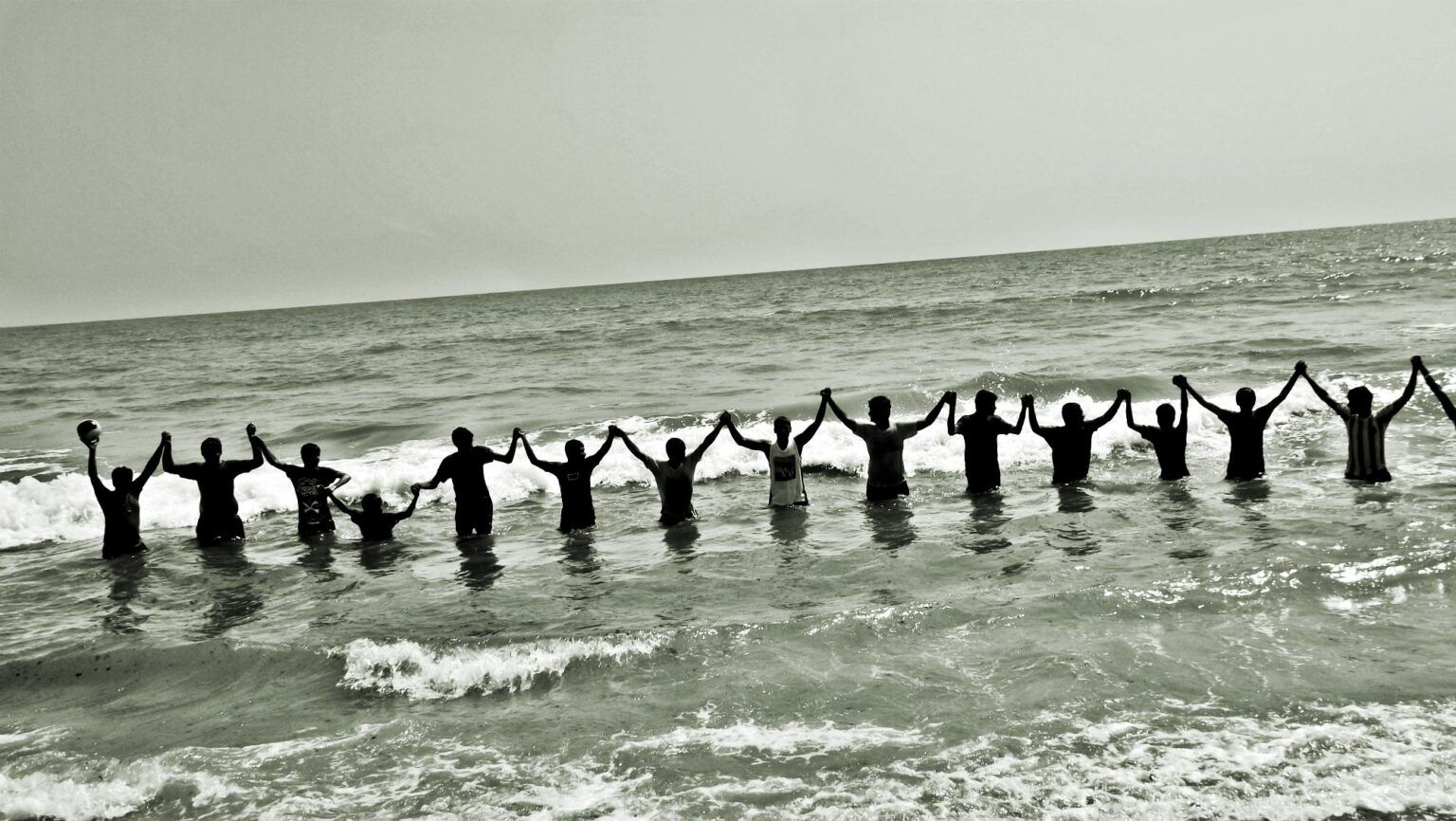 We never had direct seniors. So right from the first year, we had one major advantage – we were not much controlled; which was our disadvantage as well, because we had less guidance and direction. So when our junior batch arrived, we took great care in our behavior (to stand out as a good example) and made it a point to guide and encourage them from their very beginning! Being the founding class, we learnt a multitude of tasks spanning various fields. Technically put, these would cover marketing, logistics, internal affairs, external relations, operations, crisis management and leadership.
Two years went by as fast as the autumn wind and we entered into our final year – the year of placements. We had to do the same sensible marketing we did all these years, but this time, to companies. The tense atmosphere, interdepartmental peer pressure, kind acts of help during interviews and preparation and tedious placement preparations gave us a lot of memories to remember! Being the first batch, after a lot of fights, negotiations and diplomatic talks with companies, we achieved a decent placement record in both core and IT companies. The 'feather in the cap' moment was when our classmate bagged the Koorathaazhvar award for the year 2015! The 'Kanna, second laddu thinna aasaiya' moment was when we also won the P. D. Prakash award for social service. And we could only scream with joy, that the words of our Faculty Advisor during the orientation day had come true! We were so ecstatic because our teachers  were proud of us!
In our first year, our department started out as a small, corner room in the EEE department and one industrial lab in I-block. *Drum rolls please…Wait, no…  Play 'Rajnikanth's transformation' theme music! * In our final year, we had with us, both the sides of one whole floor in K-block, which included two state-of-the-art labs. To see this entire transformation, was cathartic in a way, because every time we think of our days in college, we can proudly say that we 'experienced' the growth of RAE department, OUR department from a seed to a fully grown tree.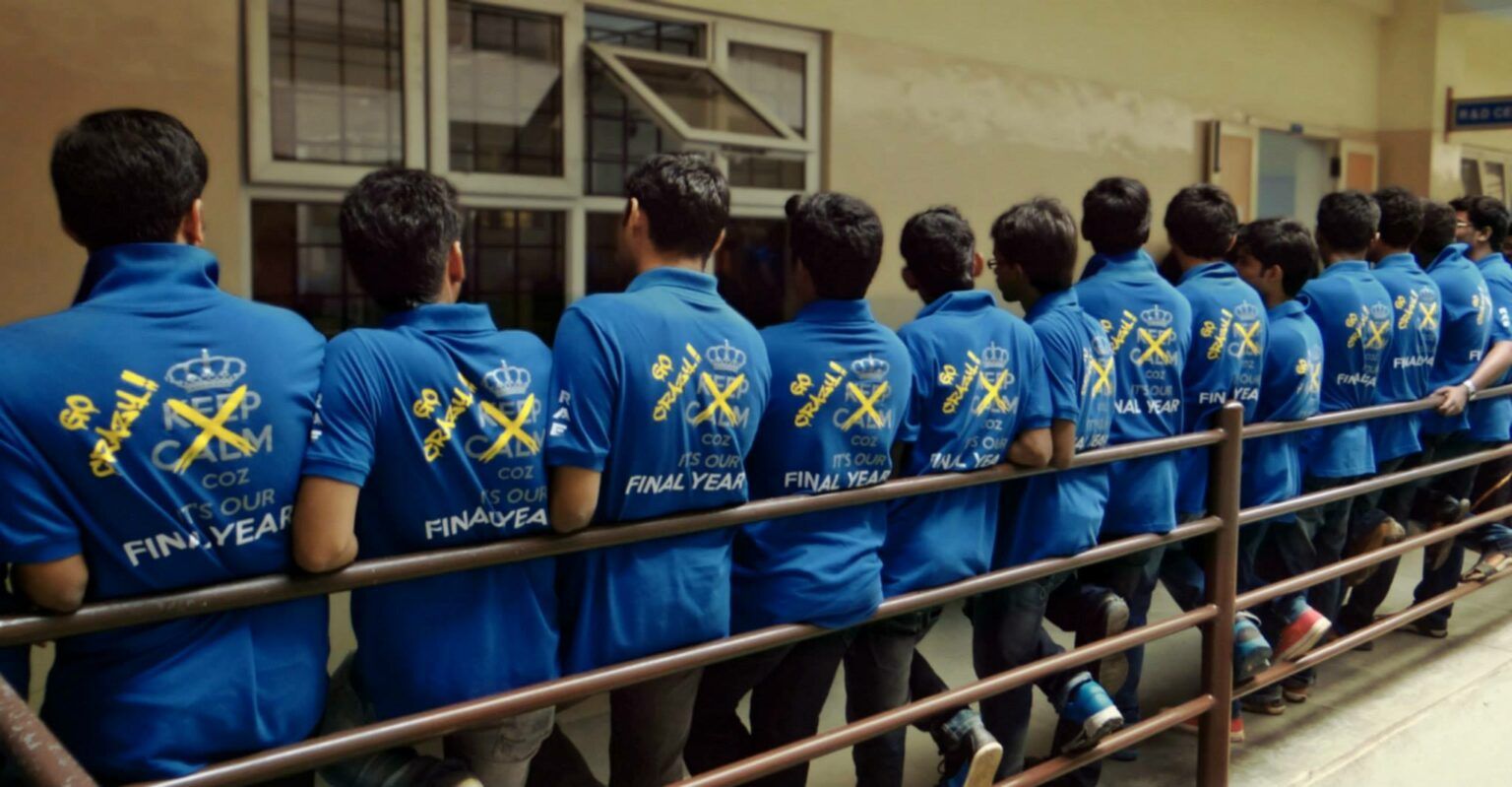 In our final year, we had grown tremendously, and now amongst us we had leaders who became secretaries of different clubs and the Students' Union, nerds who achieved their 9 pointer dreams and lot of other overjoyed new-nerds who managed to score 8.5+, happy-go-luckies who managed to have unimaginable fun surprisingly by attending classes too, the automobile-enthusiasts turned to become super racers, an artist whose drawing now decorates our college principal's office, dancers who reached a crazy number of fans and followers on social media, quizzers turned quizmasters who won countless number of quizzes and now continue building their intellectual ego, leaders who managed organizing committees for various conferences, orators and loudspeakers who became the master-of-ceremonies for many events, sportspersons who won many medals and awards, a poet who with his beautiful poem made every single soul in the class cry during farewell, writers who wrote an amazing book called 'The Class' (a book which captures the amazing moments and stories of those four lovely years; a book written for us, by us and to us), aspiring movie director and a whole technical crew who directed a brilliant song and video that received a standing ovation during farewell, students who genuinely succeeded in finishing projects in robotics and also went on to represent India globally, and finally, chatter-boxes who were actually speechless during farewell because we had to part ways! We had them all, again!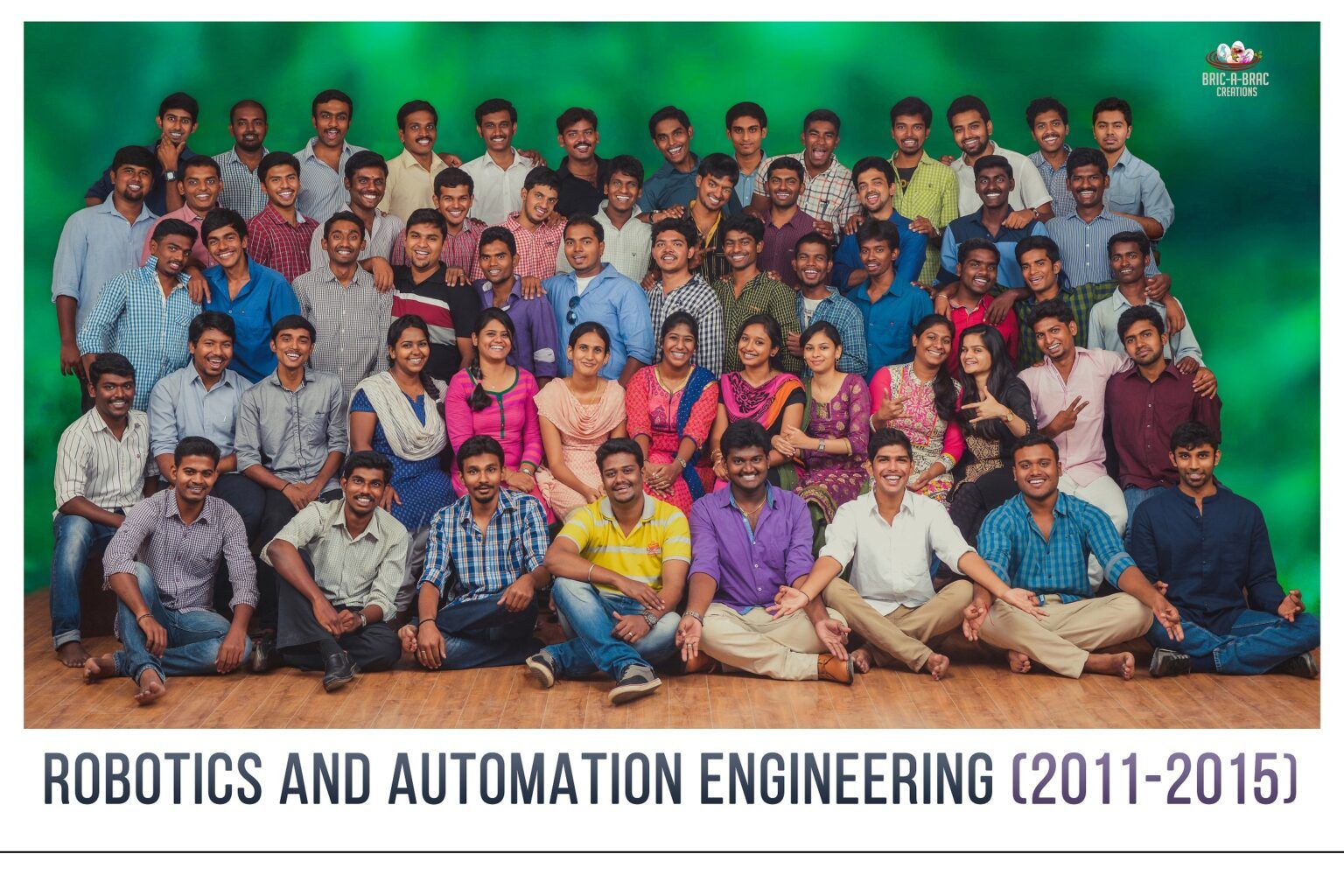 As the founding class, the Department of Robotics and Automation is very dear to us and we also know that we are very special to the department too. We love you, RAE and PSG TECH!
*In memory of our dear friend and classmate Sasi, who will live in our hearts forever*
P.S. – To continue our social responsibility, now, we as the RAE Alumni have decided to do our part to the community. Since majority of us are working, each one of us is contributing a little from our salaries for this initiative. Currently Rs. 20,000 has been collected and we are executing the first phase of our community work. We are very excited and look forward to carrying this even grander into the future, to help make positive differences to the society.
P.S.S. – We, the entire class have always wanted to share our one-of-a-kind experience. Thank you, Bridge, for giving us the space, and me the opportunity to write on behalf of my class.