Sustainable Enterprise Award(SEA)
---
Towards developing national infrastructure through establishment of social enterprises
Event partner:
  PSG STEP
Ecosystem partner:
HEADSTART
"It's not about ideas. It's about making ideas happen"
~Scott Belsky, Co-founder of Behance
Entrepreneurship is not just business; it is the art of innovation and risk taking for purposes of profiteering.The SEA (Sustainable Enterprise Awards) is an initiative by Jagriti Yatra, supported by Coca Cola, to honour the aspiring entrepreneurs having enterprising ideas in Water conservation, Agriculture and Recycling fields.

PSG Science and Technological Entrepreneurship Park (PSG – STEP) hosted an event on the 4th of August,2017 introducing Jagriti Yatra and SEA. The programme was handled by Rakesh P Vinay, a former ERC member of Jagriti Yatra.

Mr.Sagar Unde, a representative of Jagriti Yatra, addressed the gathering. Jagriti Yatra is an initiative of Jagriti Sewa Sansthan, a non-government organization with its headquarters at Uttar Pradesh, which promotes entrepreneurship in the country. It is a 15 day long national train journey that takes 500 yatris and 15 role models to 12 destinations covering around 8000 km across India to understand and build India's smaller towns and villages through enterprise. It's vision is to generate one lakh enterprises by 2020. Jagriti yatra has a special focus on rural enterprise for the sustainable development of rural people.

Mr.Unde shared the success story of a rural girl in Uttar Pradesh who expanded her handmade jewellery business from the streets to an international market. Today, she also employs more than 50 women in her village and runs a successful business! He finally concluded, with words of encouragement, that everyone can be enterprising irrespective of their profession.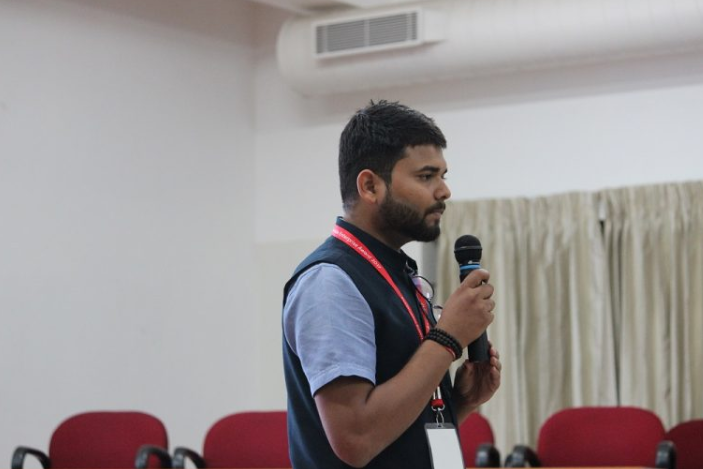 After a couple of minutes, A.G. Padmanaban, the founder of "No Food Waste" took over the stage. "Initiatives towards social enterprise and building a socially inclined society are always very less in count but leave a very strong impact", said Mr.Padmanaban, an alumnus of GCT, Coimbatore. His first start-up, 'Spice Foundation' for educating students in Science, Technology and Engineering in government and private schools didn't fare well. However, that didn't stop him from persevering. After realising that the Centennials don't value food as much as they value money, Mr.Padmanaban stood up to spread awareness of wastage in schools. He conducted a study that revealed  that about 9,46,000 kg of food is being wasted in schools at Coimbatore every year!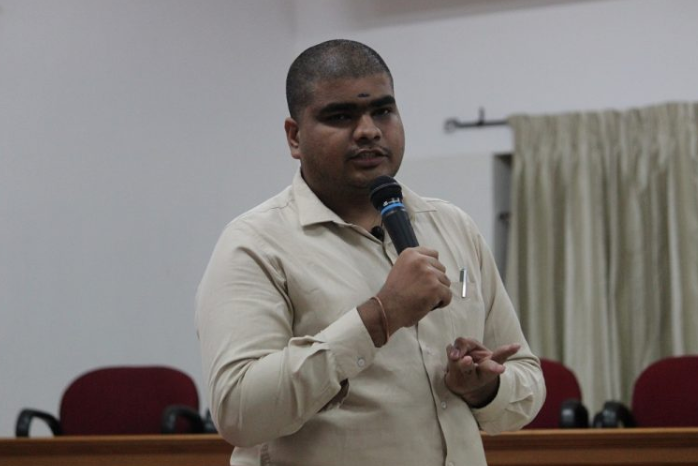 "Always be open to ideas around you; it doesn't matter if it is from a kid or a student or an old man", said Mr Padmanabhan and added that it was the question of a 4th standard kid on the size of banana leaves used in weddings that sparked off the idea for 'No Food Waste'. His journey began with a phone and some shopping bags. Soon after he posted his phone number in Facebook, he got a phone call to receive the excess food. Mr.Padmanaban collected 52 food packets with a little resource of Rs 12 to serve the hungry – the first achievement of No Food waste.

'No Food Waste' has established a voluntary excess food recovery network across the country which collects an average of 500 plates per day to serve the needy. It has completed almost 3 years of service and has fed upto 3 lakh needy people across the country. After many days of hard work and perseverance, the organization has become sustainable and has also gained the support of the government. Currently , an application called "Hunger Mapping" has been launched to meet and provide solutions for people in need of food. No Food Waste is a platform of magic which connects people, not by relation, but by a helping hand.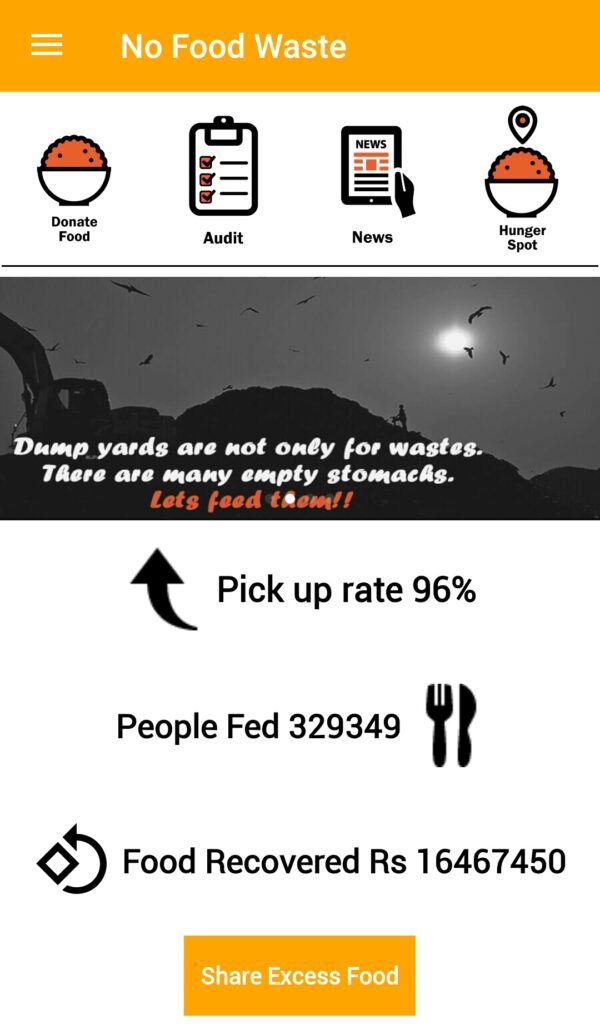 After the inspirational and encouraging speech from Mr.Padmanaban, Mrs.Jyothi Mehta, the founder of Jyothi's Cookie Co Pvt.Ltd took over the stage.

Mrs.Jyothi Mehta was a yatrini in Jagriti yatra 2012. After working in the corporate sector for 2 years, she decided to pursue her interest in baking. The journey of her enterprise was not a bed of roses. In most of the cases, people weigh an entrepreneur with their capital power. However, Mrs Jyothi believes that it is not just the capital but the passion towards their goal that drives them.She stated that the success of the common man depends on 3 P's – Persistence, Perseverance, Pay-off. Being a woman, Mrs.Jyothi desires to empower women in entrepreneurship.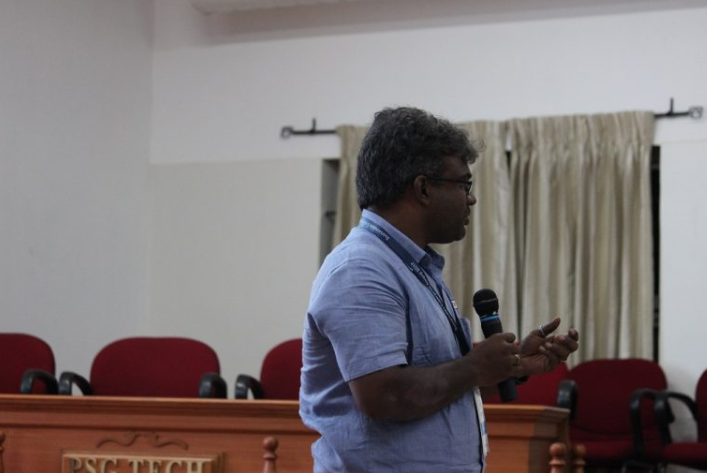 Mr.Chandru Natarajan represented "Headstart", a volunteer driven program to support new entrepreneurs. It has a network of entrepreneurs available in 13 states. Currently Headstart has 18 volunteers in Coimbatore working throughout the month. The two major programs initiated by Headstart – "Saturday program" and "Training program" focusses on areas like IOT, Agriculture, Smart city and IT.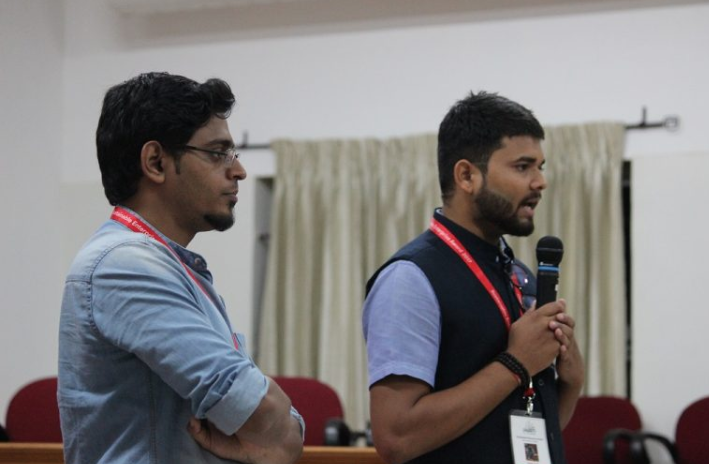 Speaking about the Sustainable Enterprise Awards (SEA), the event will be conducted across 25 districts. Each team can contain a maximum of 4 people. After few rigorous selection rounds, 3 teams will be selected for the final round that will be held in Delhi Delhi. Judges from Coca Cola and Jagriti Yatra would also be present during the final round. The winning team will be awarded Rs.2 lakhs prize money, with the runner up being awarded Rs.1 lakh and the third place with Rs.50000. Candidates can apply through the website: www.jagritiyatra.org/SEA

To know more about Jagriti yatra, visit: 
www.jagritiyatra.com
THE BRIDGE expresses its respect to the members of Jagriti Yatra and Headstart for their contribution to the country through social enterprise promotion .