"DEMAND FOR WHAT YOU NEED", said Ms .Shuba Nivedha, a law college student and an active feminist, one of the speakers of the TEDX event held in our campus on 14th October,2016 organized by GLF club. TEDXis a privately organized TED event, wherein, speakers of various fields of interest will share their thoughts and experience with the viewers. For the talk organized in our campus, Ms. Shuba Nivedha, Law student and feminist ;Mrs.Radhika Nathan, writer; Mrs. Seetha Murthy, Principal, Silver Oak International School, Bangalore; Dr.P.J.Sudhakar, who has completed 115 degrees, Mr. Jeshwin Rebello, Light Art Photographer and Mr. Nivas Prasanna, Music Director, addressed the audience.
The event started at10am with the welcome addressby Mr. Harshavardhan and an opening talk by Mrs.Menaka, Professor, Department of English.
Ms .Shuba Nivedha was the first speaker of the event. She started by defining feminism- feminism is not hating men, it means creating gender equality and women empowerment. She insisted that women in our society have to create their own identity and that they should know the purpose of our life and what they want from it. Marriage and other things should not affect our way of living and we must learn to love ourselves. During her college, Ms.Shuba got an internship offer in Russia. Although everyone around discouraged her from going, she convinced her parents and went abroad. It is a golden opportunity which everyone won't get easily. . She wanted to use this opportunity to improve her career as a lawyer and demanded what she needed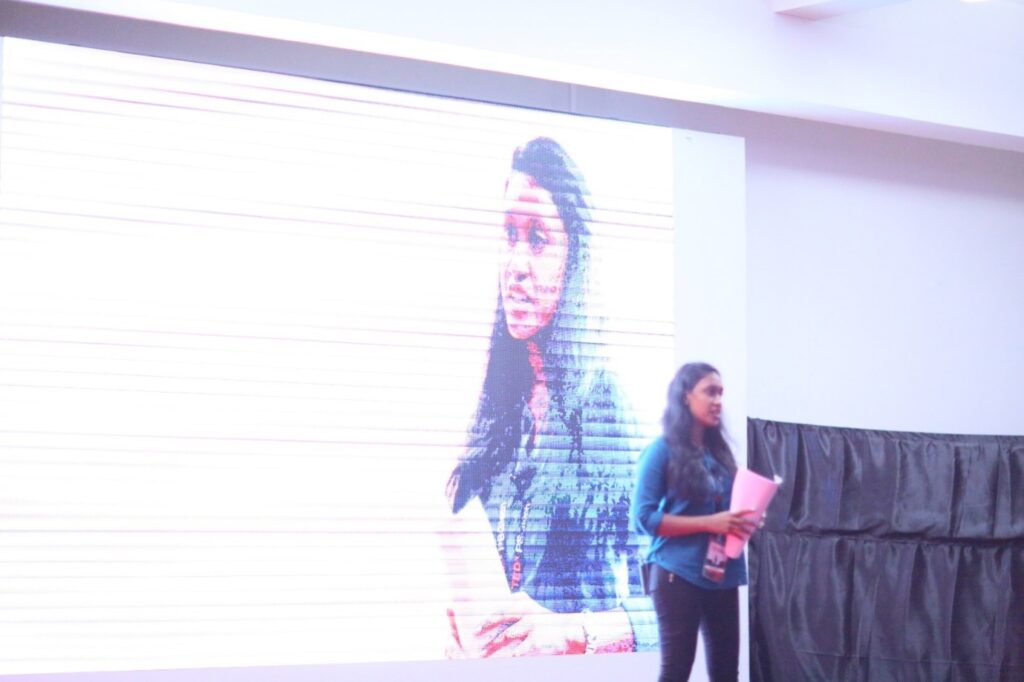 As a concluding note she said, "In life we have to make tough choices". Choices we take will lead our life. The decisions are made by us and we should live it without giving a complaint.
Mrs.Radhika Nathan, a writer, spoke next. She has written two novels- The Mute Anklet and A Time to Burnish. She started her speech by saying that she doesn't know how to talk about literature books to engineering students and decided to talk about the book covers. She started with an old saying, "Don't judge a book by its cover". "We should not judge a person by seeing his external appearance" it is the actual meaning of the saying. She compared the book covers -now and them.. Book covers have pictures and letter textures that reflect the genre and type of the book and they also have the summary of the story in the book. They even have the summary of the story in the book. Books now can be judged by looking at the cover. Even though we say we should not judge people by looking, we must be prepared to face the world which does the same thing. Just like today's book covers, truly authentic and reflecting the content of the book, we must make a good cover of ourselves […..] . Not just our clothing and style but also our talks, walks and gestures make the cover of ours. So to make a better entry in this world, we must have a good cover that reflects our own character.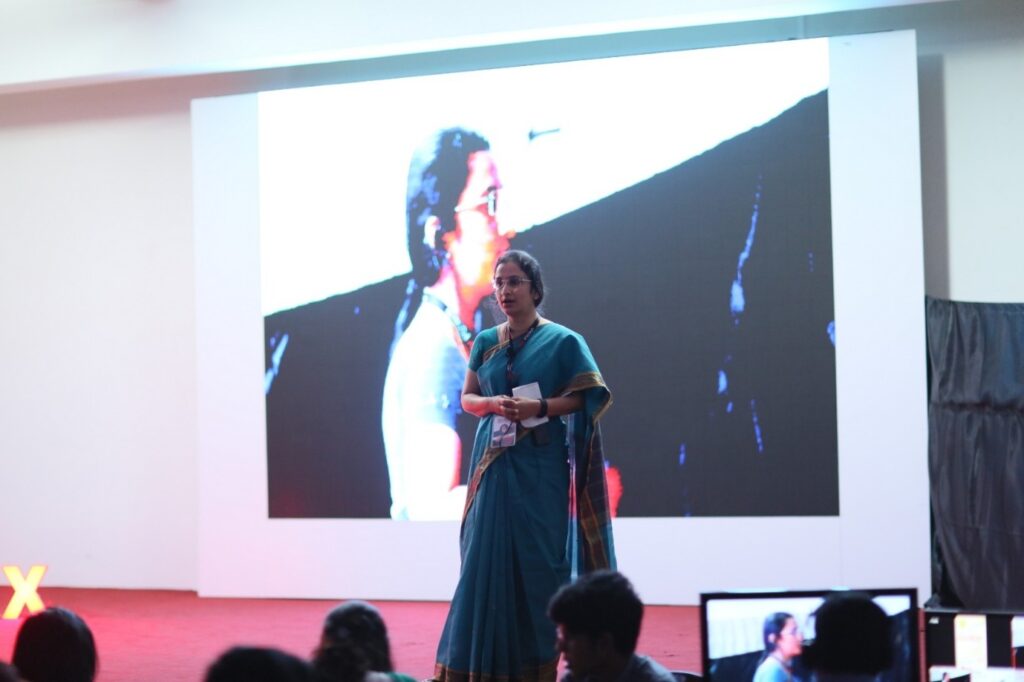 […..]. A TED video was played after the talk. It was a speech delivered by Mr. Tshering Tobang of Bhutan. He spoke about Bhutan being a carbon negative country. Bhutan is the  only carbon negative country in the whole world. They made a promise to develop their economy by remaining a carbon neutral country. About 72% of their nation is covered by forest. They have connected every forest of their country. They got help from world wildlife fund. Education and medication in their country is free for everyone. According to them gross national happiness is more important than gross national product.
After the video, Mrs. Seetha Murthy, Principal, Silver Oak International School, spoke about the learning methods they have adopted. In their school, the learning system is not like our common system. They believe in open class room concept. Learning should not be imprisoned within the  walls of the classroom. Their school doesn't have text books as they treat learning as an experience . She said that the students are reluctant to embrace the change and that there is no purpose in criticising the system while we are the ones who need to change. Our society's cultural fabric, family system, hierarchical structure stops the learners from achieving their own peak. We are made to believe that everything must be taught by elders. Quoting Gandhi, she said that we have to be the change we wish to see, thus concluding her talk. She also praised our organizers of GLF club for the wonderful event.The session broke for lunch.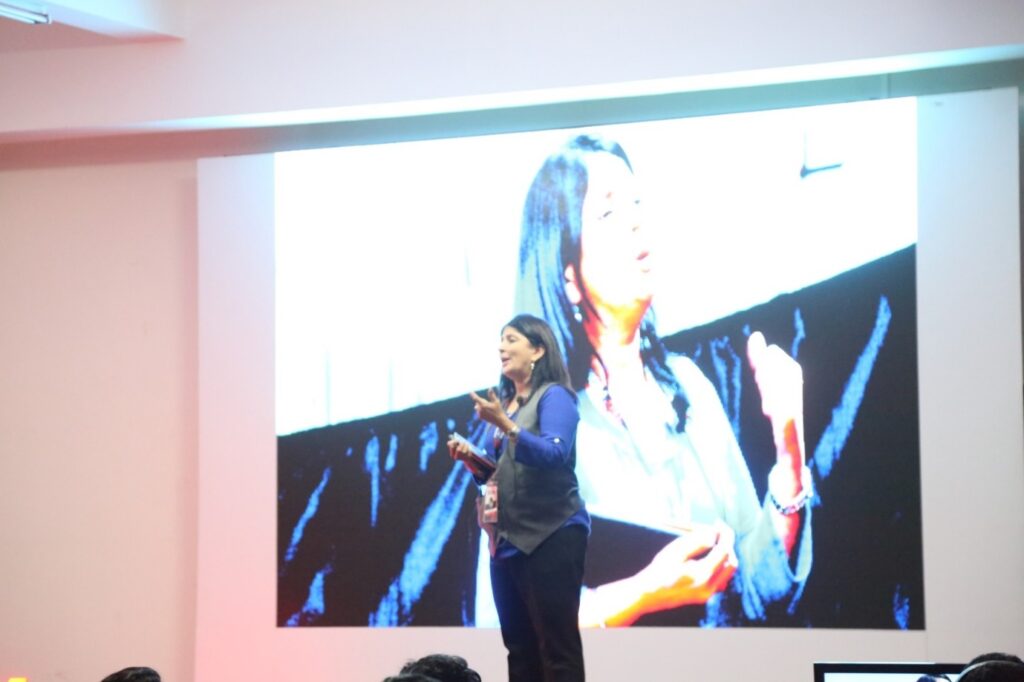 [….]
The session resumed at 2 p.m. with Dr. P.J.Sudhakar, who holds a total of 115 degrees inclusive of 13 doctorates. He has written hundreds of books and one of his works MOTHER has been translated into 15 Indian languages and 15 foreign languages. We can see that Learning has no age limit from him. [….]He spoke about the importance of ideas and time management in addition to the hard work we put in. Ideas rule the world. What we think, we become. With this he recited a poem in Telugu.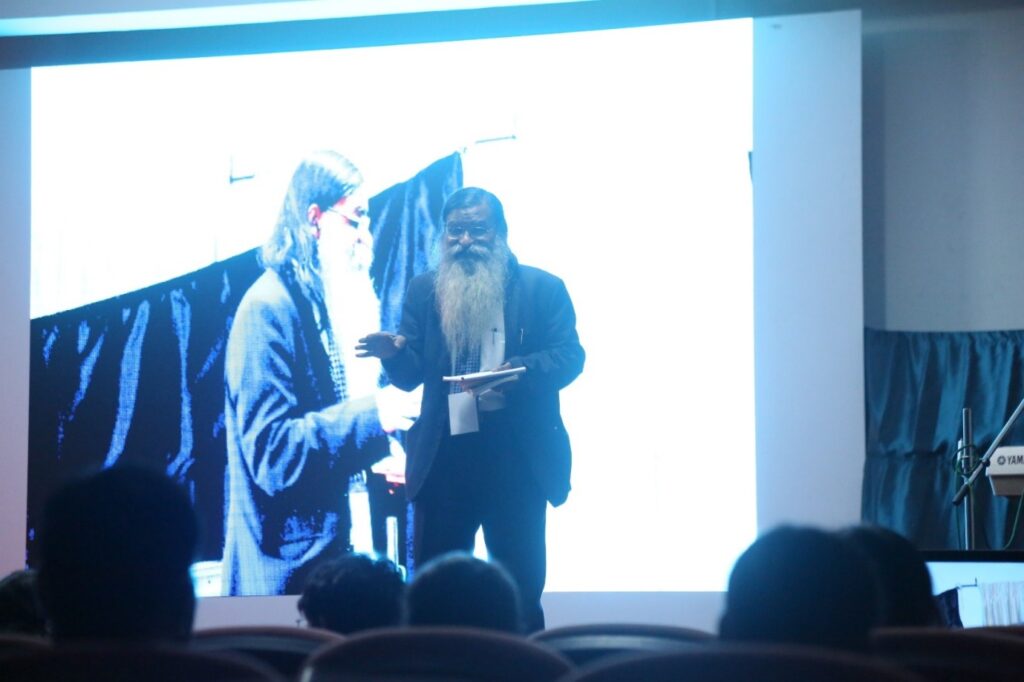 […] Mr. Jeshwin Rebello, a light art photographer presented his artwork for the viewers. Light art photography is an art in which the photograph contains the art done with the help of light. Light of different colours is used to bring in colours to the photo. [….]Mr.Jeshwin's patience and practice have made him one of the top ten light art photographers in the whole world. He is the only light art photographer in India. A picture he took during his college days was what inspired him to pursue light art photography. With the help of his friends, Jeshwin has created a Guinness world record in light art photography. Despite the many compliments that he has received, he says that the compliment he received from an old illiterate person after he was acknowledged as one of the ten light art photographers is the best till date.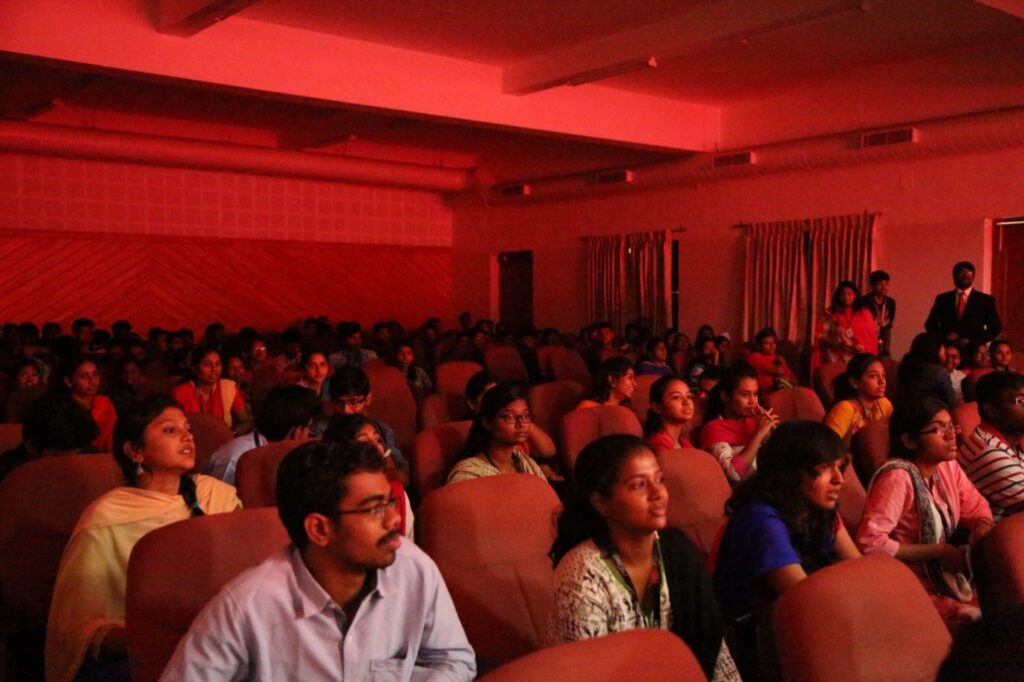 A TED video was played, narrated by Mr. Samberni, a musician, who plays the air drum. With an engineer he has created an air drum weighing 6 pounds. An average air drum weighs up to 50 pounds. Though he is affected by progeria, a condition in which old age manifests very early in life, he tells that he is the happiest person in the world.

The event's final session was engaged by Mr. Nivas Prasanna, music director of the famed films Thegidi, Sethupathi, and Zero. He started his career as a keyboardist in concerts. From the start, he had the dream of becoming a music director and so he started working towards his dreams. He got his break into cinema industry through Saindhavi's documentary film. This was followed by a chance to score Thegidi, a Tamizh thriller film, which got him all the Best Debut Music Director awards in the year 2012. He shared his experience as a music director and how he got to this place. At the end of the session, he sang a song requested by a student.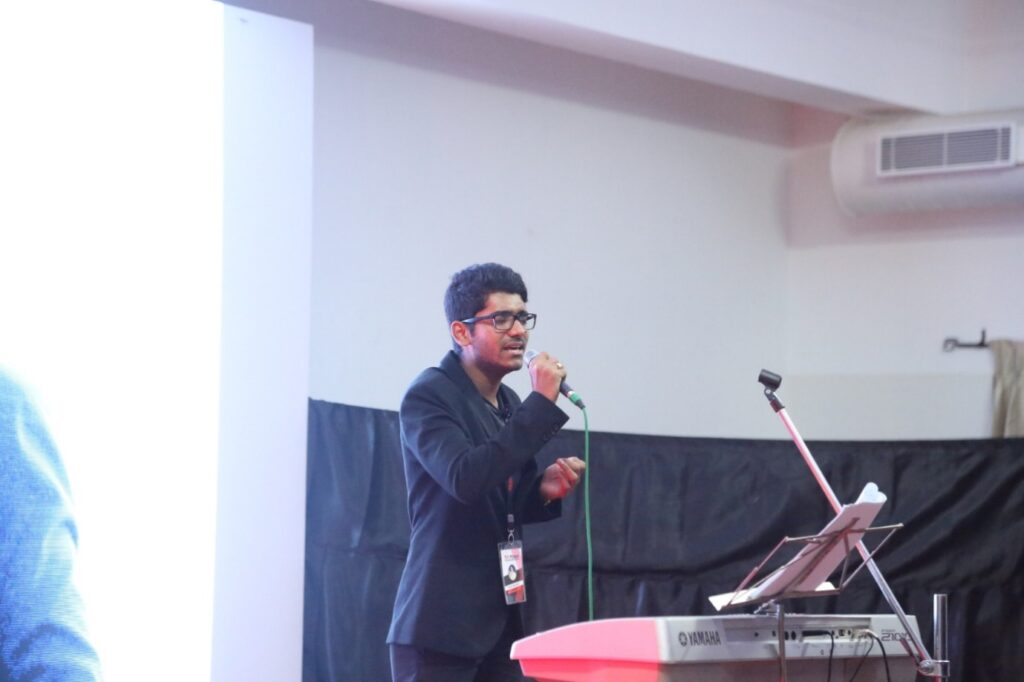 With his song, the event came to an end.
Our organizers from GLF club had successfully conducted the event and people who came for the event were very pleased. Thanks to our speakers, who spent their precious time to give a worthy day for the students of PSG Tech, and also the audience who were one of the reasons  for the success of the event.