The Culture of Improvisation
---
Article and photos by Adithan.K (B.E Mechanical, 2014-2018)
A brief look into finer art of calamity management as coached in NSS workshop
I am pretty sure that even the serious eyes of last minute crammers last Saturday (10/10/2015) spared a glance at clusters of excited people at 'A' block parking before their internals, or of their bewilderment on watching a man leap from the first floor of Y-block. These were no magic shows or (to some extent of disappointment) superhero stunts, but the group of freshers performing odd things (tossing a boy qualifies as odd) does appear to have a purpose – To save their lives!
When I barged into D Block first floor on the same morning, there was something in the atmosphere that was specific to first timers – inquisitiveness. The diverse environment present there only added to the charm. Around 150 boys and 100 girls gathered there for the "Disaster Management Workshop" organized by National Service Scheme (NSS). About 8 volunteers from "Sri Sathya Sai academy" conducted the workshop on natural disasters and how to counter them.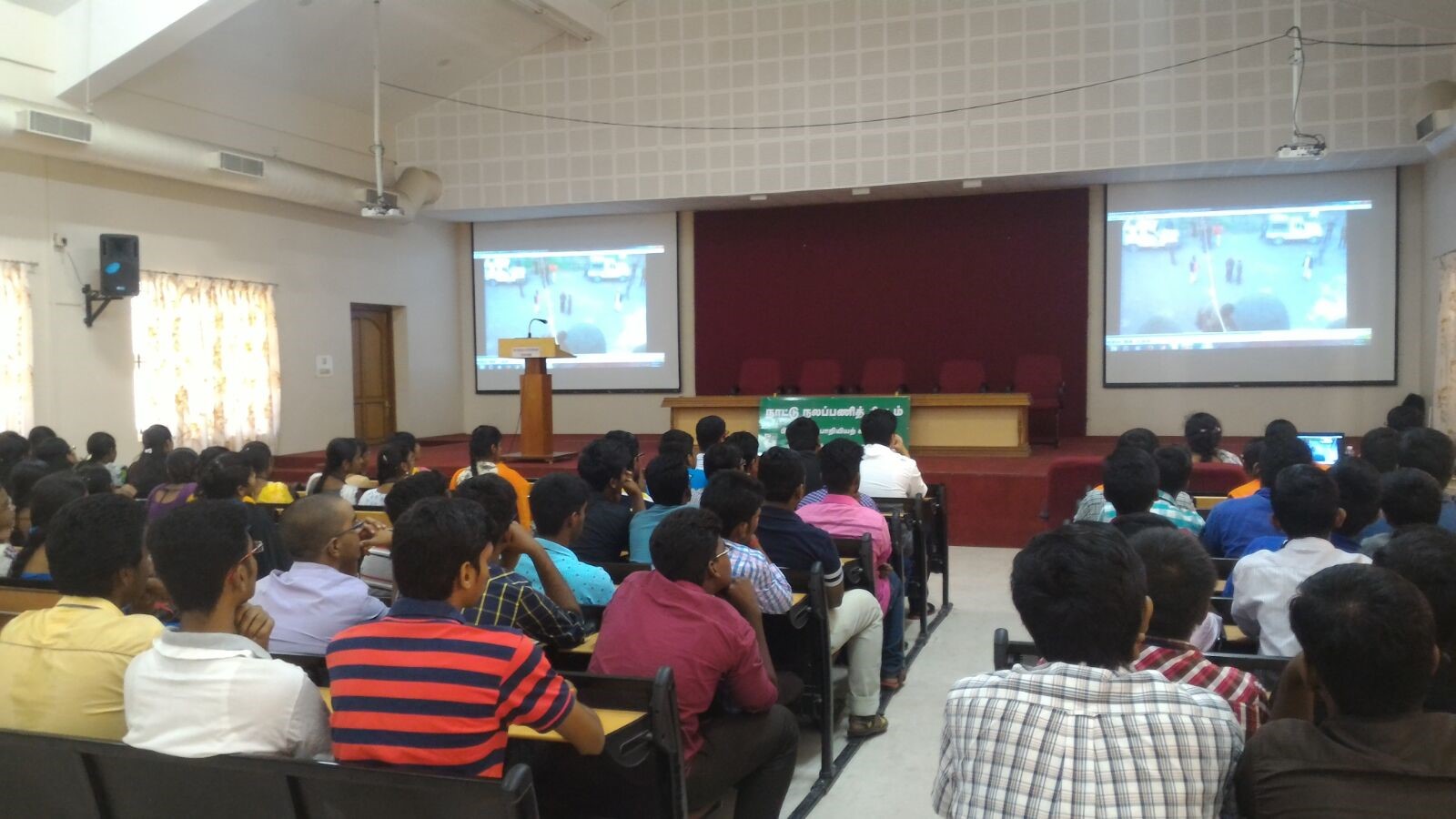 The whole day was divided into two – Calamities on black board and Hands-on training. The first session spanned for the whole forenoon, where several natural disasters and the cause of their phenomena were discussed. The list ranged from earthquakes, tsunamis, volcanoes and cyclones to drought. Confined to the seminar hall, they enacted an emergency earthquake situation and demonstrated the drill for the same. Different kinds of knots like overhand knot, midshipman's hitch – meek, but very effective- were taught (Miniature of the one they put on Y-block pillars later).
After lunch, people were split into two sets – One underwent a fire drill while the others were taught to rescue immobilized individuals. Volunteers from the participants were made to create different formations in order to safely carry an immobilized person or someone trapped in fallen debris. Students were demonstrated the best way to improvise the worst case scenarios with the very basic things they would have.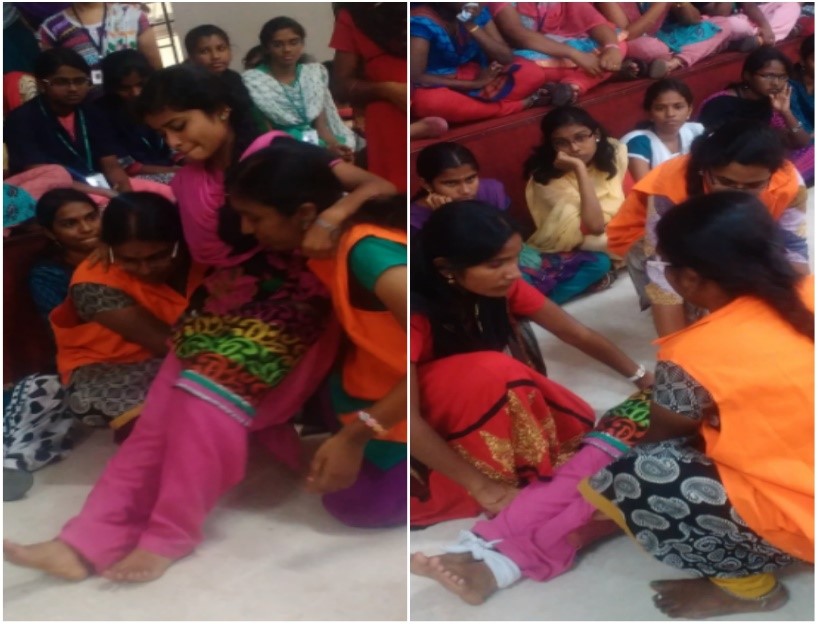 The session only got more interesting when we moved onto kindling up sparks (real flares) in A-Block parking. Fire accidents are one among the common mishaps and less obvious trouble is generally us messing things up in a hurry. First, to avoid extra chaos by anxiety, they were asked to experiment with the same; 'Not the Girl who played with fire' class, but a little subtler. The often advised 'water with oil' dangerous combo was exhibited right before our eyes.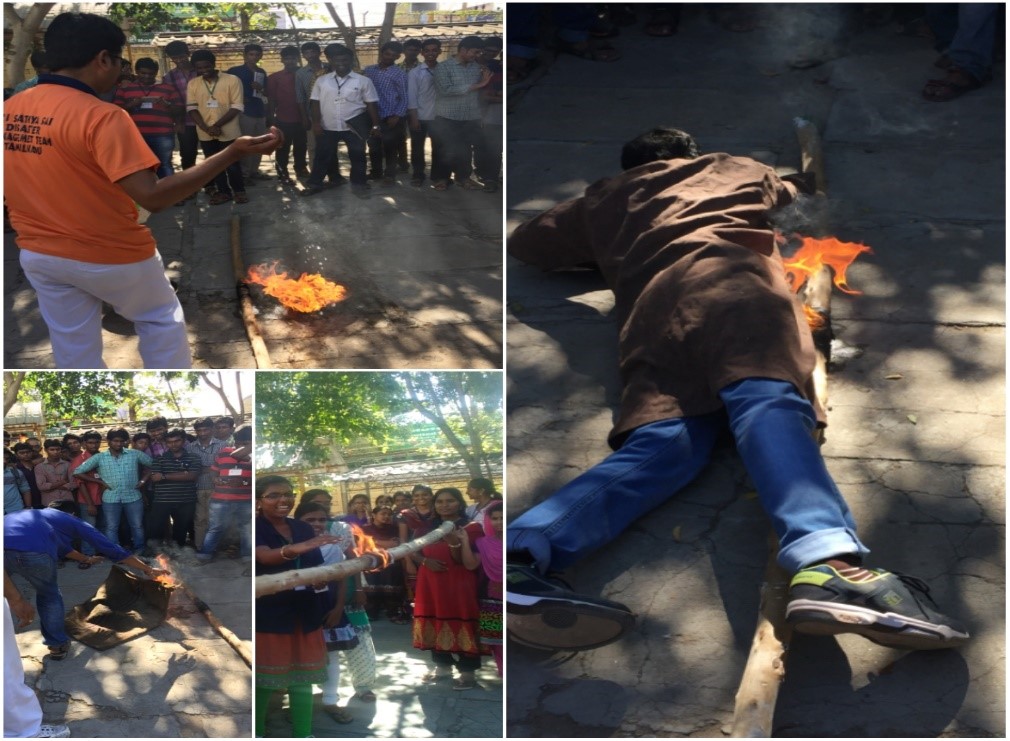 After carefully going through with do's and don'ts, next came pacifying them. These survival lessons were again addressed with found-in-your-home things. Team NSS likes to express their thankfulness to the security and safety personnel who assisted us throughout the workshop and efficiently avoided what the academy people taught us to shun. The next session came quite unexpectedly to the  participants, when they were asked to assemble before library block.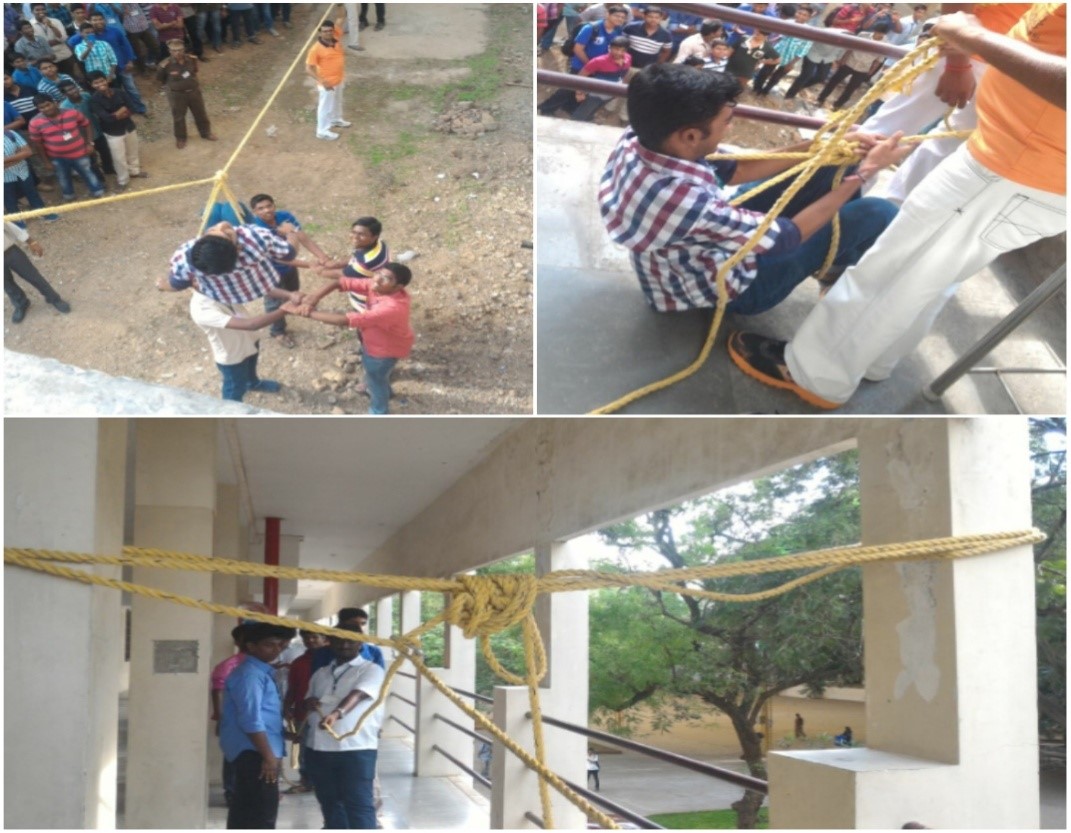 Only then, people noticed large ropes securely knotted to the pillars of Y-block. While we were waiting downstairs, a boy with a green tag emerged to our view, only to be tossed down the very next second. Thanks to our strong volunteers, he was well received in one piece. This, more of a presentation, was to show how the amalgamation of these skills act on a larger scale.  It's not much to bustle, but you don't see many things like this in Tech.
The day ended with the academy people showing the actual rescue actions and the extent of horror the tsunami of 2004 caused. Telling from the absence of 'College on Saturday' faces, the varied gathering while leaving the hall, felt glad and more importantly gratifying, as large as their expectations try to be.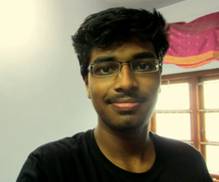 Adithan.K (B.E Mechanical, 2014-2018) is a high spirited reader, enthusiastic gamer, who enjoys occasional coding, out-of-the box thinking, and often left awed by the very twisted fiber of nature and amorphously, by the scientific and engineering  environment.
 For comments/feedback/suggestions, please write to thebridgepsg@gmail.com.