Adarsh Vikram Narayanaswamy is a successful and noteworthy alumnus of our college who has represented India in multiple Racketlon tournaments across the globe. Racketlon is a combination sport that incorporates the four racket sports - table tennis, badminton, squash, and tennis. Adarsh has made India proud by taking up this sport and making it to the final podium of both Swiss Open and Berlin Open. He currently ranks 41st in the sport worldwide. Our correspondents got the opportunity to interact with him over a virtual interview. This is an excerpt of their conversation with him.
Q. Tell us a little about yourself.
A: I was born and brought up in Coimbatore. Soon after I finished my undergrad in Mechanical Engineering at PSG, I pursued my Masters in International Industrial Engineering at Düsseldorf University of Applied Sciences, Germany. As a kid, I was always interested in sports. I have been playing badminton, table tennis, tennis, football and cricket for as long as I can remember. So, even after I  moved to Germany, I continued to play. That is when I came to know about Racketlon. Racketlon requires good form in all 4 racket sports, but when I started out, Squash was a completely new adventure to me. Unlike the other 3 racket sports, I did not grow up playing Squash. Learning Squash was not an easy road. Fortunately, I am fairly good at it now, thanks to long hours of practice.  Racketlon is my passion. However, by profession, I am an Innovation Manager at RealPace, a German-based startup company. I have been juggling between work and Racketlon for the last two years and it has been an honour to get the opportunity to represent India in the sport.
Q. How did you enter the world of Racketlon? What do you like the most about the sport?
A: It was a friend from my badminton club in Germany who introduced me to Racketlon. The fascination of the possibility to represent my country was what really pushed me to take up rigorous training. I had to spend several hours practising everyday and my 9 to 5 job did not make that easy. But I loved doing them both, so I could get through.
When I began to play Racketlon, there were only a handful of players in India. Now, in India, there is more awareness about the sport, thanks to several clubs, district and state associations dedicated for the purpose. I would like to specifically express my appreciation and gratitude to Mr. Muralikrishnan, Incharge of Sports, PSG College of Technology, who encourages students to take part in Racketlon. He is also a part of the Racketlon Sports Association of India.
To me, the most interesting aspect of the sport is the chance to get to try your hand at all the four sports involved. Most of us must have picked up a racket at some point in our lives. However, attempting to play 4 such sports under an umbrella where individuals have specific strengths makes it so much more challenging and engaging.
Q. You were the captain of the sports team when you were a student in PSG tech. Did that help you become a better sportsman?
A: My experience at PSG did not just help me with sports, but it offered me so much more for life. I learnt how to effectively communicate, how to manage a team well, how to coordinate and drive team spirit. People are very different in nature and these lessons have helped me understand and deal with people more effectively. Those days at PSG  were the three best years of my life.
Q. Do you remember your 1st success in Racketlon?
A: Yes, I do! The first official racketlon event that I participated in was the Berlin Open back in May of 2019. I was an amateur and I had no expectations of winning. I participated in the tournament with a German friend in the B-category and we went on to win first place. This was my first success and I was ecstatic. Another special moment was the time when we won the Challenger's category for team India in the World Championship that took place in Germany during the same year. It was a phenomenal feeling, to say the least.
Q. Tell us about your career in innovation management.
A: My father is a businessman in Coimbatore and watching him got me accustomed to the kind of effort it took to be successful in a business. At the age of 17, I was at crossroads, and so I chose Mechanical Engineering. However, inspiration can be from any front and I was shepherded towards my career of innovation management through my experiences, acquaintances and the doors of knowledge that opened when I was a student. Innovation management was new in India and it dealt with areas of my interest. Until I started my Master's, I was under the idea that innovation was only about research and development. But there is so much more to it. With my course specialization in innovation and technology management, I got the chance to discover more about innovation. I love my job now.
Q. How did you navigate your Sports-Personal-Professional life, specifically in your tweens?
A: It was hectic, no doubt. But I lived with my family when I attended college so it was only a routine of play, go to college and get back home. Besides, navigating the Coimbatore traffic was the only exhausting thing back then. But after relocating to Germany, balancing everything has definitely become a tremendous task. Household chores, my 9-5 job, Racketlon practice, not to mention the tiring commute - it gets very taxing. Nonetheless, my ability to work out a balance stems from the enthusiasm that I get to play on behalf of the Indian team. The opportunity to attend various international level tournaments and the kind of exposure that it brings to my life motivates me to strive harder.
Q. If you were asked to choose the three most important moments of your career so far, what would you pick?
A: Oh! The first one would be getting to represent India and winning the world championship. It was the best moment ever. The second one would be the time when I was the sports captain of my school. We had an 800m athletic race and there were many good athletes. Somehow, I managed to win the race. Now, I am participating in the International tournaments. Still, that one medal from school makes me feel proud and will always be close to my heart. The third one would be the Swiss Open where I had to compete against the player who was ranked above me. The match lasted for almost three hours. None of us was ready to give up, but with the margin of 2 points I won the match. It was indeed a very special moment of success.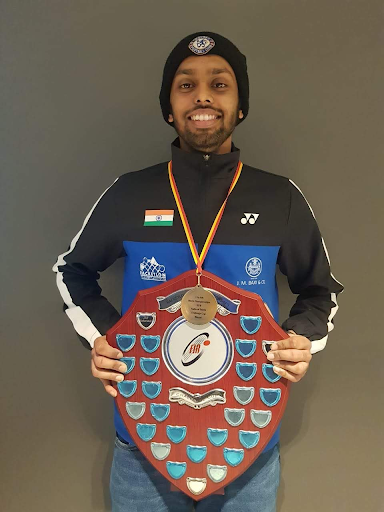 Q. Apart from racketlon, what excites you more in your life? What are your other passions or hobbies?
A: In the little time I get between work and Racketlon, I enjoy watching football. I am an avid Chelsea fan. I also enjoy watching movies, especially regional ones. I love listening to the music of artists like Ilayaraja and Yuvan Shankar Raja. I have been into cooking lately, trying and experimenting with different dishes.
Q. A professional sports career is not all fun and games. Training can be brutal and the sacrifices can be huge. What are the sacrifices you've endured and how were you rewarded? Failures are hard to face as well, so what is your take on it?
A: Yes, people do not pay attention towards the sacrifices that a player has to make to get to where he is. I had to sacrifice my social circle. I can still remember all the times that  I had to miss out on birthdays, time with friends and family, opportunities at work, and holidays. I also had to sacrifice being able to eat anything when I wanted to.  Sacrifice is huge and it must be looked at seriously. It is a huge price to pay when you do it for a long time, believe me. The long hours of racketlon training and sessions in the gym really take a toll. Injury is never easy to deal with in a professional sportsman's career and can take a hit on our mental state as well. Of course, all these sacrifices are worth it, when you win a match.
I always believed that the more you fail, the more likely you are to succeed. The badminton match that I lost in the 5th or 6th grade has made me stand where I am today. Success comes from improvement and improvement happens in failure. There's no shortcut to it. So, seize it with an open heart.
Q. What would you like to share with those interested in getting started with Racketlon?
A: Firstly, it needs lots of confidence and a determined mind to learn something new. You do not need prior knowledge of racket sports. Recently, I conversed with the world's number one Racketlon player. He didn't even know what badminton was before he started playing racketlon. The secret of getting ahead is getting started. I would suggest taking this up as your only mantra to learn any new adventure. Racketlon is a great combination of fun and competition, why not give it a try? I hope many more take it up and find happiness in it, just like I did.
Team Bridge would like to thank Adarsh Vikram for taking time off his schedule to converse with us for this interview.