(Author's monologue in italics)
Often, it is the tiny steps taken by an individual that are behind the great reforms we see today. 69 years ago, Prof. G. R. Damodaran's passion to support vocational and technical education led to the establishment of the first private engineering institution of Tamil Nadu. Today, he stands tall with the legacy of pioneering engineering education in the state and making Coimbatore an educational hub behind him. On 20th February 2020, the birth anniversary of 'the man behind it all', after one of our posts on the People of PSG series about the man himself, we had the idea of interacting with Prof. GRD's students and draft a compilation of memoirs. In the next few weeks, I got in touch with Dr A. V Varadharajan, one among the many who hold Prof. GRD close to their hearts.
Coming from humble beginnings, Dr A.V.Varadharajan graduated from the institution with a Bachelor's degree in Mechanical Engineering (1955-1959) and established South India Sandfits, a foundry that produced sanitary fittings in 1962. The company would eventually grow into what is called AV Group of Companies today which encompasses Sandfits Foundries Pvt. Ltd, Bull Machines Pvt. Ltd, Oriental Plants and Equipment, Propel Industries Pvt. Ltd, Bull Agro Implements, and SNF Components and employs over 2000 people. Dr AVV has also held prestigious offices in the Tamil Nadu Small Scale Industries Association, the Indian Chamber of Commerce and Industry (Coimbatore) and CODISSIA. He was one of the masterminds behind INTEC and had a significant role in bringing the CODISSIA Trade Fair Grounds we see today into existence.
When I approached him for an interview, he was kind enough to drop by at the institution amidst his busy schedule. At the age of 84, he was very energetic and took quick strides towards the STEP office while I had difficulty in matching his pace.
After brief introductions, he calmly asked, "What do you want to know about GRD Sir?". "Everything you could recollect. I'd like to know him as the man you know", I replied.

He paused for a moment to let his vivid memories take over. "I met him in the year 1954, during the first week of September. I was badly in need of a job back then. It was a regular working day and I went to Anbarangam (GRD's home) at around 8 AM. He was leaning on a chair in his portico, reading The Hindu. I introduced myself and gave him the referral letter I had from a political leader.
"What have you studied? SSLC?", he asked. "No, Sir. Intermediate.", I replied
"Third Group?" "No, Sir. First group."
"How much did you score in the third part?". "390 out of 450, Sir."
GRD who had his gaze fixed on the newspaper until then lifted his head to look at me and said, "You are a fool. Why haven't you continued your studies with such good marks?"
I curtly asked," Are marks alone enough for studying, Sir?"
When he asked what else one needs, I replied, "Money". "Oh, I see! Are you ready to join college now and study?", he offered.
"What should I study?" "B.E", he replied. I explained that the quarterly exams were fast approaching and I wouldn't be able to prepare for them in such short notice.
"Will you study next year?", he asked. "Will see", I responded, not knowing what to say.
I went to meet him at the college later that day as per his instruction. After noticing me, he asked me to fetch Prof. D.K.P Varadarajan (the then Head of the Department of Chemistry, who later became the Principal of PSG College of Arts and Science) to his cabin.

"Are we going to start the campus canteen today?", GRD asked DKP. "Yes Sir, we'll start functioning at 10 AM", DKP Sir replied. "Hmm, take this boy and employ him at the canteen", GRD instructed and we were quickly dispersed.
The canteen back then was a 16x16 space, with a cement platform where people could rest their plates and eat. It had one cook and two helpers. The canteen served only coffee, tea, and biscuits. I was given the job at the token counter. I was given tokens and an accounts book and was instructed to hand over the everyday cash balance to DKP Sir. I was promised a monthly salary of Rs 30 and was allowed to use the canteen for my night stay. The canteen business picked up quickly and we were soon serving sweets and snacks like bajji, bonda. It was always bustling with students and people from the city who came for just a cup of coffee. I learnt accounting and the art of business at the canteen, especially under the able mentorship of DKP. We had started with a capital of Rs 1300 and had made a profit of Rs 6600 in just 9 months. In the 1st week of April, I had the balance sheet ready.  DKP Sir was surprised and impressed. He immediately took me to the Principal's cabin.
"He has the balance sheet ready!", he announced to GRD.  "What balance sheet? What do you mean?", GRD asked. "This is the balance sheet for the canteen operations which this boy has completed", DKP replied.
"Really?", he exclaimed glancing at the papers I had and asked," DKP, how many accountants and auditors are there in our group?".  "Maybe a dozen or more?", DKP guessed. "Has anybody been able to produce a balance sheet within the first week of the next financial year", GRD asked. DKP simply smiled in reply.

GRD rose from his chair and patted my shoulder appreciatively. "Good", he said with a smile.
During the last week of May 1955, DKP visited me and said," GRD wants you to apply for the B.E programme. The application costs Rs.5. Do you have the money?". When I replied in affirmative, he said "Good. Fill the application and hand it over in the office. You may resign from the job at the canteen and come back after a week to the college" he said. I was apprehensive but he convinced me that the canteen isn't the right place for me and that the future had something big in store for me.
When I told my father, he was reluctant to agree. After convincing him, I attended the interview and my name was at the top of the list of selected candidates. I was asked to pay an admission fee of Rs 450 within the next afternoon. I quickly approached DKP Sir who helped me draft a letter requesting time to pay until I receive some financial aid. I had to take GRD's signature on the letter but I was unable to meet him the whole time. He was leaving by 12 to catch a flight to Chennai and I was standing by the gate with tears in my eyes from 11 AM. GRD, who noticed me from inside his car, made his driver stop and questioned. I gave him the letter and explained that I would pay the fee later. "Later? When?", he laughed. "I don't know, Sir. Maybe after I get a scholarship" I replied sincerely. He got down from his car and placed the letter on the bonnet of the car. "Yes. Admit'', he signed in his favourite green ink. It was drizzling that day and a drop of rain fell right on top of where he had written. I would like to think that the drop of rain was a blessing from the heavens.
On the same day, DKP Sir, not knowing that I had met GRD, rushed to the airport in his motorcycle. GRD assured him that he had signed the letter and as DKP was leaving, he took Rs 300 from his pocket and handed it over to him. "Give this to Varadharajan. Ask him to get good clothes, shoes and a belt to wear", he said. He had also instructed DKP, to provide me with a part-time job at the students' co-operative stores with a monthly salary of Rs 20 to meet my pocket expenses. When DKP shared this with me later that day, both of us were emotional."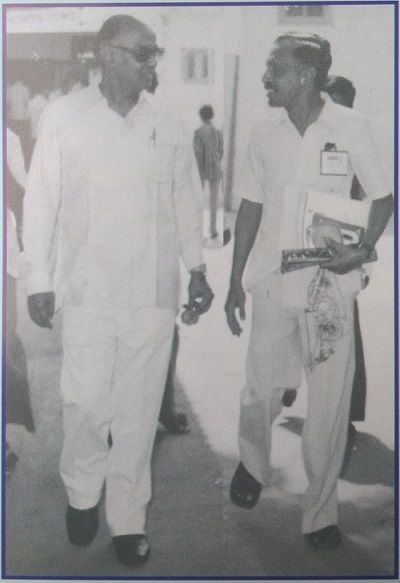 Dr AVV paused to compose himself, as his voice choked with emotions. He continued, "I fared decently during my engineering studies and eventually landed the job of Engineer Trainee at the Foundry Division, PSG Industrial Institute. On my penultimate working day at the foundry, I went to meet him. GRD grew very emotional and said, "You would become a wonderful engineer one day!". Later, in 1962, when I started South India Sandfits with his blessings, the first order to my company for the supply of castings was from PSG Industrial Institute, signed by my mentor GRD.
Whenever we met, he used to enquire about my family and industry and beam at my positive replies. I had the opportunity of moving very closely with him on various occasions, during meetings and functions relating to industries and various associations. He used to follow my performance and progress closely. It made me feel a bit apprehensive if I could live up to his expectations. Many times, I felt the intimacy in his approach with me but my mind would not cooperate. I preferred to keep some distance, like in the relationship between God and a devotee.

He was very generous. Not just to me, but to many. During half yearly exams, a senior student, Mr A.P. Ramasami's father passed away in an accident and he was on the verge of dropping out. GRD stepped in, offered monetary support and made special arrangements to conduct the practical exams for him on a later date."
(Mr Ramasami would later become a successful engineer at TNEB and serve as the President of the Tamil Nadu Electricity Board Engineers' Association.)
Quite stunned at these revelations and with a newfound respect for the man, I asked, "How was GRD's commitment to education?"

"He devoted most of his time for the institution and its students. He had even allotted his insurance money to the college library fund. We discovered this fact only after he died in 1986.
During those times, studying abroad was a distant dream for students from middle-class families. In those days, only a handful of people from Coimbatore, that too children of industrial magnets, went abroad for education.  GRD helped many students of PSGCT realise their dreams to study abroad. I remember distinctly that from the first batch of students (who graduated in 1955), five of them went to study in foreign countries. GRD helped them secure admissions and find part-time jobs to sustain their living expenses there. He also aided in getting passports and tickets for air travel. He even used to present suitcases, coats and neckties for a few. In fact, it was GRD who helped Dr Subbayyan (former Principal of PSG Tech and the first Vice-Chancellor of Bharathiar University) study at the prestigious Massachusetts Institute of Technology, USA for his Masters. It was GRD's initiative that set up the trend in just a decade for others to follow which resulted in many Coimbatorians landing on foreign soil for education and employment.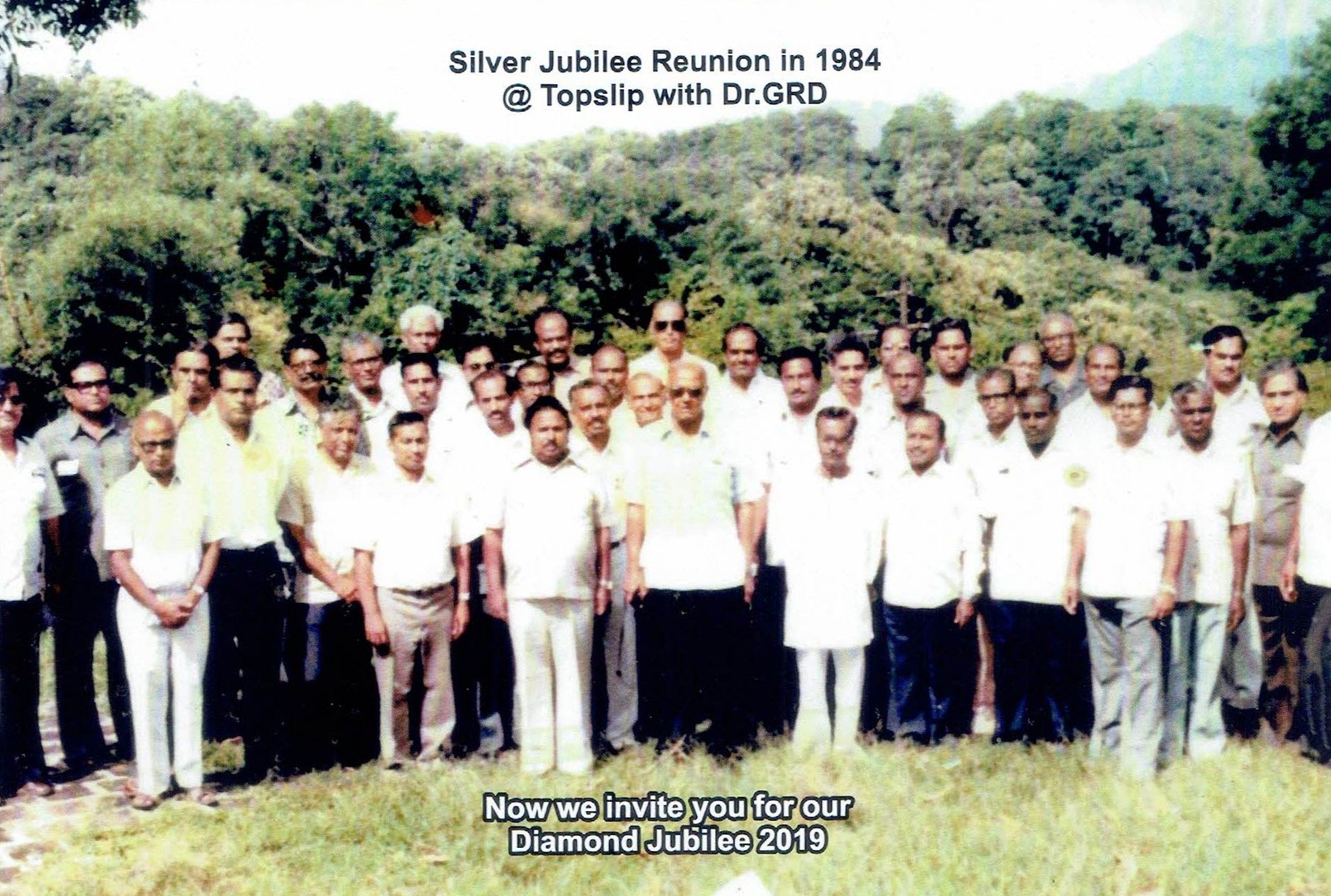 He used to bring back good books from his visits abroad. It was after one of his visits (during my time at the foundry) that he showed me a British Foundry Journal and pointed to a section about the CO2 Moulding process (an emerging technology back then) and asked us to carry it out in our foundry. We didn't even have the necessary infrastructure but we tried. We became the first in the country to make a CO2 core. The whole experience was possible only because of him.",         Dr AVV shared.
"I've heard that GRD was interested in photography…", I trailed off.
"Oh, he always loved to click pictures. In the later years, during one of the reunions, he clicked a picture of me with my family with his polaroid camera. I still have that film with me."
As the interview ended, Dr AVV added, "GRD always treated me like his son. I never bought clothes myself for Deepavali but from the year 1975 until he passed away, before every Deepavali, GRD used to send me a pair of fresh veshtis that I fondly wore. He was my Godfather. Every part of my life has his traces. Everything I am today, I owe it all to him."
During the interview, Dr AVV recollected one of his client visits. Mr Cornwallis, a German consultant after a tour of the plant had asked AVV about the photo that hung on his office wall. Dr AVV proudly introduced him as Prof.G R Damodaran, his mentor. After learning about GRD, the consultant said earnestly, "He is the founder of your company, not you". The 6 ft figure rose from his chair, looked straight at the picture of GRD and gave it a German styled salute. It's about time we all do that too, for his service and for the man he was.
Team Bridge would like to thank Dr A.V.Varadharajan for his time and for sharing such beautiful memories.
Image credits: Dr A V Varadharajan
(The book "Ullathil Nalla Ullam" published on Dr A.V.Varadharajan's 80th birthday by the Indian Chamber of Commerce and Industry (ICCI), Coimbatore has been used as a reference for this article.)
(This article has been named after E.R.Braithwaite's 1959 novel of the same name. Credits to the author.)
Read The Story of PSG Tech for a similar story from a former student.