(Read Yamuna Kalyani - An endless melody, the previous article in The Raga Series)
There are unnervingly many rāgas in Carnatic music. However, most of them struggle for an identity and are indefinitely lost in ignominy (until of course, Sanjay Subrahmanyan takes it up in a concert). This is not the case with Vasanthā. It is one of those few rāgas that are towering institutions and full-fledged journeys in themselves that musicians aspire to render. Vasanthā is a statement of grace and a pride among the ragās of Carnatic music.
It is popularly known as a rāga without the note panchamam (P).  It is a child rāga of the parent mēlakarta Sūryakāntam (for most practical purposes). Its ascending and descending note-frameworks are as follows:
Ārōhanam: S (M1) G3 M1 D2 N3 S
Avarōhanam: S N3 D2 M1 G3 R1 S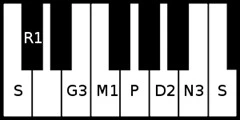 Vasantha: Arohanam and Avarohanam
Vasanthā's identity as a child rāga does not matter to critics of the parent-child rāga system, but it is an interesting subject to consider. As per the Sangeetha Sampradaya Pradarshini, a treatise often considered as the most authentic musical repository of Muthuswāmi Dīkshitar's school of music, Vasanthā is considered a child rāga of a more popular (so popular that we need another article exclusively written for the same) and different parent raga, Māyāmālavagowla. In the Sangeetha Sampradaya Pradarshini, Vasanthā is said to have the note P (albeit not a clearly sung or played P), the very note eschewed in today's version of the rāga. There are numerous rāgas like Vasanthā which have become a subject of discussion among musicians, owing to the ambiguity with which they have been assigned parent rāgas.
The moment I discovered Vasanthā, I knew I was annihilated. It was love at first listen. Vasanthā stimulates powerful emotions unlike any other rāga. It is a rāga that I would listen to at the end of  a stressful day. The warmth and love that the sound of this rāga radiates is enchanting, reminiscent of a calm breeze at sunset.
Pause to revel in this beautiful alapana by the Trichur Brothers.
The name of the rāga means spring and it surely does justice to the elegance of the season. Transition from the shadja (S) to the madhyama (M1) is a striking characteristic of this raga; it is so striking that almost all Carnatic songs I have quoted below begin with the notes S-M1!
The use of S-M1 in Vasantha
Notes like the nishada (N3) and gandhara (G3) in Vasanthā are traditionally rendered in conjunction with their neighbouring notes, the S and the M1 respectively. However, vocalists occasionally pause on these notes without gamakas, which is extremely pleasing. Skipping the S while singing Vasanthā is also very fashionable, where the prospects of goosebumps here are pretty high.
Vasanthā is a rāga that composers did not shy away from using. Thyāgarāja's Seethamma Mayamma is a lilting piece in Vasanthā wherein he describes Rāma as his father, Sīta as his mother, and a host of other mythological characters as his friends and family members. This song is a favourite of many musicians and is often heard in concerts. This song is also under scrutiny for sometimes being sung in a different but similar rāga, Lalithā, by a few musicians like Smt. R Vedavalli.
Muthuswāmi Dīkshitar has an impressive album in Vasanthā. Brihadambikāyai Namastē is a typical piece in Vasanthā that belongs to the group of kritis composed by him on the presiding deities of the Tanjavur periya kovil. He has composed a lot of song albums similar to this for various other temple-towns across India. Rāmachandram Bhāvayāmi, Marakathalingam Chintayēham, and Hariharaputram Shāstāram are a few more interesting pieces by Dīkshitar. Fun fact: As he does often, Dīkshitar incorporates the name of the rāga in Rāmachandram Bhāvayāmi in the first line of the charanam:
Sākētha nagarē nivasantham
Many other compositions merit special mention. There is Shrī Kāmākshi Katākshi by Tiruvārūr Rāmaswāmi Pillai, although some musicians credit this composition to a more well-known composer Subbarāya Shāstri, son of Shyāma Shāstri. Mā Dayai Nidhiyenum is a mind-blowing Vasanthā composition from Papanasam Sivan. It has a fancy chittaswaram too, which is a swara segment sung after the anupallavi and/or the charanam(s) of a song.
Paramapurusha Jagadeeshwara, a gem from Swāti Tirunāl, and a dāsarapada from Purandaradāsa, Kodubēga Divyamati Saraswathi, are few other songs. Tacchūr Singāchāri's Vasanthā varnam Ninnukori is a popular introductory number in numerous concerts. This is by no means a definite list and there are exhaustingly many more compositions in Vasanthā.
Vasanthā has even had the honour of being played with by some big names in the Indian film industry. There cannot be someone who does not like Andhi Mazhai Pozhigiradhu from the movie Raaja Paarvai, starring Kamal Haasan and Madhavi. The song is a 24 carat Vasanthā. (What else can we expect when Ilaiyaraaja, SPB, and S Janaki come together?) There is, however, a slight twist in the last line of both charanams. Ilaiyaraaja brings in a non-Vasanthā note, the "other" madhyama (M2 and not M1). Grammatically, this makes it another rāga Sūryashrī. (But let us be honest, I don't think anyone is bothered by this.) In addition to this, the prelude is beautifully misleading and reminiscent of the rāga Pantuvarāli. This phenomenon is termed grahabhedam and is a fascinating concept in Carnatic music that gets far less attention than it deserves.
AR Rahman does a few rāga-based songs and as listeners, we are glad he chose to create one for Rajinikanth's movie, Padayappa. Some of the most memorable exchanges between playback singers of a song transpire between Nityashree Mahadevan and Srinivas in the Vasanthā-based song Minsaara Poove, power-packed with jathi, swaram, and adrenaline. Rajinikanth and Ramya Krishnan's on screen presence only adds to the appeal of the song. The song was a fanboy moment for me. As usual, ARR does not forget to make his mark; the interludes have unimaginable sangathis that skip the note S (yes, those goosebumps-inducing acrobatics!) and feature very 'non-Indian' instruments, quickly switching to Indian instruments for the verses. I have to mention this part after the first line of the charanam:
S ṘṘṘ ṠṠṠ NNN ṘṘṘ DDD taka takita NṠṘNṠ.
There are so many things beautifully illegal in this line. I shall just leave it at that.
One more rāga having been secured, here are some concluding gifts!
Check out the YouTube playlist on the raga here!
Bonus: This hilarious video of the Indian version of the children's rhyme "Twinkle Twinkle Little Star" begins with the singer Revathi Sankaran singing the rhyme in Vasanthā! She even goes on to sing the ārōhanam and avarōhanam to flaunt her musical knowledge! The tune she sings it in is actually the tune of the Vasanthā varnam composed by Tacchūr Singāchāri!
The Raga Series intends to elucidate on the Raga-Rasa relationship to make your listening experience more enjoyable. The author does not guarantee that the recommended songs are composed only based on the raga. The series is based on the author's views and is purely subjective. Music tracks are shared for your quick reference and their rights belong to their respective owners.