If a man has any greatness in him, it comes to light, not in one flamboyant hour, but in the ledger of his daily work.
– Beryl Markham, West with the Night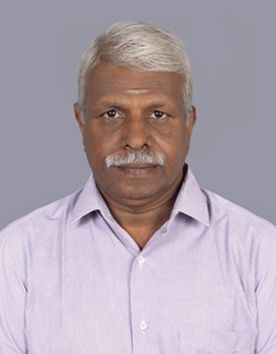 Prof.P. Navaneethan (HoD, EEE Department, 2007- 2017) is one of those teachers who is respected and loved by both colleagues and students alike. An E&E Engineer by qualification but a Computer Engineer by heart he is, for he has learnt and taught computers throughout his career in two different departments. His classes on Computer Networks, Operating Systems, Java Programming, Network Theory, and Electric Circuits are still fondly remembered by his students. During a detailed conversation with Team Bridge, he discussed the memories of his life – as a student, professor, researcher, and a father.
On his early days and engineering
Dr.Navaneethan was studious right from childhood. During his 8th grade at Government High School, Vellalore, he got qualified for the National Scholarship Programme which gained him an entry into St.Michael's with an annual scholarship (Incidentally, Prof. R. Rudramoorthy and Dr. Myilsamy Annadurai were beneficiaries of the same programme). Dr.Navaneethan calls it a life-changing opportunity, for this is what drove him towards engineering. (He particularly credits Mr. Seethapathy, his mentor during schooling who introduced him to engineering principles).
He later joined the engineering programme at Coimbatore Institute of Technology. Despite majoring in EEE, he was more inclined towards Electronics and Computers. After completing his Masters in Engineering in Applied Electronics, he joined as a Professor in the Electronics and Computer Science Department at MSRIT, Bangalore. This marked the beginning of his career as an academician.
On his doctoral research
After working in Bangalore for three years, he wanted to return somewhere closer to his hometown, to his family, but only with a PhD. He took a study break from MSRIT and applied for the full-time PhD programme at IISc, Bangalore and was admitted into the EEE Department. His time as a PhD scholar taught him the importance of continuous reading. He vividly remembers the process of publishing his first paper in the reputed Journal of Parallel and Distributed Computing (JPDC), a paper that took 2.5 years to get published! By the end of five years (i.e., 1991), he successfully completed his doctoral research in Computer Architecture under Prof. Lawrence Jenkins and returned to his hometown. Incidentally, a vacancy in what was then the Department of Mathematics and Computer Applications (DoMCA) was announced and after an arduous interview process, he joined the institution as an Assistant Professor.
On research in Tamil computing
After the 1998 serial bombing incidents when businesses in Coimbatore city were affected, a cousin of Dr. Navaneethan sought his help to develop a software in limited time to teach Tamil through English. Dr. Navaneethan might have not taken up the offer but the idea remained at the back of his head and would eventually form the root of his most notable work at DoMCA. With a team of students, he began the Learning Tamil Through English (LTTE) project. Being quite unsatisfied with the existing Unicode standard for Tamil characters, he decided to come up with a new protocol – PANDITHAM (Protocol for ApplicatioNs Developed In THAmizh and Multilingual computing). Post the Tamil Net 99 Conference, several projects in Tamil and Multilingual Computing based on PANDITHAM were undertaken by the MCA students of the department. The list includes a Tamil Telephone Directory, MINPURA, a multilingual e-mail system, THIRAVIYAM, a Sales Management System (that was installed in the Pazhamudir Nilayam opposite PSG Tech to print bills in Tamil) and a Tamil text-to-speech converter. PANDITHAM's unique sorting functionality grabbed attention and the team even had the opportunity of presenting it before the IT Task Force of the Government of Tamilnadu.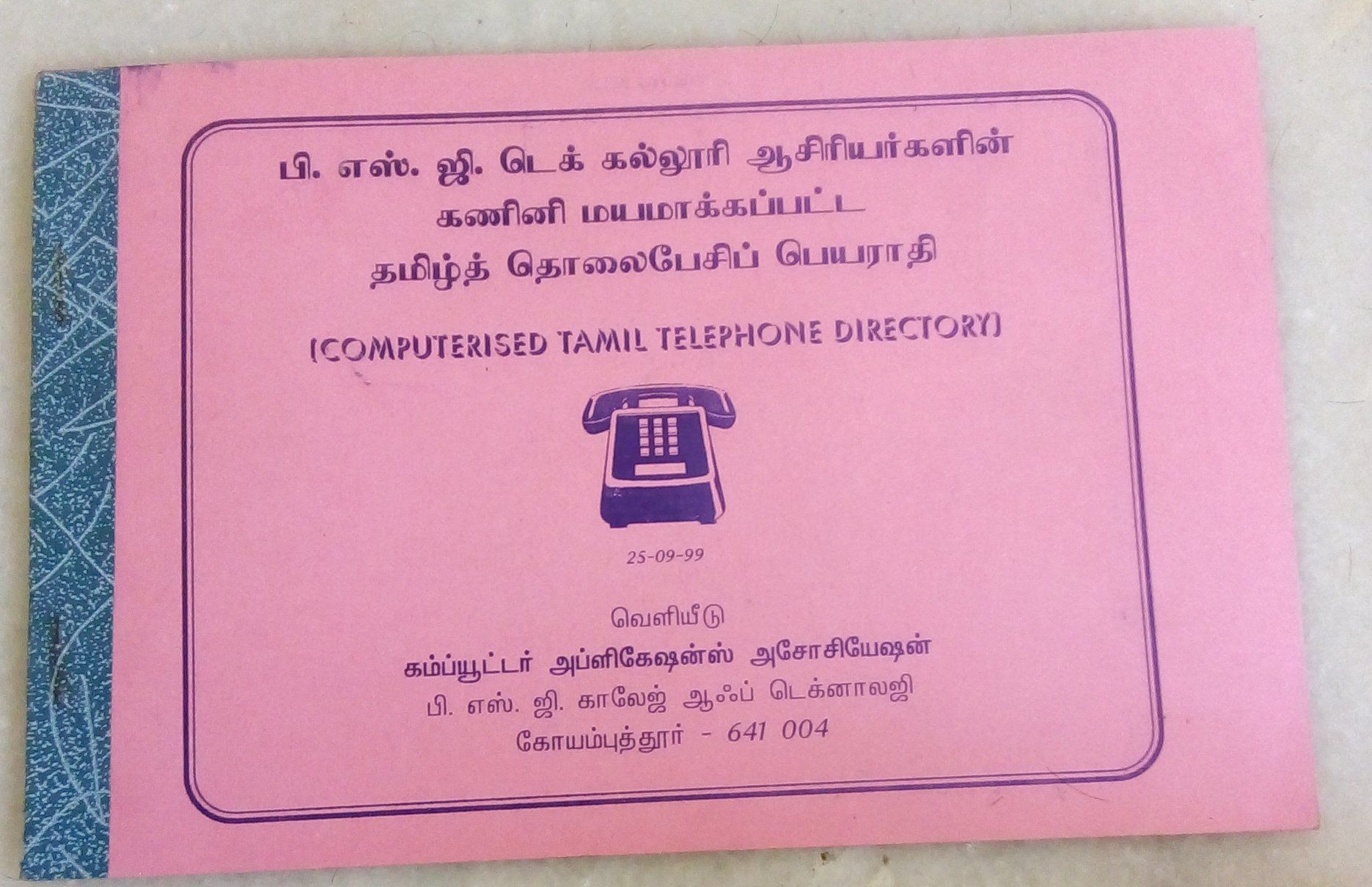 On his second innings
In the year 2004, Dr.Navaneethan moved to the Department of Electrical and Electronics Engineering and began teaching computers for students of the EEE programme. The development was a career-changing one and the thought of switching his domain left him disturbed for weeks. Eventually, he adapted to the change and even became the Head of the Department in 2007, a position he had occupied for a decade.
Until the year 2010, the quadrangle stage didn't have a ramp that would enable people with disabilities to collect their certificates on stage. Dr.Navaneethan and his team developed a prototype of a lever operated hydraulic mini-elevator, an idea that would eventually be used in customized electioneering vans for politicians. In the same year, he also guided the implementation of an online registration process before award ceremonies. The success of this initiative forms the story behind some of the intranet services we have today.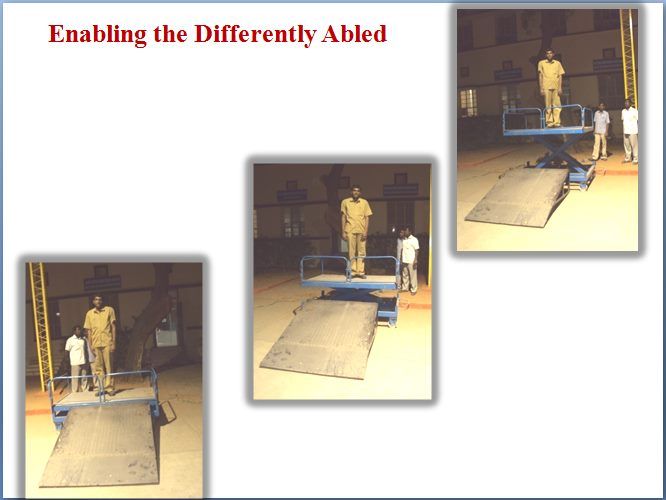 Before 1993, all computer maintenance services in the college were outsourced. With backing from Dr.S.Subramanyan, the erstwhile Principal and Vice Chancellor of Bharathiar University, and Dr. P.Aravindan, who was then the Head of the Department of Mechanical Engineering, Dr. Navaneethan established an in-house Computer Maintenance Centre, following suit of the NIT (erstwhile REC) at Trichy. This would eventually split into the Network Maintenance Cell and the Computer Maintenance Cell. Dr. Navaneethan also headed the NMC from the year 2009 until his retirement. It was during his tenure that the go-to sites including intranet.psgtech, maintenance.psgtech, halls.psgtech, and news.psgtech were built.
On SAARATHY-PAMMAC
"My son was diagnosed with autism at the age of three (year 1995) and ever since, life has been a rollercoaster ride." shares Dr. Navaneethan. In the year 2000, on the advice of PARIVAAR, SAARATHY-PAMMAC was established to create awareness amongst parents on disabilities and to provide counselling for them. Dr. Navaneethan was one of the founding members of the association and continues to serve as its Secretary.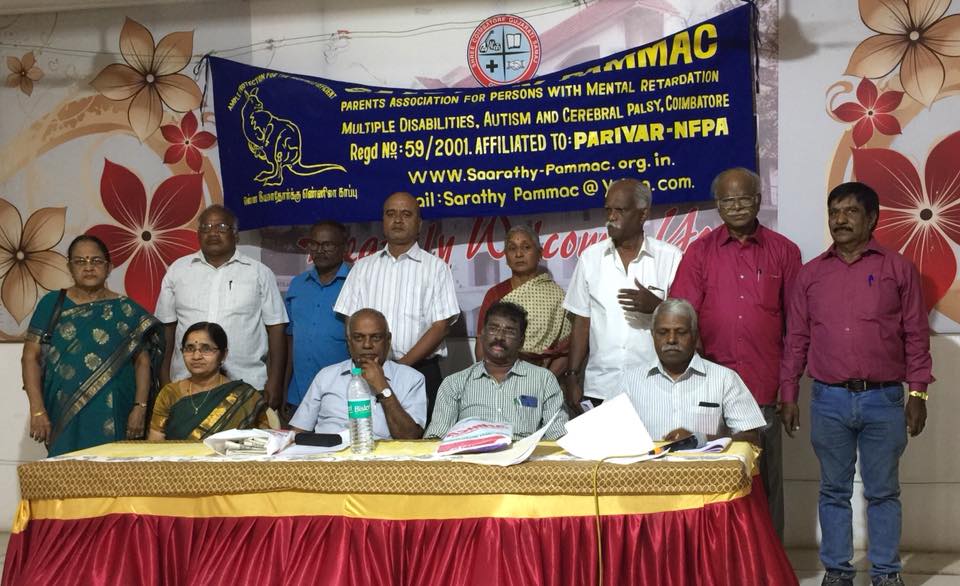 "'What happens after us?' This is the question which troubles parents like me the most. As parents, we are trained to look after and support our children but who will care for our children once our days are over? The thought itself doesn't let me sleep at night" he shudders explaining his worst fear. In the year 2005, the annual National Parents' Meet was organized at TNAU by SAARATHY-PAMMAC and the office bearers proposed the idea of establishing an integrated development centre – ILLAM (Inclusive Life: Long After Me) with vocational training and therapy facilities for people with disabilities. Due to the collective efforts of all associated members and his well wishers, particularly the alumni of the DoMCA, the EEE Department and CIT-SNEGAM (1981 Batch), such an establishment is now being made near Mallegou ndenpalayam.
Thoughts for young minds
"Students today are not realizing their full potential. They're so talented but their efforts are not going to the right places. Is it because of the technology at their disposal? I don't know. But it's something we all need to think about", he says thoughtfully when asked about the change he has observed in students in his long teaching career.
"Be confident, your work will speak for yourself. So, trust your abilities. Make time for continuous reading. No matter where you end up, if you don't stay updated, you will be replaced. Make calculated and careful decisions, especially with regard to your job. And remember, language is only a tool to communicate, be it with computers or humans. The medium with which one has done his/her schooling has nothing to do with what they are destined for.  My CIT batch mate Dr.R.Rudramoorthy, our immediate senior Dr.Myilsamy Annadurai, and I stand testimony to that! And lastly, learn to accept failures and move on. Had I not been rejected by BPL, I wouldn't be standing here at the moment. Things happen for a purpose. Everything will eventually fall in place. I believe we all are destined for good things in life, no matter what", he shares his parting words for his readers, with a smile across his face.