Coimbatore, PSG & Entrepreneurship!
---
On the sidelines of the Third Alumni Congress, 2015, THE BRIDGE had the opportunity to have a chat with one another distinguished alumnus of the institution. This time, it is Mr. SURESH KUMAR (B.E. Mechanical Engineering, 1985-1989), CEO of Integra Automation. Integra Automation is an industry that supplies castings, machined components and subassemblies to Automotive, Engineering, Power generation, Tractor, Locomotive, Printing, Valves and Pump Industries in India and abroad. The units are located in Chennai and Coimbatore. He opens up his mind on a number of aspects as follows.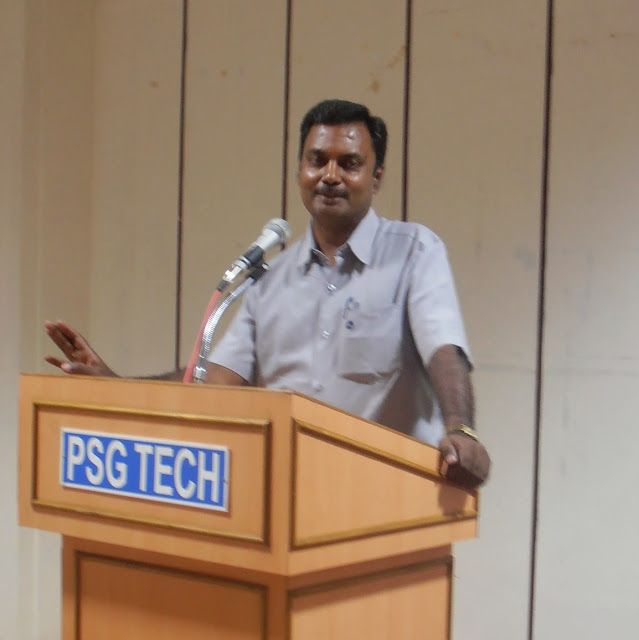 Q. What instilled in you the urge for entrepreneurship?
As you would have heard many times, people from Coimbatore are prone to possess this edge for entrepreneurship. The reason for it is said to have been sown during the 1950's and 60's. During that period, only two major industries were prevalent here; LMW and Lakshmi Mills. A new competitor in the name of Textool had emerged which was promoted by Mr. Balasundaram. This man is believed to have encouraged the workers in his industry to have their own machines and work on them during the night, while they come to the industry during the day. That act has gone a long way in instilling the urge among all Coimbatoreans. Being one among them, I also possessed the dream from my young age.
Q. Can you brief on the basic qualities of an entrepreneur?
One must know their strengths and weaknesses to identify their passion and establish a clear vision. A person is expected to be knowledgeable of all the activities at the industry. He should be able to establish a system that would function irrespective of his presence. To stay updated on developments from all over the globe in your domain is the order of the day.
Q. Do you see today's educational setup promoting entrepreneurship?
As I told earlier, the knowledge base on different concepts is most significant for one to be able to establish and run an industry. Unfortunately, the quality of engineers produced is poor these days. Moreover, entrepreneurship necessitates an all-round knowledge, including areas like HR and finance, which is completely lacking in our educational setup. Filling in these gaps would enable the interested to take on entrepreneurship more effectively.
Q. How is the college memories etched in your mind?
My college days are very much etched in my memory. I remember each and every activity of my days in this campus. The dominant among those are my friends. Having a handful of good friends would go a long way in various stages of one's life. I am happy to be blessed with such a group, thanks to this era of communication that has helped me maintain the relationships.
Q. Has PSG changed since your times?
The institution has seen a phenomenal growth, but unfortunately, what I think is missing today is the emotional attachment between the faculty and the student group that existed during my days. Today's student community does not extend the respect a faculty deserves and there is no relationship between the big two. The benefits of a healthy relationship are unimaginable and the growth of the institution depends on such emotions too.
Q. Can you brief about the avenues in the manufacturing sector?
There are huge avenues for engineers in the manufacturing sector. This sector is also covered under the Factories Act and extends social security to all involved, but there has been a void off late for appropriate skills, the development of which will see graduates shine and rise in their career.
Q. How do you see Post Graduation with respect to manufacturing sector?
Manufacturing sector doesn't necessitate Post Graduation in the first place. Strong basics can help one climb up the ladder in his or her career. The decision is purely based on the family situation and what the student envisages to do after a PG. As far as I am concerned, the engineering education will support only 5% during one's career, while the 10th and higher secondary education helps for a good 60-70%, which makes it necessary to brush them periodically.
Q. On what would you like the students of the day to stay focused?
I advise the lot to use social networking responsibly and grow up in a matured manner to avoid various distractions. They have to identify their passion and set their course accordingly. I would strongly suggest them to pursue their career in fields relating to basic requirements of humans like food, shelter, clothing and transportation, giving the least option to the service sectors. Moreover, they have to appreciate the fact that people around are always the best source in life, more than the education that one obtains from classes.
Q. What are your comments on The Bridge?
It is a very well thought-out initiative. Tech related news will reach people better than any other means. I see it providing the much required connect among the students and the alumni. I would encourage you to continue the good work and take it to the next level.