Engineering Music: From Tek Music to Berklee
---
A story of chasing dreams and catching up with them.
She might be an MSc Software Engineering graduate, but the only 'C' in HARINI S RAGHAVAN's life right now would be the notes on her violin. Harini S Raghavan (MSc Software Engineering, 2003-2008) left her job in ThoughtWorks to pursue a degree and career in something she has always been passionate about – music.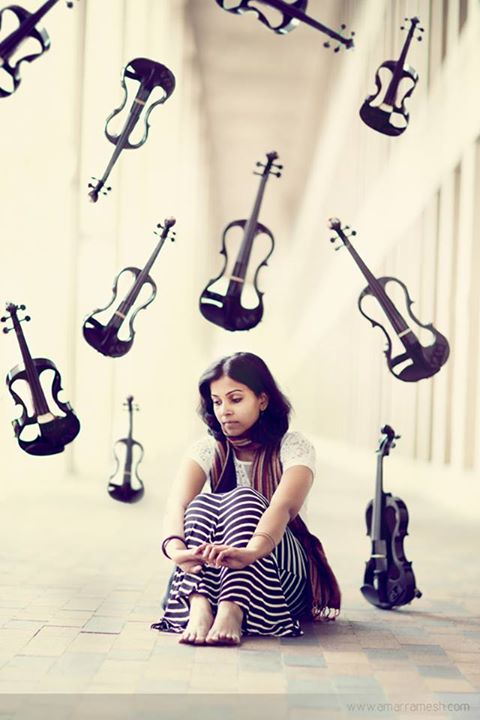 Excerpts from an email interview:
Q. First things first, what made you quit something as lucrative as a career in IT and get into music?
 While I was in college, I was drawn to spending more time with Tek Music and trying to expand as well as grow my musicianship. I continued on that path after I started working at ThoughtWorks. I had enough time in my hand to take music lessons and perform around Chennai. My involvement with the Hariyudan Naan show, getting some great feedback from Hariharan, Sharreth and James Vasanthan encouraged me and the opportunities that came after it, especially recording with Rahman gave me enough confidence to quit my job and pursue a music career full time. I believed in myself and my passion for music to make this decision.
Q. The Berklee Indian ensemble's cover of 'JiyaJale' became quite popular. How does it feel to be working with people from over 30 different countries?
It has definitely widened my perspectives and I enjoy sharing my music in such an inclusive global community, which is bound by the passion for creating beautiful music. The way everyone absorbed the song and added their inputs for our interpretation was wonderful. It was also awesome that Annette Philip, the director of the ensemble and the one who created this community, set the context of the song and the music for the other students to really get into it.
Q. Tell us something about working for A.R. Rahman and the other highlights of your music career.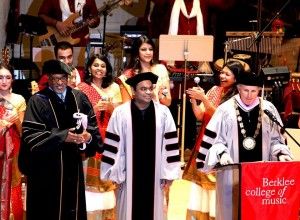 It was an incredible experience to record background vocals for Rahman for the ETIOS Liva jingle. A friend and I recorded together. He was really sweet and created the tune as we recorded so we got to witness how he arranged the whole thing and his various musical ideas through the song.
I also recorded violin for James Vasanthan for the Malayalam movie Doubles and recorded voice/violin for a short film Mugaputhagam by Atlee. After coming to Berklee, I formed an alternate rock band "Invisible Techniques" with an Ecuadorian bass player. Another highlight here is the Berklee Indian ensemble and performing with visiting artists such as Clinton Cerejo and A. R. Rahman. We recorded a song "Chaddh de" with Clinton on which I was featured on vocals. I also regularly perform Tamil film music with various musicians from India in New Jersey, Philadelphia and DC.
Q. How different is the music scene in the west to that in India? 
The music scene is very open here in the west. Since music is not tied into films, there is a lot more space for writing your own songs, composing and performing with your band, there are a lot of venues to do it. Film scoring, jingles and video game scoring are big too. Another major factor is the royalties that you could get by joining organizations such as ASCAP or BMI and registering your song. The music licensing business is big here and there are opportunities to compose short snippets of music to music libraries too. When that music is placed on TV or in a film, you get paid royalties for it. I would say I definitely have a lot more creative space here to execute new ideas.
Q. Tell us about your days in Tek Music, in particular and PSG tech, in general.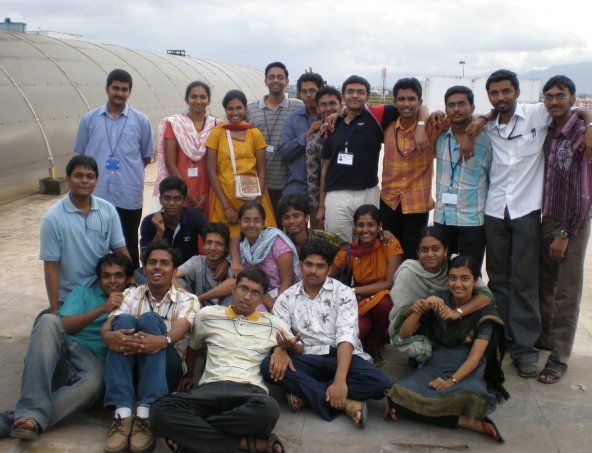 Tek Music was an integral part of my PSG life and I have very fond memories of it. I remember one show in particular, Nouvelle 2006 I think. It was in the Q Angle and there was super heavy rain half way through the show. We did not know if we should stop playing as people started leaving. However, we were amazed that all of them just came backstage, removed the back screen and continued listening to us. A few with umbrellas stayed back in front of the stage too. So it was a wonderful feeling to have people all around just cheering us on and performing in that rain. Apart from Tek Music, I loved all of the lab time spent doing projects for my classes. Most of all, our HOD was really amazing. I still keep in touch with him when I can and I met him in India this January, at my wedding. My brother is an MSc Software graduate (2004) from PSG Tech too, so we have a great connection with the college, Tek music and our department.
Q. Forgive the cliché, but what is your biggest inspiration and what is the hardest challenge you've faced yet?
The hardest challenge for me was figuring out what exactly I want to do in music. When I joined Berklee, I wanted to do performance and song writing but after I came here, my passion for technology and some interesting sessions on sound design made me choose Electronic Production & Design as my major.
When I first came here, I had a very narrow perspective of a lot of things – music and life in general. Some beautiful people here changed all of that and made me feel happy just being part of this inclusive environment. Just meeting people here who are doing so much and have done so much in the past inspires me greatly and the talent here makes me push myself harder to not settle for just good but become much better than that.
Q. What are your plans for the future?
I plan to gig and tour with my bands. I am going to move to New York City after I graduate and freelance – composing and sound design for TV, video games, jingles and eventually films. I will also be collaborating with other musicians who I meet along the way or musicians I have played with at Berklee and gig/do sessions. I would love to do some work someday for companies like Native Instruments/Heavyocity/Izotope and create plugins or sample libraries. These are the ones who create sample libraries used by most film composers internationally, including Rahman and other Indian composers.
Q. If you had a piece of advice to fellow engineers with passions outside engineering, what would it be?
I would say that it's never too late to try anything that you are very passionate about and keep your engineering background as an advantage and tap into it when you can. It's not like you can do only one thing and be successful only in one, at least not today with the numerous opportunities out there. Find the right space for you where you are most happy and content doing what you like the most and it's just about looking beyond what you already know about what is out there. Making connections with people like you helps a lot in motivating and directing you in the right way.
The Bridge wishes Harini well on her future pursuits!
Photos courtesy: Mr. Prakash Simha and Mr. Amar Ramesh.