Tour de Force- From an SU Chairman to an IAS Officer
---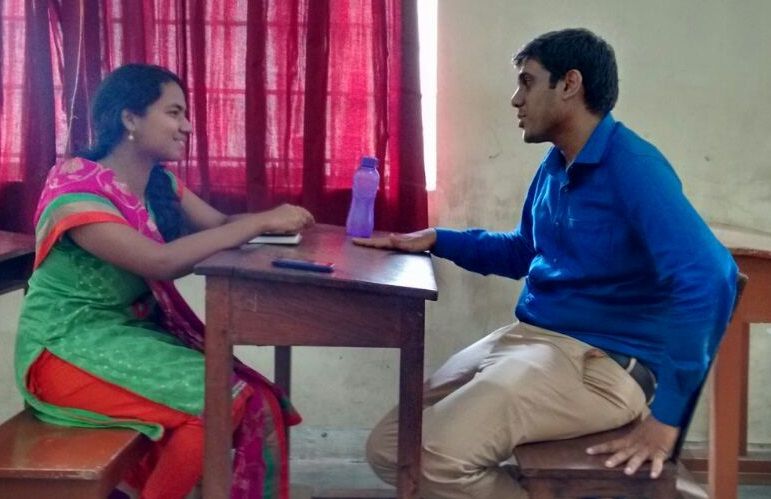 Did you ever wonder where they came from? You know who I mean; those officers who are responsible for framing and implementing policies for the country and answerable to the Parliament and State Legislatures for any irregularities that may occur? Well, we have found one who comes right here from our college, Mr. N. S. K. Umesh, who held an All India Rank of 77 in the recently conducted Civil Services Exam.
"Some think that I started reading newspapers and books because I wanted to crack the Civil Services", says Mr. Umesh, "but contrary to that statement, my interest in reading made me envision myself as an IAS officer." He also adds that staying abreast of current affairs is a vital string attached to the preparation of the exam.
Clearing the civil services in his 3rd attempt, Umesh says, "After graduating in 2011, I spent the next three years preparing for Civil Services. I completely ignored the Campus Placements."
The IAS topper who cracked the Civil Services without the aid of the coaching centers reveals his success mantra, "It was a good set of friends, a good set of seniors who guided me and a good set of like-minded juniors who helped me throughout the preparation. Like how one can develop passion for batting by seeing Sachin bat, I started preparing for the exam seeing my senior Arun Kumar (who is now in IRS) study Geography books at his room in G3 Block in the hostel. My fellow success stories at the exam – Babu Abdul Khadeer (IRPS), Goutham Sankara Krishnan (IRS - Customs), Ilango (IPS), Deepak (IRS) and Preetha (IFoS) inspired me a lot to work better and emulate them. They were the most important factors. Though I joined two coaching centers initially, I later dropped out from both." He strongly feels that the exam can be cracked with focused self study.
Mr. Umesh is not our average overachiever. Besides cracking the Civil Services, he has also cleared the TNPSC Group II A and IBPS PO exams in the year 2014. "Clearing these exams were part of my backup plans."
Talking about his life at PSG Tech, Mr. Umesh, who was the Students Union Chairman in 2011, says, "My entire college life was fun, each and every day was interesting." He was an active volunteer and participant in various college events. Besides being the SU Chairman, he was also the Placement Representative (for few months) and led many clubs in the college. He was also awarded the Best Student Outgoing Award by the ECE department for his active participation.
Mentioning that his third year in college was the most hectic year in his life so far, "I was very much occupied in organizing events that I never even had time to talk to my parents." Talking about a typical day in his third year, "I would be running from one meeting to another. From 4.30-5.30 I would attend an ELS meeting, from 5.30-6.30 I would be conducting an event for Institution of Engineers, 5.30-6.30 I would be attending a meeting with seniors for organizing an department event, 9.00-10.00 turning up for a hostel council meeting, after 10.00, a placement representative meeting, and finally I would lapse back to bed at 3.00, wake up at 7.30 and run to college to start yet another flurrying day". Being nostalgic he expresses, "My most memorable moments were in the first year and they are still fresh in my mind."
The Best Outgoing Student certainly had variegated hobbies some of which include reading, blogging and travelling. He is also a cricket aficionado and an arts lover.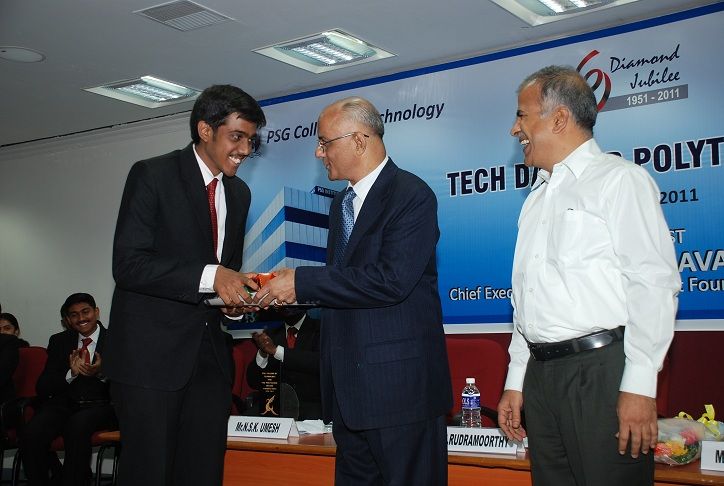 A firm believer of Writer Sujatha's quote, "The future of India lies in the hands of good IAS officers", Mr. Umesh's aim is to ensure that the schemes and policies formulated by the government are executed properly. He also includes, "We need not lead a revolution; We need not lead a movement; already there are enough schemes, enough plans, and if they are monitored and executed properly, India would be a better place to live in."
On a final note his suggestion to the aspiring students is "Interact more with teachers, with students outside class as well as with seniors. They are the most important people in shaping everyone's success. In college there is so much to explore and it's definitely possible to have fun within limits. Keep yourself busy in good things." As a typical leader he adds, "It's the duty of every topper to help other students in class and improve the class as a whole."
To get to know more about Umesh, do visit his blog, Tour de Force.
Here is a small poem about Umesh penned by one of his favorite teachers, Dr. R. Arumuganathan (HOD - Mathematics Department).
ஒவ்வொரு காத்திருப்புக்குப் பின்னால்
ஒரு இமாலய
வெற்றி கனியும்…

அந்த காத்திருப்புக் காலத்தில்
கனத்த இதயம் வேண்டும்…
எள்ளு வோரையும்
வசைப்போரையும்
வகை வைக்காமல்
பயணிக்க வேண்டும்…
பொறுமை காத்தீர்
வெற்றி கண்டீர்…

உம் ஆளுமை
மாவட்டம் தொடங்கி
மாநிலம் தாண்டி
ஐ.நா வரை செல்லட்டும்
வாழ்த்துகள்…
-அன்புடன்
ஆறுமுகநாதன்