Excerpt from an interview with an alumna who aspires to travel for a cause.
To travel is to broaden one's perspective, not only about the world, but also about oneself. It stretches boundaries and makes people live out of their comfort zones. This travel becomes priceless when it's not just about meeting new people or experiencing new cultures, but when it's also about giving back something in return to the endeavor that taught you so much.
Mrs. SANGEETHA SRIDHAR, an alumna of PSG Tech (MCA, 1987-1990), is all set to undertake a journey across India for about 310 days, in her TATA Hexa SUV on August 12th to spread awareness about sanitation and cleanliness. Here is the excerpt from an interview with her:
Q: Here's the mandatory question – how did this all start?
2018 is the 'year of Sheik Zayed', the founding father of UAE. 2019 is the 150th birth anniversary of Mahatma Gandhi, whose livelihood, lifestyle and philosophy has always impressed me. His policy of minimalism and being stubborn in his own beliefs latched onto me as I grew older. I embark upon this journey in order to commemorate the anniversary of these two founding fathers, and to see if Mahatma Gandhi's dream of a clean and safe India has come true.
Q: What drove you to quit your job as an eGovernment consultant with the Government of Oman and come back to your homeland?
I was the only daughter of an ailing father. I saw him suffer for almost two to three years and then I realized that I had to be with him and spend some quality time, before it was too late. So, I came down and I was able to spend only 10 days with him, before he passed away in July 2016. But, we had a wonderful time in that short period. He always felt that I owed something back to my Motherland. Probably, this sparked the idea of my journey. When he passed away in 2016, I realized that life could end any minute and it's worth fulfilling a couple of wishes I had: To do a 'Bharath Pradhakshan' in the Gandhian way to see what New India is like and also to fulfill my father's wish of me contributing something back to my Homeland.
Q: According to you, how good is the sanitation and cleanliness in India's rural and urban areas?
I think I would be in a better position to answer this question towards the end of my journey. But since I have done a trial run from Mumbai to Goa, a few runs to Kerala and also to Yercaud and back, there are two observations that I have made: The Central Government's initiative, 'Swachh Bharath' has been a very strong campaign. It is more of a citizen-involved Government-led initiative, which has been received well. Secondly, we think that a clean place and surrounding is our birthright, but we never realize what our responsibility is in keeping it clean.
Q: Why did you choose to 'drive' for your cause? Do you have a passion for driving?
I have driven in various countries across the world including the US, Jordan, Turkey and extensively in the UAE. What I've observed is that there are mechanisms for garbage disposal in these places and people meticulously follow these guidelines. In our country, we don't have adequate mechanisms, and at the same time we ignore and tend to cut the available standards short. The only way to find the real situation of sanitation in the highways, especially for women, is to embark upon such a journey.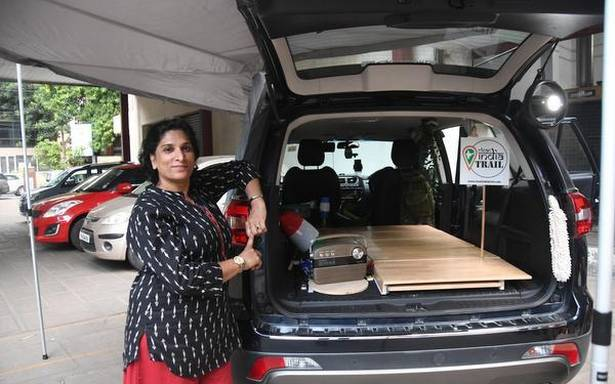 Q: What made you choose the 'Gateway of India' as the starting point of your journey?
Mumbai has a lot of history connected to Gandhi's main movement, the Satyagraha. His 'Mani Bhavan' was his work office when he launched various revolts against the British rule in his era. The Gateway of India is a signature building and the last English Battalion marched out of that arch in February 1948. As this trail is a tribute to Gandhiji, I wish to start my journey at that significant spot.
Q: How supportive has your family been with your decision?
This project has a lot of risks associated with it. We are very much aware of this. I'm not backed up by any institution, government, party or any agency. It is an individual initiative. Taking this into account, we've made adequate plans and I don't think any other family would have given this much support and freedom for a solo woman's journey. My son and my husband are my pillars.
Q: Tell us about the preparations you've made so far for the 'Clean India Solo Trial'.
In terms of preparations, the first one had to be health. I've practiced yoga and stretching exercises in order to keep my joints flexible and pliable for a journey of this scale. I've also prepared myself mentally, to plan everything and yet be ready to handle whatever is unexpected. My vehicle, a TATA Hexa SUV sponsored by TATA Motors, has been modified into a 28 sq.ft home. It has a bedroom, a storage, a mini kitchen, an office space, provisions for clean and grey water and a sustainable form of energy-solar energy. The solar panels on the roof of my car will provide me with about 300 megawatts of energy per day. This project is not funded by any partner – it is self-funded, self-resourced and self-reliant.
Q: What sort of challenges do you think you will face during the course of your journey?
To begin with, uncertainty is what I'm going to face. Probably, the main challenges I will face are finding a safe parking for my vehicle each night, keeping my energy levels sustained and eating the right food, in the right quantity. Besides these, I should be able to crisply and briefly speak at three different events per day during the travel and for that I need to be brisk and energetic at every point of my travel. This journey will definitely test my ability to adapt to different road routes, signals, languages, cultures and yet satisfy my personal and physical needs.
Clean India Trial is an expedition across 150 cities to promote the Swatch Bharat campaign. THE BRIDGE wishes Mrs Sangeetha good luck for her upcoming journey (which begins tomorrow) and her future endeavors.