Pegasus Racing- On the right track
---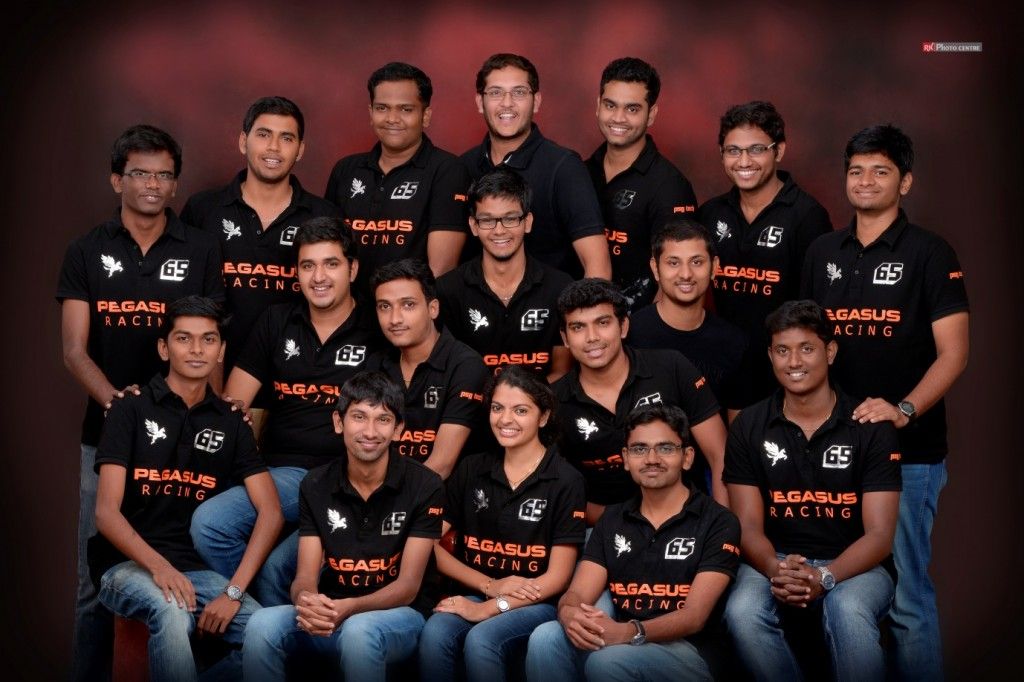 One Tuesday evening found me making my way to the automobile lab in I-block to interview the Pegasus team. Pegasus, which in Greek mythology refers to a flying horse, is the student formula team of PSG Tech. Their passion and dedication is enormous, as I discovered over the course of the next hour.
I spot an orange and black beauty numbered 65 solemnly sitting in a corner. This was the car they used in the Supra SAE Indian Student Track Challenge 2014 at MadrasMotor Sports Race Track. The team captain, HARISH KRISHNAN (B.E. Automobile 2011-15) first tells me about the aesthetics behind it and then goes on to explain the technical details. They chose the number 65 as this was the racing number of Sundaram Karivardhan, a legendary figure in the history of Indian motorsports. They christened it Terbium, after the 65th element of the Periodic table. The Power and Tech head, SURIYA GANAPATHY (B.E. Automobile 2011-15) jokes, "6 and 5 in Tamil is aaru anju and that's why we painted the car orange!"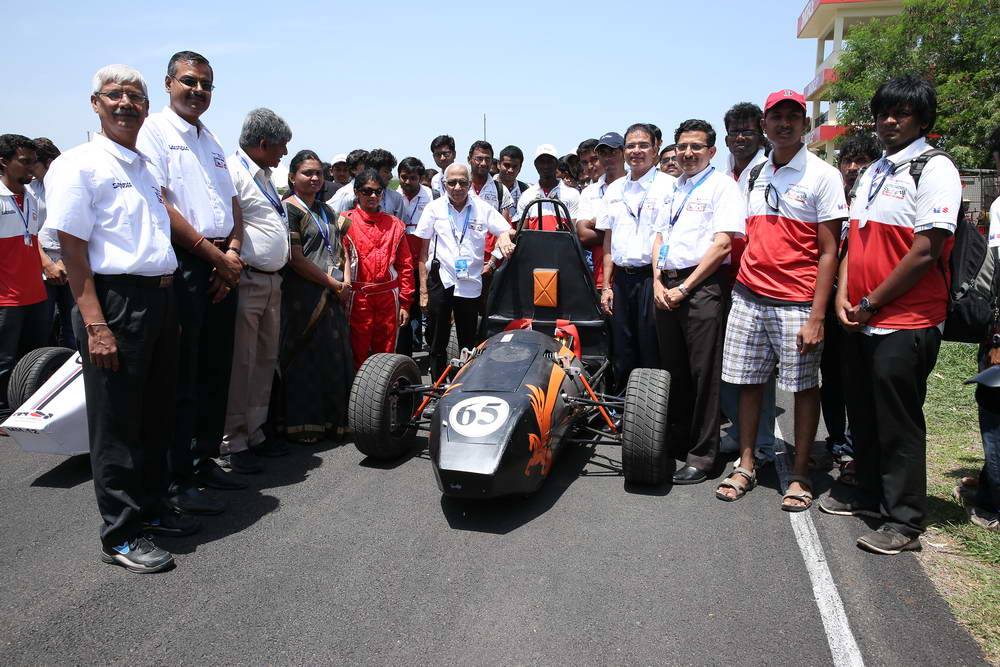 But this is no beauty without brains- its stunning looks are matched with some killer features. Terbium reaches a whopping 165 kmph. (Notice "65" making its presence here, too!) At the heart of this macho machine is a Tata Nano engine. As a nation, we are obsessed over mileage. This race car doesn't disappoint there too, providing a brilliant 25kmpl. For their entire Supra race, it used barely a quarter of a litre. It comes as no surprise that Terbium was declared the most cost effective car of the event. But this competition came with its fair share of challenges. Their drive shaft broke on the last day during testing and had to be shipped in from Coimbatore. They failed the brake test ten times, before eventually succeeding in the eleventh time. Talk about sheer perseverance. (Once again, we spot another 65. 11 is, after all the sum of 6 and 5!)
To tell you the truth, I didn't think I would be able to handle the pressure. But my team mates believed in me, and for that, I will always be grateful. I guess I drove well. A lot of credit goes to my teammates who pushed the car around for all the brake tests. Time spent in the lab is always fun. We worked day and night, sometimes skipping meals and even baths. It took me 3 weeks to get back to normal life. But it was all worth it!
-GOKUL "GK" KRISHNA (B.E Robotics and Automation 2012-16), first racer of Pegasus, on racing at SUPRA SAE '14 and other joys of being part of the team.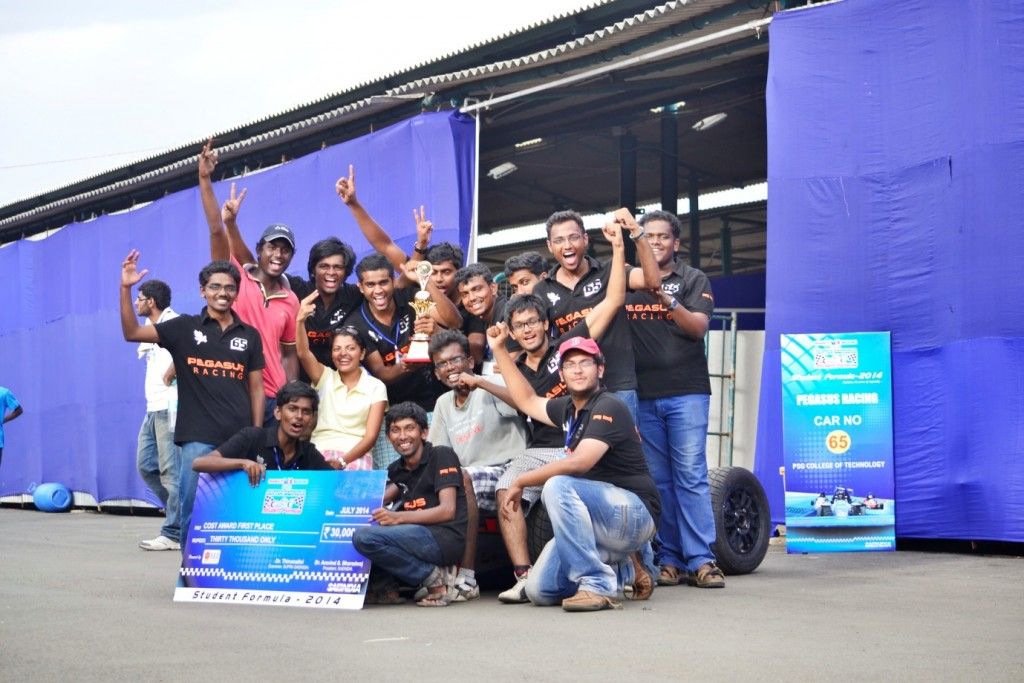 This isn't an ordinary gang of boys-only petrolheads, mind you! Theirs was the sole team in the event in which a female driver, ATHMIHA LAKSHMI (B.E. Automobile 2012-16) raced. Ask them about how a girl racer in the team affected their dynamics, and they are quick to tell you that the biggest advantage was easy publicity and more media coverage, which translates to getting more sponsors.
Pegasus' best year was undoubtedly 2011 when they finished overall second, missing the first place by a mere 5 points. Currently, they are working on their 5th car. This time their focus is on building a lightweight vehicle. Roots Coimbatore is their primary sponsor, and ST composites and Honeywell are their inclined sponsors. 2015 is already promising to be a great year for the team. They have cleared the virtual round of SUPRA SAE INDIA '15 in twelfth place, up by a leap from last years' 92nd place.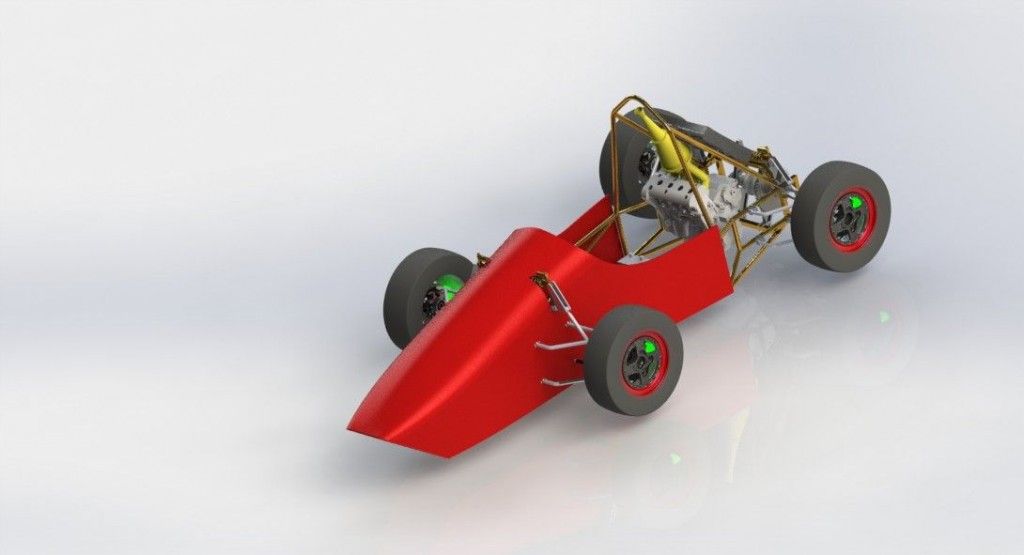 Pegasus Racing recruits new members at the start of every academic year. The recruitment process consists of a written technical round followed by an interview. Interested students from any branch can apply.
SRICHARAN ANANTH (B.E. Automobile 2012-16) aptly puts it. "This is a family, bound by a common passion for motorsports."
Team Bridge wishes Pegasus Racing the best in all its pursuits.