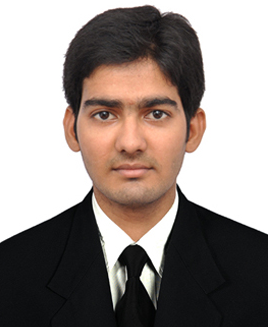 Acceptance and confidence in oneself can either make you or break you. Having born in a rural area and having studied in a government school had never made him regret or feel like he has lost anything in life. His father, not being a learned man himself, has not deprived his children of education in any means. Battling his own wars, he has always stood as an unshakable source of inspiration to his son. The proud son, Madan Allampati (M.Tech IT, 2013-2015) of the proud father is now placed in DE Shaw. He was not a person who always had his eyes glued to text books. His interests include watching movies, swimming and playing chess.
Madan was one among us before he spread his wings wide and flew into the sky in flying colors. Though he had failed to get placed immediately after his under graduation, he went on to do his M.Tech IT in PSG College of Technology. Fighting depression, he chose the positive when he had open choices and decided to go strong. His path was definitely not a bed of roses. He studied vigorously during his second degree, focusing on his academics. Framing time tables and following them meticulously was something he was perfect and brilliant at. Studying two hours every morning for GATE exams, the evenings witnessed him concentrating on his academics. He has also done a notable project on computer networks titled, "Host to host congestion control for TCP" in his under graduation.
Like every other candidate, he felt chills running down his spine during the interview, but, what kept him going was his goal to get placed that gave him the strength and confidence to face the questions from 4 rounds. The first round had 20 questions to be solved in a time period of 20 minutes. Next two rounds were technical that were subject oriented with the level of questions advancing. The last round that followed was a general discussion round. Before every round started, fear and confidence filled his head up and after every round ended; fear and determination to do better gushed in. When the final results were announced, happy tears rolled down his eyes, giving him a flashback of his struggles throughout his journey.
He would like to take this platform to pour his heart out and thank his parents who stood by his side through thick and thin, his HOD Dr. K R Chandran and faculty members who encouraged and guided him with good hearts. They are the ones, he says, who corrected him when he went wrong and appreciated him when he excelled. Though his stay at PSG Tech was limited, he had learned a lot and made a lot of friends who were always there to pat his shoulders whenever he felt low. He exclaims that it is a blessing to land in one of the reputed institutions in India, where you are provided with all valuable resources which many other colleges don't provide. The institute stands out among the top few institutions in the list when placements are taken into consideration. It is very important that students realize this and make use of this opportunity to the maximum for their very own good. Seeking support from faculty comes along in the process.
He expects a challenging and responsible role that would give him an excellent start in his career. He is all set and ready to go any lengths to meet the needs of his role in the company, thereby helping the company progress. He wishes to earn the respect he deserves. The Bridge hopes that stories like his would inspire everybody to stay focused on their goals and work hard towards the same.